12-Month Price Target: $21
Applied Optoelectronics (NASDAQ:AAOI) is a compelling investment because of their sustained revenue growth for the last five years. They are a top datacenter component provider and the strong dollar is a tailwind for their manufacturing costs in Taiwan and China.
My Financial Model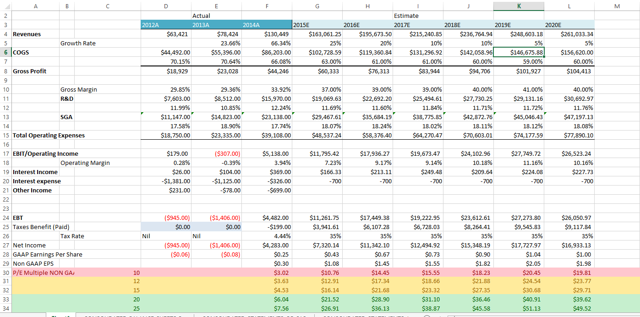 Click to enlarge
From what I can pull, their 10-k indicates they have customer concentration concerns or benefits, which is depending on your perspective. To start, Amazon (NASDAQ:AMZN) accounts for greater than 50% of AAOI's revenues and is their prime datacenter customer. Amazon being such a large customer is a positive because their web services division has grown revenues at a 78% annualized rate and shows no signs of slowing datacenter spending. Also, Amazon is experienced in burning cash to gain market share in any segment, whether they are trying to corner the toilet paper market or the cloud services segment. Heck, Jeff Bezos must have money bonfires because his AWS is funding all the other money losing activities and pushing Amazon stock to heights never before seen. Amazon creates a scenario for AAOI to remain well positioned to capitalize on the continued datacenter spending because there is a worldwide shortage of 40g components and this leads me to why Amazon selected AAOI as a supplier.
Their manufacturing process differentiates them from competitors.
They produce 40g, 100g optical transceivers which are manufactured using a proprietary process called Molecular Beam Epitaxy (MBE). This process is similar to 3D printing because it uses concentrated particles focused at a single point to create their optical components. This MBE process gives them a distinct advantage over their main competitors Oclaro (NASDAQ: OCLR), NeoPhotonics (NYSE: NPTN) and Finisar (NASDAQ: FNSR) because it is proprietary. The operational advantages to this process are longer product life, better efficiency and lower operating temperatures. Considering that cooling datacenters is a significant operating cost to the likes of Amazon, a transceiver that radiates less heat creates significant cost savings. This process also allowed their datacenter customer Amazon to certify their 100g product six months quicker than Oclaro did with their 100g cfp2 product. With the transition to 100g products in the datacenter, this certification will allow them to deliver volume much quicker than competitors.
They operate in the high-growth DOCSIS 3.1 market.
Cisco is a cable TV customer and only represents 10% of their revenue, but this is important because they continue to deploy capital domestically to build the DOCSIS 3.1 network. US-based telecommunications providers are reluctant to deliver all fiber networks, so the best alternative is hybrid fiber cable networks. The cable TV market continues to accelerate to meet the data requirements of streaming content and 4K picture resolution. It will become a larger percentage of overall revenue and reduce AAOI's reliance on Amazon to build datacenters.
The strong dollar helps their operating expenses
AAOI has manufacturing facilities located in Ningbo, China, and Taipei, Taiwan. The strong dollar helps AAOI produce their components for less because the currencies they pay manufacturing expenses in have depreciated significantly. The Chinese renminbi and new Taiwan dollar account for roughly 50% of their operating expenses, and depreciation of these currencies improves AAOI's gross margins. With both currencies down 6-7% YOY, I see a slight improvement in their margins. The other factor is that AAOI doesn't hedge their foreign currency exposure and in a rising rate environment I only see this improving AAOI's margins further.
They completed the construction of their flagship facility
AAOI recently became vertically integrated by completing the construction of their manufacturing facility based out of Sugar Land, Texas. Supposedly, this facility is state of the art and this is significant because AAOI struggled in 2015 to meet customer demand for the 40gbs optical transceivers (a major revenue driver). This caused revenue a shortfall in Q1 and Q2 with a book to bill ratio close to two, but then caused a back loaded year with revenue beat in Q3. So with their facility operational, I expect AAOI to meet their customers growing demand for 40g and 100g products and smoother revenue growth.
Some potential risks associated to this investment
As noted earlier, AAOI is at the will of their customers, implying that if Amazon or another customer decides to cut spending AAOI will suffer erratic sales. This example can be seen in the case of Alliance Fiber Optic Products (NASDAQ: AFOP), where their top datacenter customer Google cut spending and caused their revenue to decline from $25 million to $18 million.
An economic recession could cause customers to pull back spending as well.
AAOI is a micro-cap stock that at times experiences a lack of liquidity in the shares traded. It is not uncommon to see a 20 cent bid-ask spread in the quotes and the stock to move two or three times compared to the broad market.
Profitability is a new thing for AAOI - before they went public, they historically experienced losses.
Another component to the recent move down in AAOI shares is since 2015 investors have been experiencing long-term capital gains, and if you believe the mantra "sell the winners" the stock price could decline as low as $8 before investors don't have any gains to realize.
In conclusion, I find AAOI to be extremely undervalued at these levels. This company is selling 40g components like hotcakes and the growth will continue as they transition to their 100g products. The operational efficiencies of their production process and their currency tailwinds sets up 2016 for a boom year. From a closing price of $12.36 on 01/20/2016, my $21 price target indicates a potential return of 70%.
Disclosure: I am/we are long AAOI.
I wrote this article myself, and it expresses my own opinions. I am not receiving compensation for it (other than from Seeking Alpha). I have no business relationship with any company whose stock is mentioned in this article.
Additional disclosure: We may initiate a position within Cisco Systems (NASDAQ: CSCO) within the next 72 hours.