Eaton (NYSE:ETN) is a diversified industrial company with operations in hydraulics, electrical systems and components for automobiles and airplanes. The company's shares, which have been declining substantially over the last months, offer a lot of income potential right now, and Eaton's valuation is low as well.
Let's first look at Eaton's operational performance over the last months: Eaton's last results were not too bad, although the company faces hard times due to the effect of the strong dollar and weakness in some of its markets: Eaton grossed $5.2 billion in the last quarter, $500 million less than in the prior year. $1.8 billion were grossed in the electrical products segment, which is flat yoy when adjusting for currency. Operating profits from Eaton's electrical products segment declined three percent to $330 million, which is a good result when we look at the fact that revenues declined six percent (which was wholly based on currency) over the same time.
Electrical systems and services saw sales of $1.5 billion in the last quarter, which represents a five percent organic decline (and an additional five percent currency influenced decrease). Hydraulics saw a steep revenue decline (minus 18 percent) to $600 million, due to currency effects and overall weakness. Aerospace did well, with revenues growing one percent organically to $450 million (declining two percent due to currency issues).
Eaton earned $0.97 per share in the last quarter, cash flows from operations came in at $970 million, which is a quarterly record. I believe it is a very nice feat to increase cash flows in times of economic headwinds (weakness in some of Eaton's markets, such as oil & gas as well as currency issues). Strong cash generation ability also allows for ample (and secure) shareholder returns via dividends and share repurchases.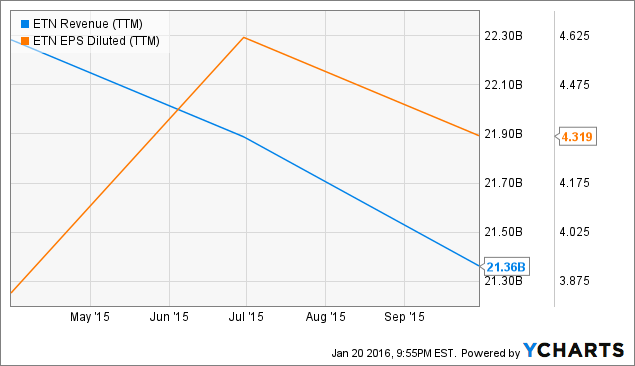 Eaton's strong results in spite of headwinds are also visible when we look at the company's revenues and earnings per share: Over the last year revenues declined slightly (minus four percent), which was mainly due to forex, yet the company managed to grow earnings per share by twelve percent over the same time. Both metrics are important, but the one investors should care about more is the earnings number: A company which manages to grow earnings is able to grow dividends and will see share price appreciation over time. Yet, despite Eaton's earnings per share being up yoy, the company's shares sold off heavily over the last months: At $47 per share Eaton trades 35 percent below the 52 week high. This selloff is not company specific, it is based on macro fears and overall weakness of the whole sector: Over the last three months Eaton's shares declined seven percent, the Industrial Select Sector SPDR ETF (NYSEARCA:XLI) declined nine percent over the same time.
This selloff has made Eaton's shares a lot cheaper, and thus also lead to a much lower valuation for the company: Eaton, which was not expensive in 2015, is trading for a low price right now, and investors have the chance to buy into a high yielding quality stock for a compelling price right now: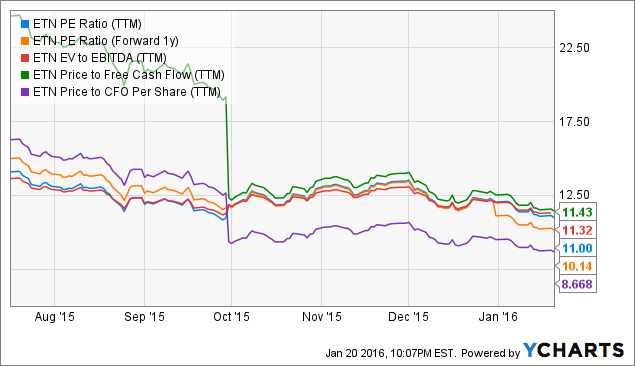 Eaton's trailing PE ratio is 11, which is low in comparison to the broad market (S&P 500 trades at 19.6 times trailing earnings) and also cheap relative to peers (the machinery sector trades at 28 times trailing earnings right now). A PE ratio of 11 is also low relative to Eaton's historic valuation, in 2015 investors were willing to pay up to seventeen times trailing earnings for the shares of the company.
Looking at the forward PE ratio (10.1) we get two impressions: First, this is a low valuation (as explained above), and second, the forward PE ratio being lower than the trailing PE ratio tells us that Eaton is expected to grow its earnings over the next year -- the analyst consensus sees Eaton earning $4.65 per share next year, which means a healthy increase from the current level. Paying about ten times earnings for a company which is expected to grow earnings in the near future seems like a very fair deal.
Looking at Eaton's cash generation, measured by price to cash from operations (8.7), price to FCF (11.4) and enterprise value to EBITDA (11.3), we see that Eaton is trading at a low valuation by these measures, too. Paying 11.4 times free cash flow gives us a free cash flow yield of 8.8 percent, which means that Eaton's free cash flow is about twice as high as it has to be to cover the company's dividend. This means very high dividend coverage, higher than from a lot of traditional income stocks like Coca Cola (NYSE:KO) or Exxon Mobil (NYSE:XOM). With free cash flows being a lot higher than the dividend amount, Eaton can either build up excess cash (for acquisitions or other use), pay down debt or repurchase shares in order to grow earnings per share at a faster pace in the future.
Eaton's dividend of $0.55 per quarter gives the company a dividend yield of 4.6 percent right now, which is well above the broad market's dividend yield of 2.2 percent, and also well above Eaton's historic yields.
| | | |
| --- | --- | --- |
| | Dividend | Increase |
| 2010 | $0.25 | |
| 2011 | $0.34 | 36 percent |
| 2012 | $0.38 | 12 percent |
| 2013 | $0.42 | 11 percent |
| 2014 | $0.49 | 17 percent |
| 2015 | $0.55 | 12 percent |
Eaton's dividend grew at a fast pace over the last years, over the last five years the growth rate [CAGR] was seventeen percent. With earnings expected to continue to grow, record cash generation in the last quarter and a payout ratio of around fifty percent (of both earnings and free cash flows) I believe Eaton will continue to increase its dividend at a substantial pace in the future.
According to finviz.com Eaton is expected to grow its earnings per share by five percent annually over the next five years, which would bring 2020's earnings per share to $5.55. Assuming the payout ratio increases to 60 percent over the same time, Eaton could pay $3.32 per share (or $0.83 per quarter) in 2020. This would bring the yield on cost (for an investor buying at today's price) to 7.0 percent, without dividends being reinvested in the mean time. If an investor put all his dividends back into Eaton in this scenario, his yield on cost would increase to 8.8 percent, which, to me, looks like a great opportunity to create a vast income stream from an equity investment in a couple of years.
Despite the possibility for substantial income generation, Eaton doesn't share any of the negative traits of many other income stocks: The payout ratio is low (right now it is 50 percent, in our scenario it would rise to 65 percent), the leverage is rather low as well (debt to equity of 0.5, debt to EBITDA of 3). This, as well as the fact that Eaton's business is recession proof (the company remained profitable during the 2007 - 2009 financial crisis), makes the company a rather low risk investment.
Using the finbox.io valuation model, I calculated a fair value for three different scenarios: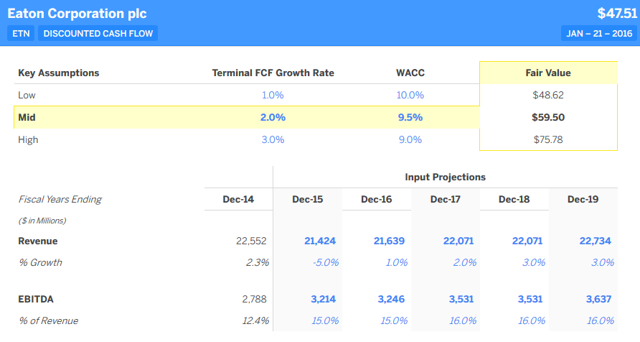 Click to enlarge
At the current price, Eaton would be fairly valued with my most conservative assumptions, and moderately to severely undervalued with more optimistic assumptions.
Even when we assume that revenues only grow by one to three percent over the next years, that FCF will grow at a rate of only one percent a year (which is lower than inflation and GDP growth) and using a discount rate of ten percent, Eaton is not overvalued right now. I thus believe it looks like a good time to get into this income stock right here.
We can also use the Gordon Growth model to determine a required dividend growth rate to justify buying here:
P = D / (r - g)

P = current share price

D = dividend (annual)

r = required return / cost of capital

g = dividend growth rate
When we put in Eaton's current share price of $47 and the current dividend of $2.20, we can solve for g, the dividend growth rate an investor would have to get to justify an investment at today's price.
The dividend growth rate you would want to see (as a minimum) depends on the total return you seek, for an investor aiming for eight percent annually the required dividend growth rate would be 3.5 percent annually. For someone looking for nine percent a year in total return the required dividend growth rate would have to be 4.5 percent a year. Up to this point I believe it is fair to say that Eaton should easily be able to grow the dividend at a pace as high as required (or faster). With earnings per share growth expected at 5.2 percent a year and a dividend payout ratio of just 50 percent I don't see a reason why Eaton shouldn't be able to grow the dividend by (at least) five percent a year in the long run. According to the Gordon Growth model this means that anyone who is happy with a total return of nine percent should take a good look at Eaton at the current price.
Takeaway
Eaton's latest results were not too bad, currency issues are a problem but the dollar has stabilized over the last months. Eaton has been able to grow both earnings and cash flows despite headwinds.
Eaton's valuation is low, relative to its historic levels and relative to its sector and the market, and the high dividend yield in combination with the chance for ample dividend growth makes Eaton a compelling income pick.
According to my cash flow calculation and the Gordon Growth model Eaton is trading at an attractive price right now.
Disclosure: I/we have no positions in any stocks mentioned, but may initiate a long position in ETN over the next 72 hours.
I wrote this article myself, and it expresses my own opinions. I am not receiving compensation for it (other than from Seeking Alpha). I have no business relationship with any company whose stock is mentioned in this article.