Over the past year, the decline in crude oil prices has created a positive impact on Phillips 66 (NYSE:PSX), with the company's shares appreciating more than 20%. This is because Phillips 66 has seen strong growth in its margins due to a decline in feedstock costs for its refinery operations, as a result of which the company's margins have grown despite the drop in its revenue. This is shown in the chart given below: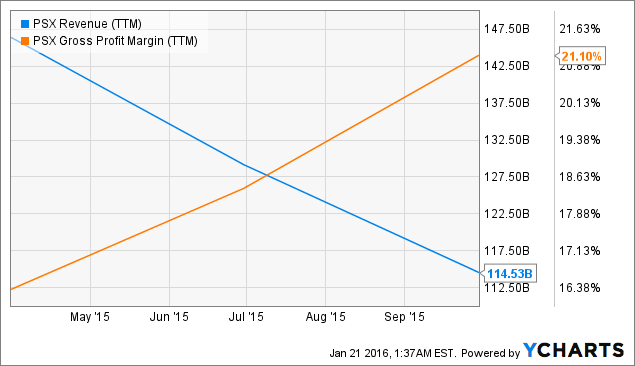 PSX Revenue (NYSE:TTM) data by YCharts
What's working for Phillips 66?
Thus, driven by the strength of its refining and midstream segments, Phillips 66 has been able to make the most of the decline in oil pricing over the past year. However, so far this year, Phillips 66 has been unable to recreate its magic of 2015 as it has lost over 6% of its value so far this year. But, I think that this recent weakness in Phillips 66 can be considered as a buying opportunity as the company's refining and midstream segments will continue to drive its earnings higher, as shown in the chart below:

Click to enlarge
Source: Phillips 66
From the above charts, it is evident that Phillips 66 is benefiting from margin strength in its refining operations due to strong demand for gasoline and secondary products. In fact, Phillips 66 is seeing strong demand for its refinery operations as its crude oil refining capacity utilization increased to 96% last quarter from 90%, driven by the start-up of the Humber refinery in the U.S., along with 100% utilization of the Gulf Coast refineries.
Looking ahead, this strong demand for Phillips 66's refining operations will continue due to an expected increase in demand for gasoline and other petroleum products globally. In fact, according to OPEC, an increase in the usage of trucks and buses, along with higher sales of light motor vehicles in key markets such as China, India, and the U.S. will aid demand for petroleum products in the coming years, as shown below. Additionally, the growing demand for aviation fuel will also act as a driver for petroleum demand, as a result of which refineries will continue to see strong utilization rates.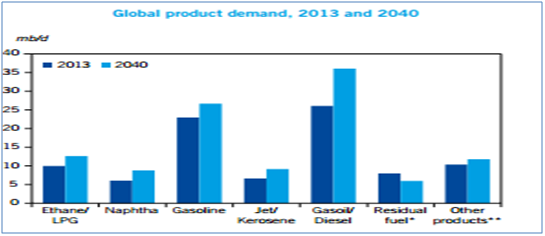 More specifically, Asia will be a key market for oil refiners. For instance, according to Moody's, refiners in Asia will witness EBITDA growth of 1%-3% this year on the back of stable demand from China, apart from impressive growth of 5%-6% in India. As a result, more refining capacity is expected to be brought into action this year, which will lead to an increase in the global average refining margin, as shown below:

Source: Shell
Thus, the prospects of the refining market look strong and this will allow Phillips 66 to sustain bottom line strength as this segment accounts for almost 64% of adjusted earnings.
Strong backlog in the midstream segment is another driver
Apart from refining, Phillips 66's midstream business also looks well-placed. In fact, it has nearly $20 billion worth of backlog in the midstream business that it plans to complete by 2018. On the back of this impressive backlog, Phillips 66 will see impressive growth in its EBITDA performance in the midstream segment going forward, driven by the completion of various projects as outlined below.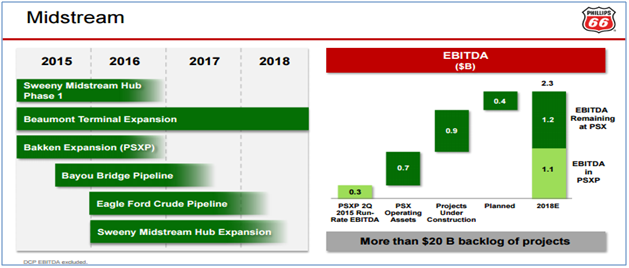 Source: Phillips 66
In fact, as shown above, the combined EBITDA of Phillips 66 and Phillips 66 Partners is anticipated to go up to $2.3 billion in the next couple of years from just $0.3 billion in the middle of 2015 on the back of the ramp up of projects such as the Sweeny Fractionator.
In addition, Phillips 66 recently announced its interest in the Bayou Bridge Pipeline project that will be acquired by Phillips 66 Partners. This acquisition will turn out to be quite attractive as it will help the company earn predictable cash flow on the basis of fees generated, and help support the five-year 30% distribution growth CAGR of Phillips 66 Partners until 2018.
Conclusion
Phillips 66 has done well to take advantage of the weakness in the oil patch on the back of its refining business. Meanwhile, the company's midstream business is also anticipated to be a key growth driver going forward as it will lead to EBITDA expansion on the back of a robust backlog. So, in my opinion, it will be a good idea to go long Phillips 66 and take advantage of the slide in its share price for long-term gains.
Disclosure: I/we have no positions in any stocks mentioned, and no plans to initiate any positions within the next 72 hours.
I wrote this article myself, and it expresses my own opinions. I am not receiving compensation for it (other than from Seeking Alpha). I have no business relationship with any company whose stock is mentioned in this article.