Investing in cyclical stocks is one of the greatest challenges for investors. To be sure, the legendary investor Peter Lynch has said that the easiest thing is to lose 50% of one's capital in a very short period by investing on a cyclical stock that has a low P/E ratio. Unfortunately for investors, it is really difficult to identify the top and bottom of the cycle of these stocks, as the market does not send a warning when the tide is about to change. Therefore, investors should learn some precious lessons, which will help them recognize that the top of the cycle is in place. The case of National Oilwell Varco (NYSE:NOV) is a very educative example for this purpose.
Lesson 1: A low P/E ratio after years of great performance is a warning sign
Since the Great Recession in 2009, National Oilwell Varco consistently grew its earnings almost every year, from $3.52 in 2009 to $5.82 in 2014. In addition, it reported record quarterly earnings per share [EPS] of $1.69 in Q4-2014. Therefore, when its valuation became pronouncedly cheap in Q4-2014, at P/E ratios between 7.5 and 12.5, it surprised many investors. However, unfortunately for investors, cyclical stocks tend to trade at remarkably low P/E ratios near their top. Consequently, they entice many investors, who cannot believe in their luck when they identify such great "opportunities". As the chart below shows, this is exactly what happened in the case of National Oilwell Varco; the stock was trading at P/E ratios around 15 in the last few years but its valuation dropped to P/E ratios below 12.5 since oil topped in the summer of 2014. While the stock seemed surprisingly cheap since late 2014, in reality it was a value trap, which lost 65% off its peak.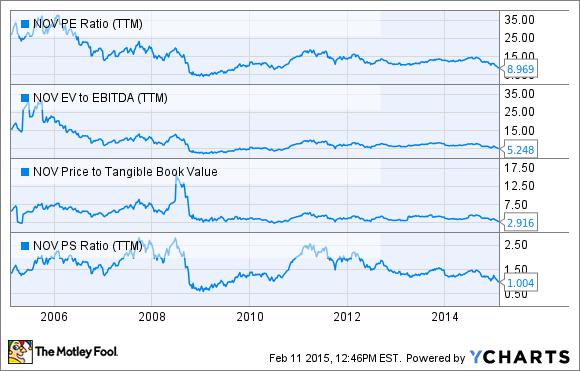 Lesson 2: When a company initiates a share repurchase program in absence of other potential uses for its cash, it is usually a bad sign.
In September-2014, National Oilwell Varco initiated a $3 B share repurchase program, which was sufficient to reduce the share count by about 10% at that point. Although the market has usually rewarded the announcement of such programs, the stock plunged on the news. The market concluded from the announcement that the company could not find growth projects for its excess cash and hence its earnings were about to peak. Indeed the market has proven absolutely correct. More specifically, while the share count has been reduced by 13%, the EPS have plunged by 51%, from $6.07 in 2014 to $2.95 in 2015. Even worse, they are expected to dive further, down to $1.29 this year. All in all, the share buyback program has been a drop in the ocean compared to the deteriorating business conditions surrounding the company.
As a side note, if the company kept the $3 B aside, it would now be able to repurchase 27% of its outstanding shares at the current stock price. Therefore, the timing of share repurchases proved really poor. Unfortunately for shareholders, this is usually the case, as most companies have excess cash near the top of their cycle and their managements are not patient enough to wait for better options.
Lesson 3: The use of backlog can greatly support results but only in the short term
While oil peaked in June-2014, the EPS of National Oilwell Varco continued to grow for another 2 quarters and peaked in Q4-2014. That remarkable performance resulted from the extensive use of the backlog of the company, which greatly supported the revenue of the company while the new orders were collapsing. For instance, 80% of the revenue of the major segment of the company, Rig Systems, came from the use of backlog in Q4-2014. Consequently, the company posted record earnings in Q4-2014, though its outstanding backlog in Rig Systems decreased from $14.5 B to $12.5 B in a single quarter.
While cyclical companies should utilize their backlog during rough business conditions, the support from the backlog inevitably fades over time. For instance, in the most recent quarter, the segment of Rig Systems experienced a 44% decline in its revenue over last year. While 87% of its revenue was generated from the use of backlog, the use of backlog was much lower in absolute amount than in Q4-2014 ($1.3 B vs. $2.0 B). Therefore, investors should not base their investing decisions on great results that were achieved thanks to the use of backlog. If the business conditions remain adverse for a long period, the great results are bound to prove short-lived. The market seems to know this very well; that's why the stock plunged by about 30% off its peak even before it reported its record earnings in Q4-2014.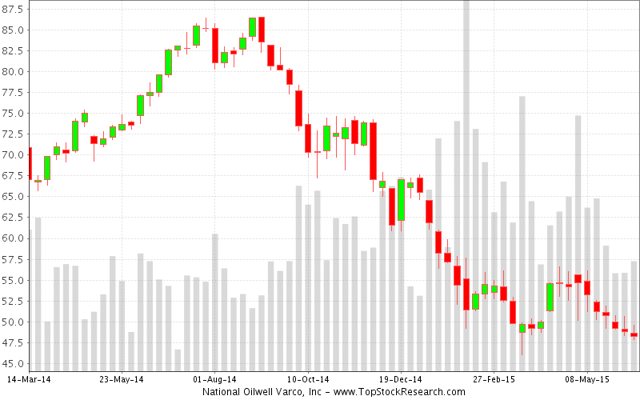 Click to enlarge
Conclusion
Investing in cyclical stocks is extremely challenging, as cyclical stocks tend to trade at remarkably low P/E ratios near the peak of their cycle and pronouncedly high P/E ratios near their bottom. Consequently, as the moves of these stocks are very steep, even when the prevailing fundamentals cannot justify such moves, investors should learn the above precious lessons in order to detect early the top of the cycle and avoid facing severe losses in short periods of time.
Disclosure: I/we have no positions in any stocks mentioned, and no plans to initiate any positions within the next 72 hours.
I wrote this article myself, and it expresses my own opinions. I am not receiving compensation for it (other than from Seeking Alpha). I have no business relationship with any company whose stock is mentioned in this article.