With all of the large energy and commodity related stocks facing pressure to cut dividends, Verizon Communications (NYSE:VZ) remains a relatively safe dividend option. The domestic wireless provider though hasn't seen any mass influx of investors into the stock for two years now.
Q4 results were another sign of stability in a volatile market. With a 5% dividend and strong cash flows, are investors missing out on the safe money in Verizon?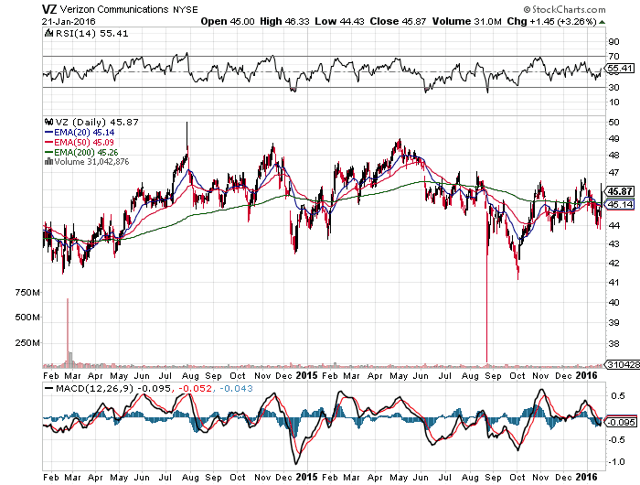 Click to enlarge
More Of The Same
With questions circulating whether the oil majors can maintain dividends with oil plunging to $30, the best part of the Q4 results for Verizon was the relative stability of the numbers. The most important number is arguably the postpaid churn rate dropping below 1%. VZ may lose out on new customers to T-Mobile (NASDAQ:TMUS), but the wireless provider isn't losing existing customers in droves.
The good news is that Sprint (NYSE:S) is on a self-destructive plan that mostly voids the aggressive pricing such as the offer to cut Verizon invoices in half. The stock is now down to $2.50 on a concerning new network switch. According to Re/code, the wireless provider plans to move cell towers to cheaper government locations from existing towers of American Tower (NYSE:AMT) and Crown Castle (NYSE:CCI). Sprint plans to save $2 billion in the process, but the company risks losing customers if the switch causes network interruptions.
The end result is that AT&T (NYSE:T) and Verizon have a virtual duopoly with existing power users and corporations unwilling to risk the crazy moves by T-Mobile and destructive plans of Sprint. At the end of the day, customers aren't fleeing the top wireless networks for cheaper prices.
Bottom line, Verizon reported a slight earnings and revenue beat for Q4. The guidance remains the same for relatively flat earnings in 2016 as the domestic wireless provider makes the shift to digital services and begins testing 5G.
Benefits Of Stability
The benefit of stable revenues and cash flows is no more obvious than the current market environment. Whereas Verizon obtains a relatively consistent monthly revenue stream, energy players are reliant on volatile energy prices.
With the stable revenues, VZ generates huge free cash flows that the wireless provider can easily use to cover dividends. For the full year, Verizon had $21.2 billion in free cash flow and only paid out $8.5 billion in dividends.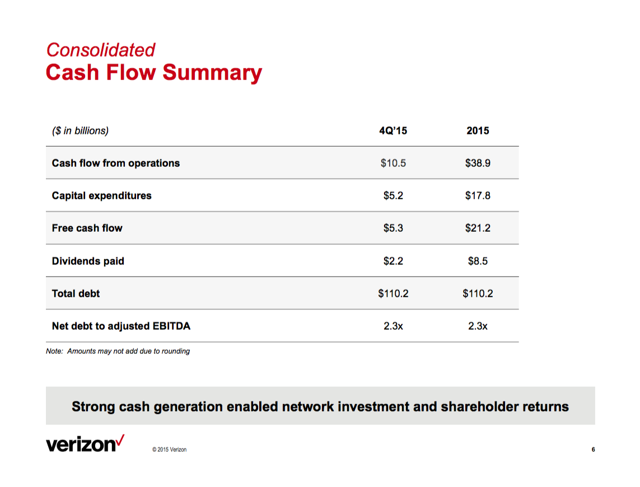 Click to enlarge
Source: Verizon Q4'15 presentation
The consistent cash flows are what allowed the company to grow dividends even during the financial crisis.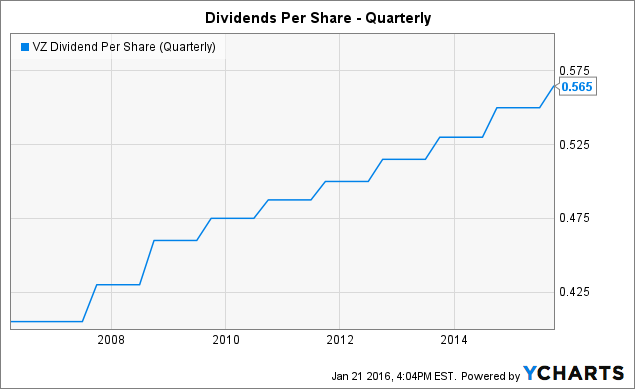 Takeaway
With another solid quarter and a dividend yield of 5%, Verizon remains relatively safe money compared to a lot of other dividend payers. As Sprint falters, the domestic wireless pricing wars are disappearing and allowing VZ to continue raking in consistent cash flows.
If any of the new digital advertising and programming initiatives take root or if the company becomes the leader in 5G services, the stock has plenty of upside. If not, investors can keep collecting the 5% dividends without the risks of other companies reliant on volatile revenue streams.
No stock is without risk, but the recommendation is to not pass up the 5% dividend of Verizon.
Disclosure: I/we have no positions in any stocks mentioned, but may initiate a long position in VZ over the next 72 hours.
I wrote this article myself, and it expresses my own opinions. I am not receiving compensation for it (other than from Seeking Alpha). I have no business relationship with any company whose stock is mentioned in this article.
Additional disclosure: The information contained herein is for informational purposes only. Nothing in this article should be taken as a solicitation to purchase or sell securities. Before buying or selling any stock you should do your own research and reach your own conclusion or consult a financial advisor. Investing includes risks, including loss of principal.