Earlier this week I wrote an article on Seritage Growth Properties (NYSE:SRG), the new retail REIT that spun out of Sears (NASDAQ:SHLD) with a portfolio of 266 properties across 49 states. Although SER has significant credit risk (91% of portfolio leased to Sears) billionaire investor Warren Buffett was intrigued enough to make a modest $70 million wager to pick up around 2 million shares.
There's not much historical evidence related to Buffett's investing acumen as a real estate financier. In a previous Seeking Alpha article I explained that Buffett had once owned Tanger Factory Outlets (NYSE:SKT) (in 1999) and more recently Buffett referenced two personal investments - a 400 acre farm in Nebraska and a retail shopping center near New York University.
The farm and shopping center were both acquired at substantial discounts, Graham explained his NYU investment:
…a bubble had popped - this one involving commercial real estate - and the RTC had been created to dispose of the assets of failed savings institutions whose optimistic lending practices had fueled the folly.
Buffett went on to recount his focus on finding the unpolished gems - the NYU deal seems comparable to the SER portfolio in that the potential opportunity is to unlock value by investing in underutilized space:
…the largest tenant - who occupied around 20% of the project's space - was paying rent of about $5 per foot, whereas other tenants averaged $70. The expiration of this bargain lease in nine years was certain to provide a major boost to earnings.
Another similarity to the NYU deal and SER is that Buffett is relying on partnerships since leasing and management are not his circle of competence. Buffett explains,
I joined a small group, including Larry and my friend Fred Rose, that purchased the parcel. Fred was an experienced, high-grade real estate investor who, with his family, would manage the property. And manage it they did. As old leases expired, earnings tripled.
Of course, there is a major difference in Buffett's NYU deal compared with SER, and Buffett sums it up as follows:
There is one major difference between my two small investments and an investment in stocks. Stocks provide you minute-to-minute valuations for your holdings whereas I have yet to see a quotation for either my farm or the New York real estate.
As I explained in my SER article, "investing in a Sears bank called Seritage seems to be flawed, even if the real estate represents the bargain of the century… It will be hard to reap the value in the so-called bargains that are being offered when the blue light special is out of business. Remember TG&Y, Montgomery Ward, and Blockbuster Video?"
I then concluded, "Mr. Buffett, I applaud you for selecting a REIT and tomorrow I will be writing on a deeply discounted REIT that has "all of the ingredients of something special."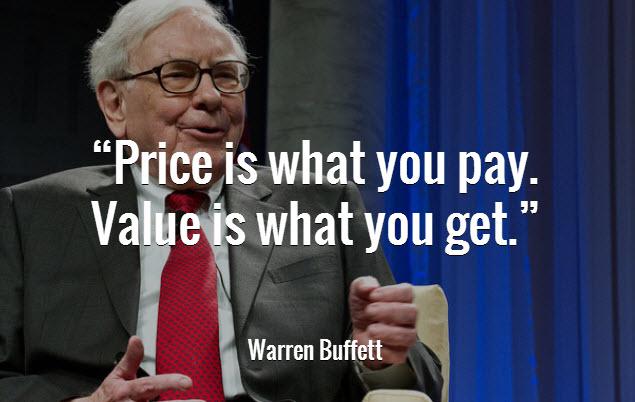 W.P. Glimcher - A Value Investor's Dream
WP Glimcher (NYSE:WPG) is unique in its sector classification, as the company owns a diverse number of properties that include malls, lifestyle centers and community centers - according to the company's investor presentation, around 79% of its NOI is derived from malls and around 21% from community centers. In an article last year I decided to use shopping centers as the peer set, but in this article I opted to use malls. Here's how WPG compares with the mall peers based on market capitalization:

Click to enlarge
WPG owns 121 properties totaling 70 million sq. ft. and the company has a total enterprise value of $6.6 billion; here is a snapshot of the geographic diversification: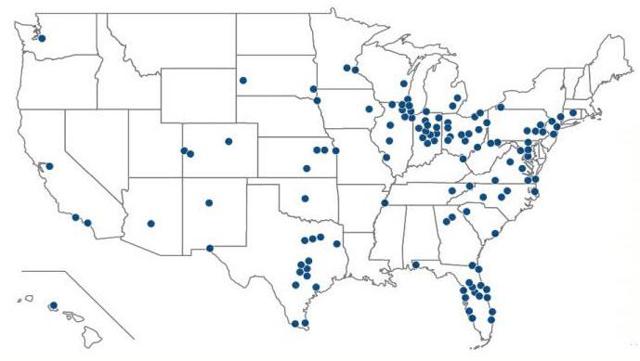 Click to enlarge
WPG has a diversified tenant base across asset types with a wide range of retailers interested in growth with the company. Similar to SRG, WPG owns shopping centers and malls, thus the lines of retail formats are blurred.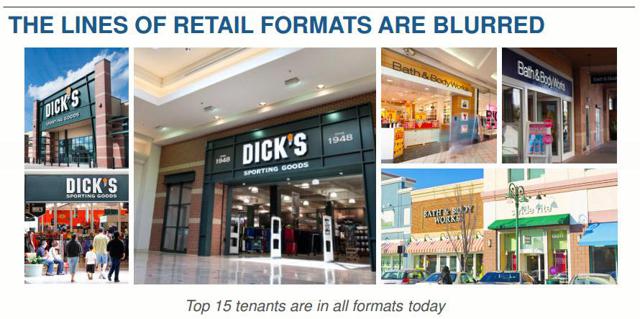 Click to enlarge
WPG has positioned itself as a lifestyle landlord: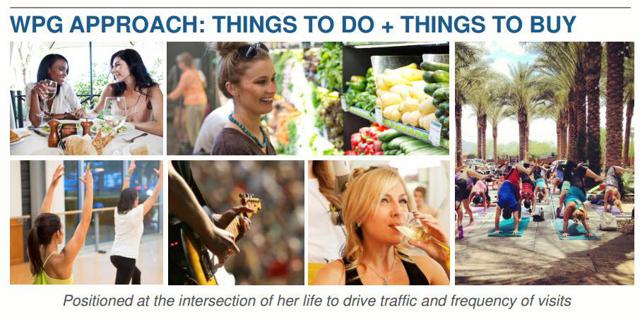 Click to enlarge
Also similar to SRG, WPG seeks to re-tenant underperforming space and invest in redevelopment across the portfolio.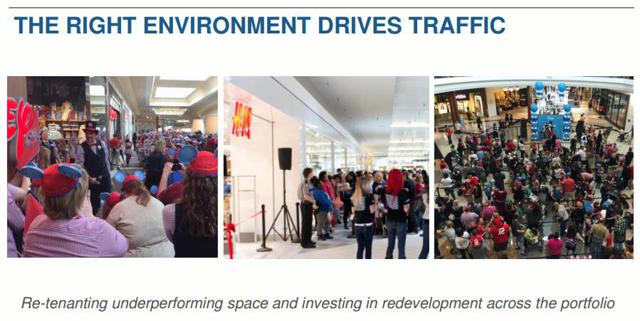 Click to enlarge
The Mall Portfolio
WPG's mall portfolio consists of 62 properties with a total square footage of 47.8 million square feet. The average sales per square foot for the mall portfolio is $361 and the occupancy rate is 90.6%.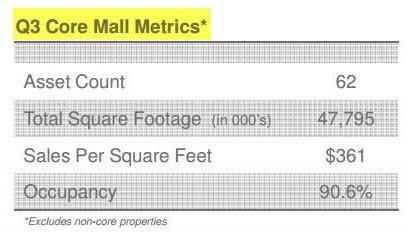 Many of WPG's top tenants are mall tenants such as Sears (NASDAQ:SHLD), J.C. Penney (NYSE:JCP), Macy's (NYSE:M), and Dillard's (NYSE:DDS). Collectively these four tenants account for around 25% of WPG's gross lease area (or GLA). However, these same tenants account for just around 3% of WPG's base minimum rent.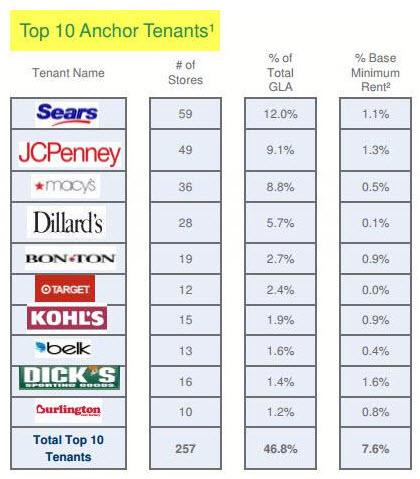 One big difference between WPG and SRG is that WPG has over 1.1% of revenue generated by Sears and SRG has over 78% of revenue from Sears.

Click to enlarge
WPG has 59 Sears properties and WPG has 266:

Click to enlarge
With 59 Sears, roughly 12% of GLA, and only a little over 1.1% of base rate, the #1 tenant is probably not the highest rent paying space WPG has in the portfolio, and the company owns 24 of them. As you can see below, WPG suggests that re-leasing the Sears stores produces tremendous upside: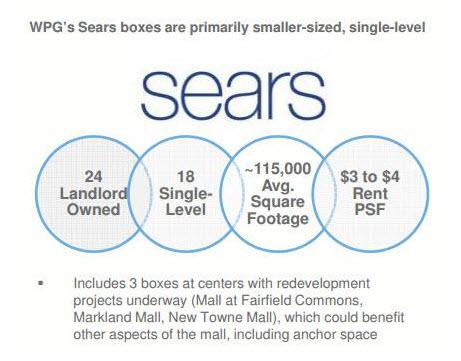 As you can see, WPG's Sears boxes are primarily smaller-sized, single-level buildings and the average rent per square foot for these properties is between $3.00 and $4.00 per square foot. WPG owns 24 out of 59 stores (35 are owned by Sears and ground leased to WPG) and that mitigates some lease-up risks.
Sears boxes are re-leasable to a wide universe of potential tenants: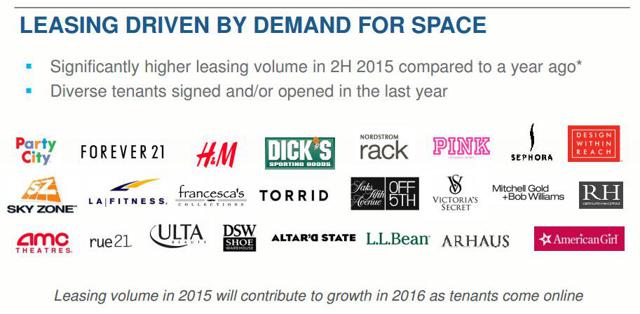 Click to enlarge
WPG has been successful with re-tenanting department store anchors as evidenced below: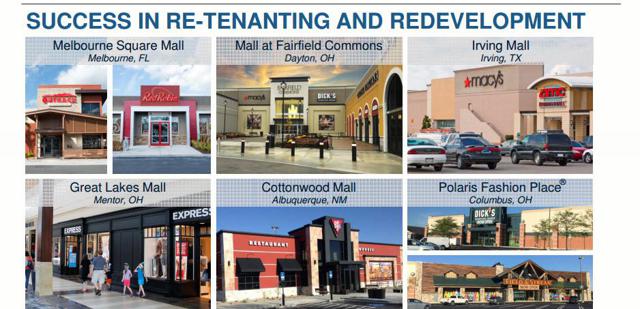 Click to enlarge
A More Experienced Team With A Track Record
I'm sure that Buffett's investment in SER had more to do with Edward Lampert's association with Sears than his appeal with SRG's management team. Although SRG's management team is experienced, the REIT is new and has no track record as a public company. Lambert has essentially hired "paid puppets" to orchestrate a value-add strategy to replace dark Sears stores with new tenants.
WPG has a more experienced team with deep roots in development:

Click to enlarge
WPG has a wide range of retailers interested in growth across the portfolio: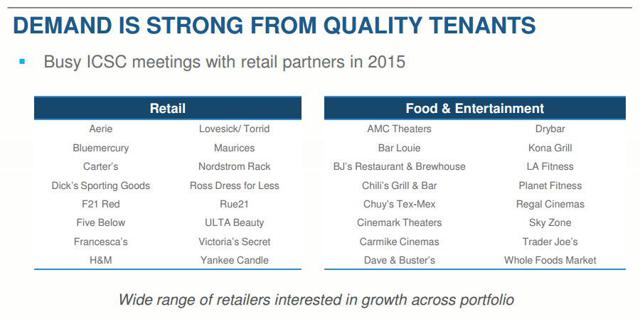 Click to enlarge
The majority of 2016 NOI growth is already committed: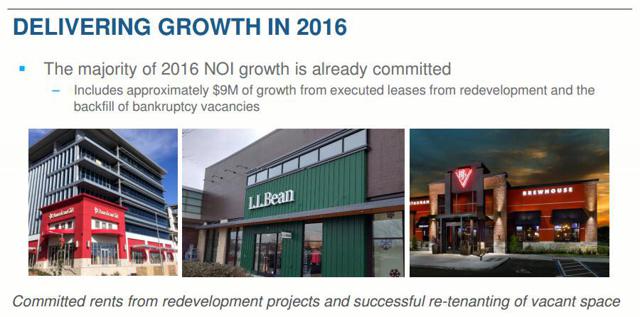 Click to enlarge
Because WPG has modest Sears exposure the REIT can focus on promoting stability and driving NOI growth, instead of being distracted by the fate of Sears. This is a more disciplined approach to value creation.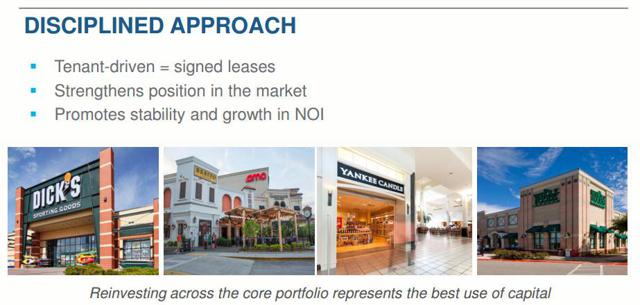 Click to enlarge
WPG has 20 redevelopment and re-tenanting projects in the pipeline that should deliver an estimated yield on cost of 8% to 11%.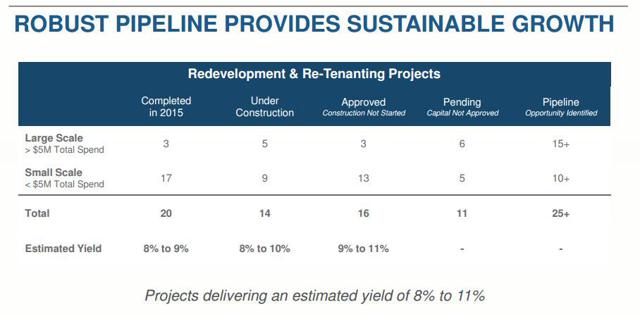 Click to enlarge
For example, Jefferson Valley Mall should generate between 7% and 8% on an estimated spend of $32M to $36M.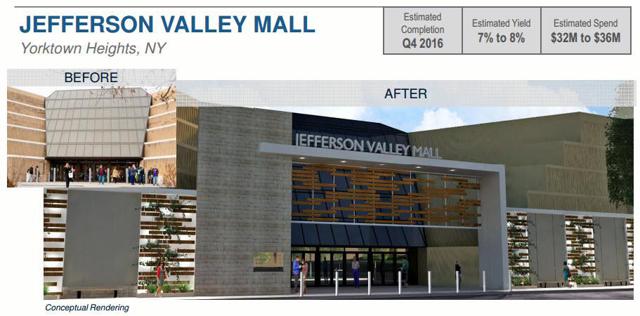 Click to enlarge
Another example, Longview Mall should generate between 8% and 10% on an estimated $14M to $16M capital spend: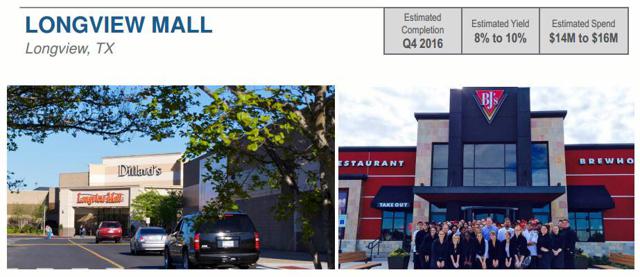 Click to enlarge
Lindale Mall should generate between 9% and 11% on an estimated $3M to $5M capital spend: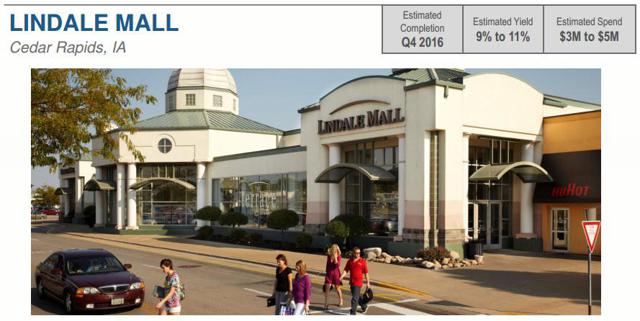 Click to enlarge
WPG has ample opportunities for continuous growth across the platform: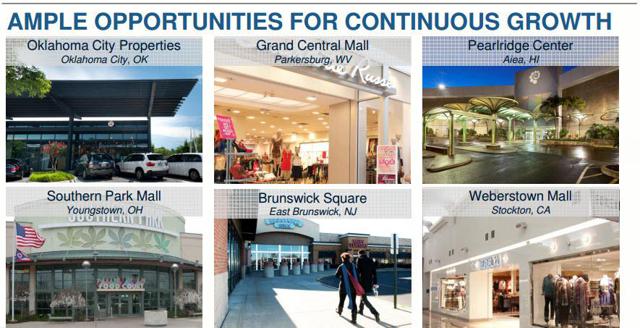 Click to enlarge
A Better Balance Sheet?
WPG is continuing to take steps to improve its capital structure and liquidity. As a result, the company has more recently shifted its focus towards raising longer-tenured debt capital to address the significant concentration of debt maturities in fiscal years 2019 and 2020.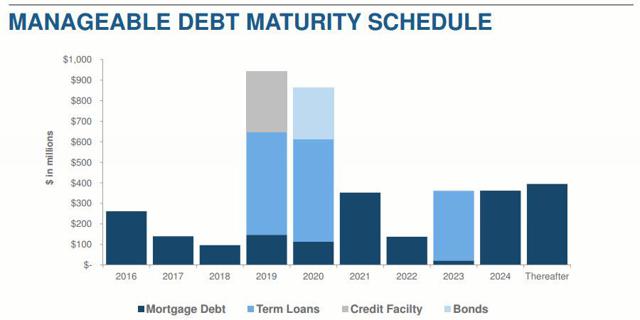 Click to enlarge
Here's a snapshot of assumed transitions of maturities over the next 36 months: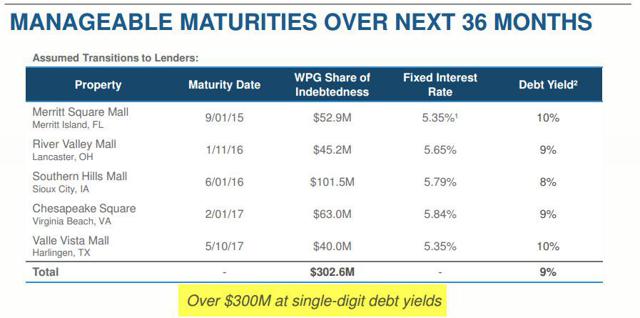 Click to enlarge
WPG is expected to refinance or unencumber the following properties over the next 36 months: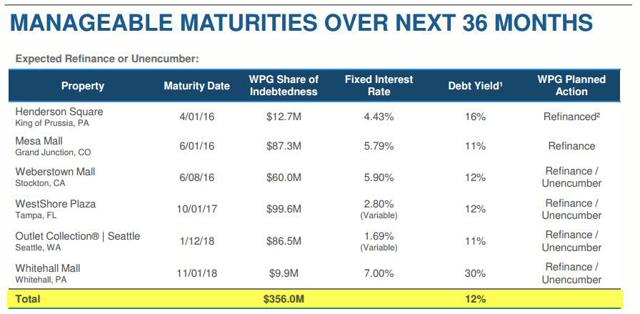 Click to enlarge
As a result, WPG should be in a position to continue to grow its unencumbered pool of assets: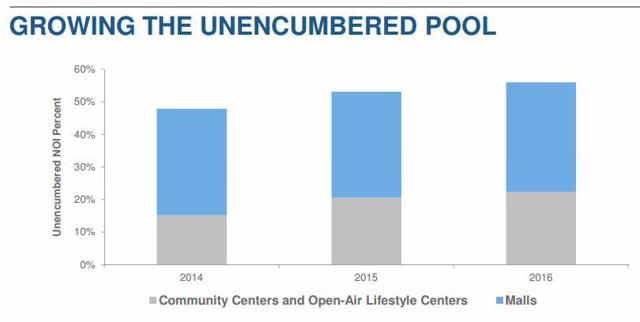 Click to enlarge
On the recent earnings call, management said that it "has received in excess of $320 million of non-binding commitments in support of a new 7-year unsecured term loan." Based upon the current debt levels, pricing will be around LIBOR plus 180 bps. WPG plans to use the net proceeds from the term loan to pay down the current outstanding balance on the revolver.
WPG is also working to restructure two assets in technical default: Merritt Square Mall's (in Florida) non-recourse debt matured in September and WPG is working towards finalizing an arrangement to cure the default with the lender.
River Valley Mall (in Lancaster, Ohio) has an impending maturity and Chesapeake Square Mall located (in Virginia Beach) recorded a $9.9 million impairment in Q3-15. WPG has commenced discussions with the special servicer on the $63 million nonrecourse mortgage encumbering Chesapeake Square, which is scheduled to mature in early 2017.
With these three loans all having debt yields in the single digits, if WPG proceeds with an exit of these malls, it will allow the company to improve its overall debt leverage.
At January 1, 2016 WPG expects to have approximately $689 million of liquidity (year-end), including $120 million of cash and short-term deposits. This provides the company with sufficient capacity to support its operational and strategic goals. Here's a snapshot of the liquidity strategic plan: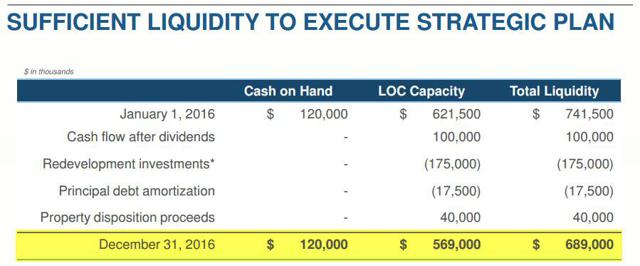 Click to enlarge
Last year Moody's and Standard & Poor's Ratings downgraded WPG. S&P pushed the company's corporate credit rating to BBB- from BBB. Concurrently, the $500 million term loan of WPG's subsidiary, Washington Prime Group LP, was assigned an issue-level rating of BBB-.
S&P said the downgrade stems from its expectations that WPG will see slower-than-anticipated improvement in its credit protection measures and keep such measures elevated at levels that are deemed "weak" for its current financial risk profile. The downgrade is also supported by "weaker-than-expected occupancy levels," driven by weaker sector performance at B and C category malls and tenant bankruptcies during the first half.
The company's outlook is stable, reflecting S&P's view that WPG's continued focus on driving portfolio growth, as well as property and technology platform integration, will enable the company to sustain credit protection measures close to current levels in the next two years, including its leverage at about 6.8x.
Click to enlarge
WPG dividend is well-covered with a payout ratio of around 70%.

Click to enlarge
Latest Results
WPG's adjusted FFO (or AFFO) for the third quarter was $0.46 per diluted share, ahead of the guidance range. The 5% year-over-year increase in AFFO, which excludes cost related to the merger, was primarily attributed to the EBITDA contributions from the Glimcher legacy properties, partially offset by higher G&A and interest expense.
Based on the strong third quarter financial results and current outlook and expectations, it raised full-year AFFO to a range of $1.84 to $1.88 per diluted share from a prior range of $1.80 to $1.86. WPG's AFFO guidance range for the fourth quarter is $0.43 to $0.47 per diluted share.
As WPG pointed out in a recent presentation, several non-recurring factors inflated 2015 AFFO: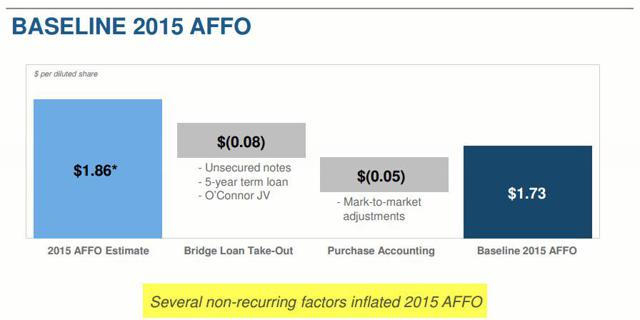 Click to enlarge
WPG provides the following 2016 FFO guidance, expected to grow FFO by 3% from the baseline 2015 FFO (above).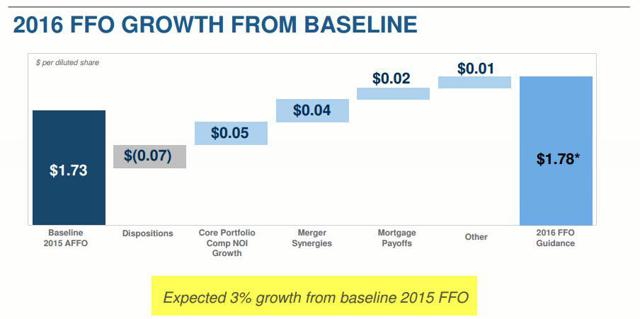 Click to enlarge
The 2016 FFO assumptions are as follows: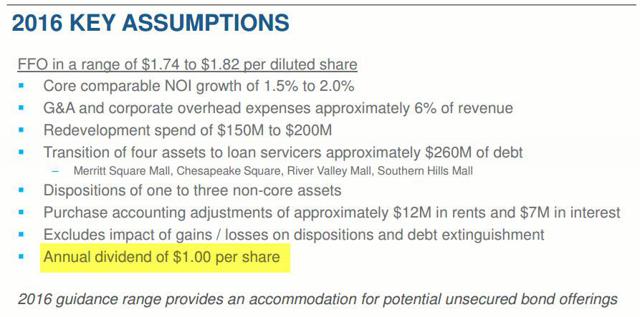 Click to enlarge
WPG provides the following Comp NOI growth across the portfolio:

Click to enlarge
WPG provides clarity on redevelopment projects and potential 2016 NOI growth (from redevelopment):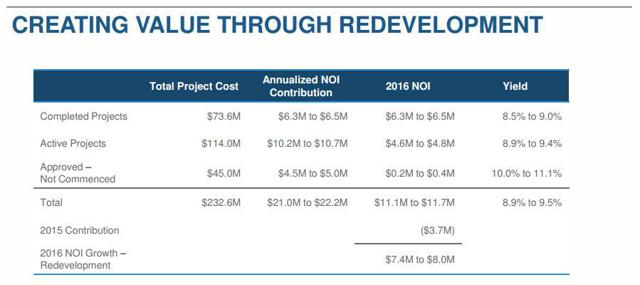 Click to enlarge
Risk Comes From Not Knowing What You're Doing
This is another classic quote from Buffett and while I'm not suggesting the billionaire does not know what he's doing, I'm perplexed as to his recent investment in SRG.
Clearly, SRG has significantly elevated risk due to the company's extreme tenant-based concentration with Sears. Alternatively, I'm certain that Buffett measured the opportunity and he was obviously satisfied that the investment would generate out-sized returns.
Yet, unlike his personal investment in NYU, Buffett has a third partner in the SRG deal who goes by the name of Mr. Market. Since SRG went public last July the company has returned 6.08% and during the same time frame WPG has returned -31.65%.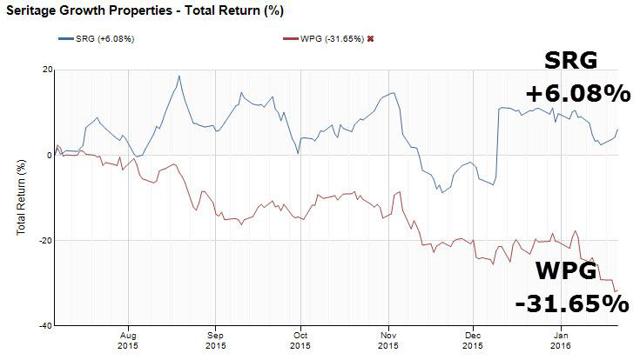 Click to enlarge
I can't speak for Mr. Market (or Mr. Buffett) but it seems to me that WPG is a really cheap stock today, arguably a lot safer now than it was last July. What will happen when Sears goes on life support?
As I explained in this article, WPG has a well-balanced model that provides more stable and predictable sources of income. Alternatively, SRG is highly exposed to the struggling shares of Sears and any bad news related to the retailer will likely cause Mr. Market to become angry. Mr. Buffett famously said,
Rule No.1: Never lose money. Rule No.2: Never forget rule No.1.
Mr. Buffett. In all due respect, I think you passed by the real blue light special, not the one run by Steady Eddie, but the one I reference. Take a look at this indicator of cheapness:

Click to enlarge
Better yet, take a look at this blue light special - yes, the dividend appears safe!

Click to enlarge
Mr. Buffett, you said that "long ago, Ben Graham taught (you) that 'Price is what you pay; value is what you get.' Whether we're talking about socks or stocks, I like buying quality merchandise when it is marked down."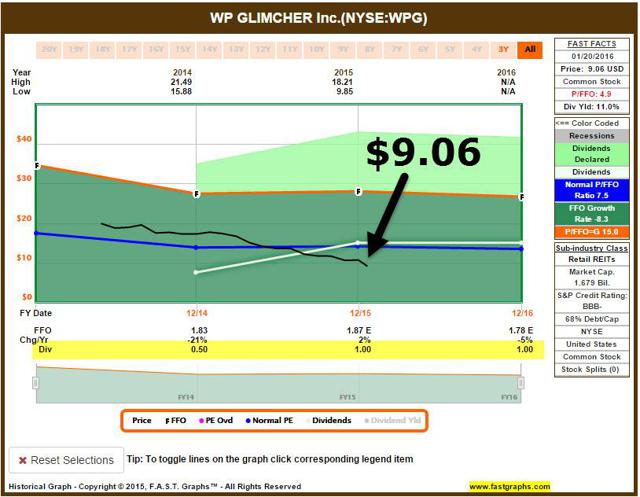 Click to enlarge
The Bottom Line: Why invest alongside a hedge fund titan who has NO retail experience. If you want to own a deeply-discounted REIT that promises to add value through redevelopment, WPG is the answer. Like you Mr. Buffett, I like to own "quality merchandise marked down" and as far as I can tell, the blue lights are flashing louder than ever - but as you know, "opportunities come infrequently. When it rains gold, put out the bucket, not the thimble."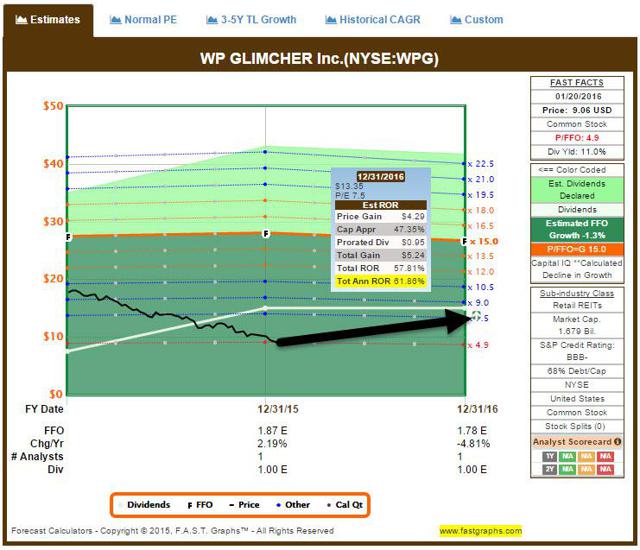 Click to enlarge
Author's Note: I'm a Wall Street writer, and that means that I am not always right with my predictions or recommendations. That also applies to my grammar. Please excuse any typos, and I assure you that I will do my best to correct any errors if they are overlooked.
Finally, this article is free, and my sole purpose for writing it is to assist with my research (I am the editor of a newsletter, Forbes Real Estate Investor), while also providing a forum for second-level thinking. If you have not followed me, please take 5 seconds and click my name above (top of the page).
The only guarantee that I will give you is that I will uncover each and every rock I can in an effort to find satisfactory investments that "upon thorough analysis promises safety of principal and satisfactory return. Operations not meeting these requirements are speculative." (Ben Graham)
Sources: SNL Financial, FAST Graphs, and WPG Investor Presentation.
REITs mentioned: (NYSE:TCO), (NYSE:MAC), (NYSE:SPG), (NYSE:GGP), (NYSE:RSE), and (NYSE:CBL).
Disclaimer: This article is intended to provide information to interested parties. As I have no knowledge of individual investor circumstances, goals, and/or portfolio concentration or diversification, readers are expected to complete their own due diligence before purchasing any stocks mentioned or recommended.
Disclosure: I am/we are long O, DLR, VTR, HTA , STAG, GPT, ROIC, HCN, OHI, LXP, KIM, WPC, DOC, EXR, MYCC, BX, TCO, SKT, UBA, STWD, CONE, BRX, CLDT, HST, APTS, FPI, CORR, NHI, CCP, WSR, CTRE, WPG, KRG, SNR, LADR, HCN.
I wrote this article myself, and it expresses my own opinions. I am not receiving compensation for it (other than from Seeking Alpha). I have no business relationship with any company whose stock is mentioned in this article.