Surprise, surprise: Starbucks (NASDAQ:SBUX) disappointed investors when it released its first-quarter results after the market closed on Thursday, and it doesn't look like there are many reasons to be very optimistic about its very short-term prospects.
Is that right?
Little Detail
The table below shows a little detail - introduced in its fiscal 2016 targets - that the market did not like at all.

(Source: Starbucks)
Reaction
Quarterly revenues were just a tad below consensus estimates of $5.39 billion, but the problem, it seems, is that Starbucks must keep up delivering rising margins while growing sales in key parts of the world that might end up diluting its overall profitability.
Its shares fell 4% in after-hours trading.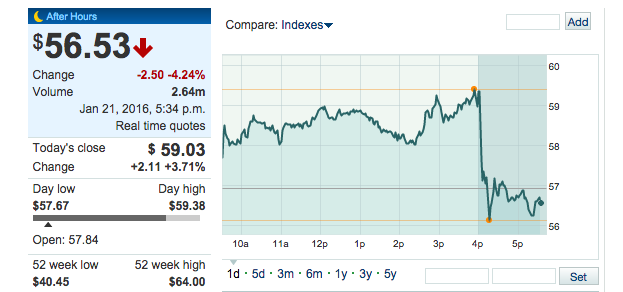 (Source:MarketWatch)
On 17 November, when its shares closed at $60.5, I wrote: Starbucks is a value play at $53.
"$53 is a pipe dream," was one of the comments I got.
1Q Snapshot
Starbucks is not just a good business - it is a fantastic business.
But here I have to assess whether its shares are fairly valued, which a rather different matter.
Soon after its trading update was released, Reuters wrote:
"Starbucks Corp's current-quarter forecast missed analysts' estimates, and the company reported lower-than-expected sales growth at established cafes in its Asia Pacific division."
"Operating margin also declined 240 basis points to 19.4% in the region," Reuters added, primarily due to the impact of ownership change of Starbucks Japan in the quarter.
That is a massive drop in key markets for Starbucks.

Click to enlarge(Source: Starbucks)
That said, things aren't too bad at group level when it comes to its core operating margins, which expanded by 60 basis points to 19.7% on a comparable basis, as the table below shows.

Click to enlarge(Source: Starbucks)
Its performance was even more impressive once you consider its comparable store sales, which are reported in the table below.

Click to enlarge(Source: Starbucks)
Its performance in the Americas, where SBUX generates almost 70% of group sales, was remarkable.
Operating income of $934.6m grew 14% versus $817.5m the first quarter of 2015, while its operating margin stood at 25.1%, and expanded 80 basis points due to "sales leverage and savings in cost of sales, primarily dairy, and was partially offset by investments in our partners (employees) and digital platforms."
All good then?
Well, I do not think so.
Value
The following table shows some of its key financial metrics: SBUX must beat estimates every quarter if it doesn't want to run the risk of destroying value over time, but as it continues to grow at a fast pace, incremental returns on invested capital may become more difficult to achieve.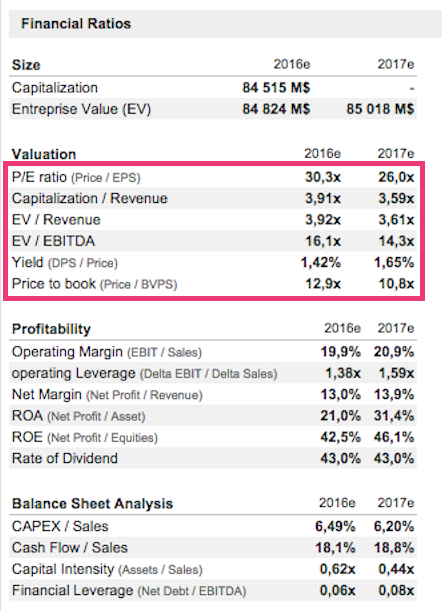 (Source: 4-traders.com, edited by the author)
When the S&P 500 plunged more than 3% on Wednesday, SBUX lost up to 6% in value at one point. It has proved to be resilient in recent days, but its valuation could be problematic around the mid-$50 level, given its lowly yield.
Risk
Give SBUX a weighted average cost of capital of 8%. Then, assume it will hit 2018e revenue of $25bn, while recording an adjusted operating cash flow (AOCF) margin of 26.4% (some 3 percentage points above its 2015 level).
If we put its adjusted operating cash flow on a multiple of 16x, which is rich and is broadly in line with its 2016 forward EV/AOCF valuation, we derive a net present value of SBUX equity of about $84bn, which essentially implies no premium to its current market cap.
But there are risks to those estimates and assumptions.
In fact, it's possible that I will have to tweak down its projected level of profitability going forward. Or I may have to tweak down the multiple.
Or both.
Disclosure: I/we have no positions in any stocks mentioned, and no plans to initiate any positions within the next 72 hours.
I wrote this article myself, and it expresses my own opinions. I am not receiving compensation for it (other than from Seeking Alpha). I have no business relationship with any company whose stock is mentioned in this article.