The broad market crash in 2016 has brought down shares of Hecla Mining (NYSE:HL) along with it as well. In fact, so far this year, Hecla shares are already down to the tune of almost 18%, which shouldn't ideally be the case as gold prices have gained some strength this year. In fact, so far this year, the price of the yellow metal has increased over 3% as buying activity has picked up pace due to the turmoil in the global equity markets.
This should act as a driving force for companies such as Hecla Mining, more so because the likelihood of gold prices getting better is strong. In this article, we will take a closer look at Hecla's gold mining business that accounts for 42% of overall revenue and see why it is primed for upside going forward.
The strength in gold pricing will continue
Gold prices have got off to a positive start this year, and it is likely that the trend will continue on the back of economic uncertainty in several key markets. For instance, China is in a mess as its growth is slowing down, and this is affecting the global economy as well. On the other hand, Brazil is already in a recession while the rapid decline in crude oil pricing is another cause for concern for Middle Eastern countries.
In light of the uncertainty in several key global economies, the World Bank has decided to downsize its 2016 growth forecast to the tune of 0.4 percentage points. This is the reason why investors seem to be putting more faith in gold as it is considered to be a safety net in difficult times. In fact, a closer look at the commitment of traders clearly indicates that the outlook on gold has changed from negative to positive all of a sudden, driven by the uncertainty in the global equity markets. As reported by Forbes:
"After nine weeks of net short positioning, the latest CFTC trade data shows that hedge funds and money managers have turned positive on gold, and analysts are starting to take notice.

According to the disaggregated Commitment of Trader Report (COTR), money managers increased their speculative gross long position of Comex gold futures by 3,176 contracts to 82,908. Shorts fell by 12,843 to 82,816 over the same period. The latest data shows the gold market is net long by only 92 contracts."
Driven by this uncertainty, I won't be surprised if the physical demand for gold rises in 2016. In fact, it is anticipated that physical demand for gold will increase this year as compared to 2015, while at the same time, supply will decline this year as 2015 was considered to be the peak year of production. More specifically, this year, gold production is on track to drop 3%, as a result of which supply will decline.
So, on the back of better demand and lower supply, the price of gold should ideally get better this year, thereby creating a tailwind for Hecla Mining.
High grades at Casa Berardi will lead to cash flow growth
Hecla Mining will benefit from high-grade deposits at the Casa Berardi mine, which is already helping it enhance production and improve cash flow performance due to consistently declining costs. In fact, driven by assets such as Casa Berardi, Hecla's gold production has increased and costs have declined at the same time. This can be seen from the following chart: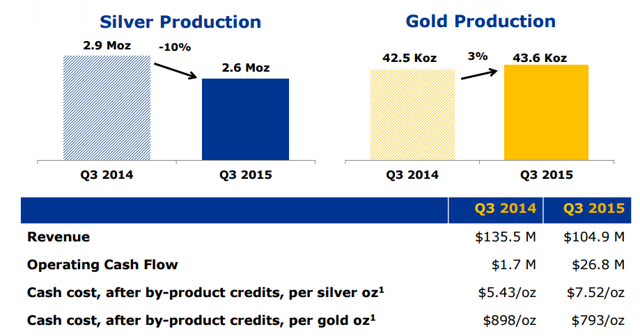 Click to enlarge

Source: Hecla Mining
As shown above, Hecla's gold production had increased last quarter by 3%, and at the same time, the company saw a decline of almost 12% in cash costs. Looking ahead, it is likely that Hecla will be able to sustain this impressive operational efficiency since it is making impressive progress at the Casa Berardi mine.
For instance, Hecla has made new discoveries at this mine and since there is a lot of unexplored area at this mine, more discoveries are possible. More specifically, Hecla is focused on adding higher grade stopes at the mine, with the 123 zone being one such stope. In fact, at the 123 Zone, Hecla has 1,700 tons of reserves with a grade of 20 grams per ton, apart from 3,500 tons with a grade of 16 grams per ton. Considering the fact that Casa Berardi accounts for 35% of Hecla's overall revenue, the discovery of higher grade ore will have a positive impact on the company's business.
More importantly, Hecla is already seeing an improvement in its overall operating cash flow due to lower costs and higher production at Casa Berardi, as shown in the chart given below: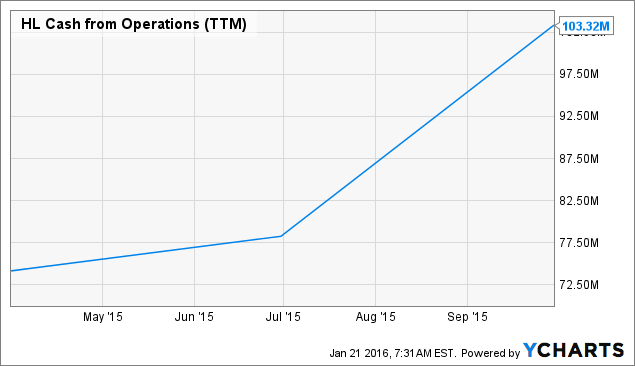 HL Cash from Operations (NYSE:TTM) data by YCharts
Conclusion
Hecla Mining has done well to improve cash flow and reduce costs in a challenging gold pricing environment, which indicates that better times lie ahead for the company. Gold prices have gained strength this year and the momentum is anticipated to continue due to the global economic uncertainty, higher demand, and lower supply. So, in my opinion, it will be a good idea to buy the drop in Hecla Mining.
Disclosure: I/we have no positions in any stocks mentioned, and no plans to initiate any positions within the next 72 hours.
I wrote this article myself, and it expresses my own opinions. I am not receiving compensation for it (other than from Seeking Alpha). I have no business relationship with any company whose stock is mentioned in this article.