The Ruble dropped around 3% on Wednesday and USDRUB traded 84.50s, a loss of almost 15% in the last month alone. USDRUB has already traded through the highs in 2014 pushing already an economy in recession further towards a cliff. The slump in growth and Ruble weakness both are results of the recent oil price weakness. Earnings from oil and gas make up more than half of government revenues. This has resulted in budget cuts since the beginning of last year, stretching the deficit to 6% in case of oil averaging 30 USD's in 2016. While the previous budget was prepared in the last 3 months of 2015, it did not take into account a further fall in oil prices to the levels we are seeing today. Now, Russia seems be trying to adjust to the new world reality of 30 USD in oil prices.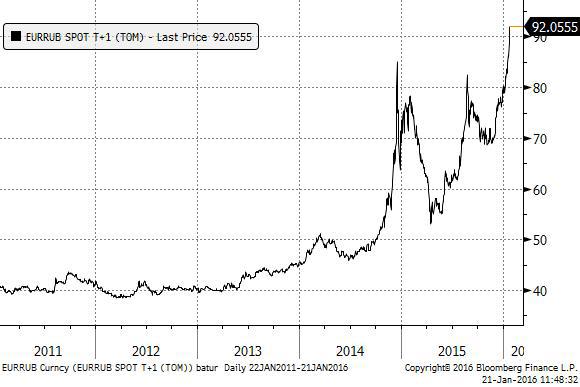 This has led to a 5% fall in local equity markets, which does not seem like much of a fall though in USD terms it is quite a move. In 2015, we have seen similar instances when devaluation of the currency kept local stock markets supported in local currency terms. The same game is playing out now, 15% devaluation has led to only 5% or so of stock market loss due to the fall in the value of the local currency. At first sight, this looks supportive for the equity markets, especially when observed on a chart. However, usually the government eventually has to take steps to get the currency under control. This could be a simple large rate hike, which Russia delivered last year to stabilize FX but went back to cutting rates in less than 3 months. The hike at first controlled FX outflows as the carry or interest earned to stay in Ruble went considerably higher but it affected the valuations of cash flow forecasts of companies, and net present values due to the large change in interest rate expectations. This created a meltdown in the local stock market and with dwindling earnings the stock market support gave in. Another method to control the FX outflow could be some type of capital control, much like the one Azerbaijan put into place this week. Capital controls, needless to say, results in a complete loss of trust in government as it starts trying to corner capital into staying in land borders. It would be a real negative for the stock market and asset prices in general.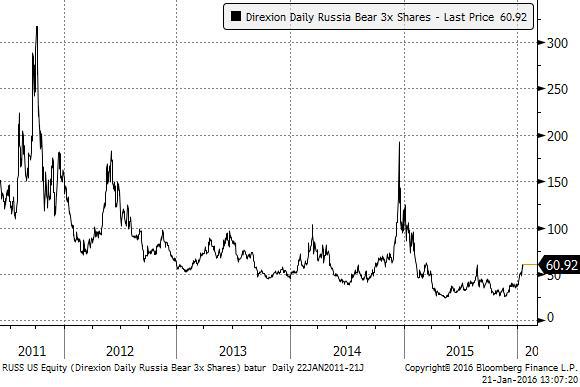 In short; however the government chooses to play this out; it seems they will have to hit the local businesses and the stock market one way or the other. A rise in interest rates would lead to a collapse in financial stocks already stretched with loan delinquencies. Capital controls would lead to less investment and possible capital flight. It seems stocks will struggle to keep current valuations in any case. The best way to take advantage of this trend would be to put on Russia bearish ETFs. Direxion Daily Russia Bear 3x Shares (NYSEARCA:RUSS) seems to be the best choice, however it is leveraged 3x short, which calls for caution. You will be exposed to 3 times the notional value so best to calculate how much exposure you really want before executing the trade.
Disclosure: I/we have no positions in any stocks mentioned, and no plans to initiate any positions within the next 72 hours.
I wrote this article myself, and it expresses my own opinions. I am not receiving compensation for it (other than from Seeking Alpha). I have no business relationship with any company whose stock is mentioned in this article.