Kinder Morgan (NYSE:KMI), North America's leading pipeline operator, unexpectedly announced 75% reduction in dividends last month, rattling investor's belief that pipeline operators were immune to oil's slump, given they are largely toll collectors that generate reliable cash flows from long-term contracts. But this week, Kinder Morgan released its fourth quarter results that should alleviate concerns regarding the company's future.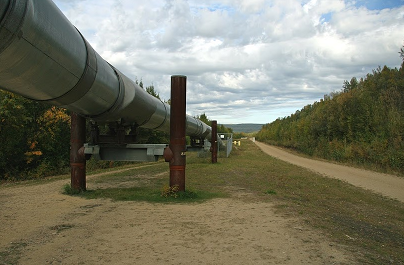 Source: Stock photo
During the quarter, Kinder Morgan's revenues declined 8% from a year earlier to $3.63 billion while it swung from a net profit of $126 million, or $0.08 per share, in 2014 to a loss of $637 million, or $0.29 per share. Analysts polled by Thomson Reuters were expecting a profit of $0.18 per share from revenues of $3.9 billion. Analysts' estimates typically exclude one-off items, which is why the earnings numbers weren't comparable since the loss was driven by one-time impairments of $1.15 billion related to natural gas assets and $284 million of write-downs related to CO2 assets. Rather, the company's segment earnings before DD&A and certain items actually gained by 1% from last year to $1.98 billion. In a research report emailed to me, John Edwards and Bhavesh Lodaya, analysts at Credit Suisse, pointed out that the segment earnings were higher than their estimate of $1.94 billion. In short, the company ended up missing revenue and beat earnings estimates.
The growth in segment earnings was driven by 3.9% increase in natural gas pipeline profits to $1.10 billion, thanks to the Hiland Partners acquisition and strong performance from the Tennessee Gas Pipeline as new projects came online. The company reported 5% increase in natural gas transport volumes and 10% increase in gas volumes for power generation. Product pipeline earnings climbed 28% to $289 million, with increase in Kinder Morgan Crude and Condensate Pipeline volumes, project startup along the Houston Ship Channel and positive impact of Hiland acquisition. The terminal segment, on the other hand, witnessed 7.2% drop in earnings to $257 million following bankruptcy of two major coal customers - Arch Coal Inc. and Alpha Natural Resources - while the CO2 segment reported 21% decline in profits to $292 million driven by lower commodity prices.
Kinder Morgan $1.233 billion, or $0.55 per share, in distributable cash flows, down from $1.278 billion, or $0.60 per share, last year. Although on a full year basis, Kinder Morgan was able to grow DCF per share by 7% to $2.14 in 2015, the decline in the latest quarter is a slightly worrying sign, particularly since DCF underpins Kinder Morgan's dividends - an integral part of the company's investment thesis. Kinder Morgan also expects to generate $4.9 billion as DCF in 2016, which is down from its previous guidance of more than $5 billion.
But the highlight of the earnings release was that Kinder Morgan has decided to remove $3.1 billion from its backlog from the third quarter and slashed its 2016 spending plan by $900 million from its previous guidance to just under $3.3 billion, based on $38 per barrel WTI oil price scenario, and expects further reductions in the coming months. The drop in capital budget has come through cost cutting measures, decline in CO2 spending and reduction in acquisition expenditure.
The roughly 20% cut in the preliminary budget which came on the heels of a massive dividend cut, may look rather harsh. But it shows that Kinder Morgan is responding aggressively to the downturn. And this is a good sign. The company is willing to take bold decisions - which include a dividend cut, dropping acquisition plans, delaying investments on major projects (such as Trans Mountain Pipeline expansion) - and focusing on finding ways to preserve its financial health in order to withstand the $20 to $40 a barrel oil price scenario.
The large reduction in capital budget will put Kinder Morgan in a position to fully fund its capital budget and dividends from internally generated cash flows while reducing leverage. Kinder Morgan's latest projections imply free cash flow of $300 million for 2016. The company, it appears, has prioritized maintaining its prized investment grade credit rating.
Kinder Morgan's ability to self-fund the capital budget is a sharp turnaround from last year when it appeared that the company may be forced to tap into capital markets; and that too right in the middle of the downturn. The fears related to Kinder Morgan's dependence on capital and debt markets triggered a sharp selloff in Kinder Morgan stock as well as the broader MLP space (Kinder Morgan is no longer an MLP but trades with the group) as investors begin to question the MLP business model. But Kinder Morgan's latest earnings release should significantly alleviate those concerns.
Kinder Morgan has also set an important benchmark for other MLPs to follow. In order to reduce their dependence on capital and debt markets and prepare for a $20 to $40 a barrel oil price scenario, the midstream firms need to further slash their spending levels. Perhaps we'll witness a round of wholesale cuts to capital budgets from other energy infrastructure MLPs in the coming months.
Disclosure: I/we have no positions in any stocks mentioned, and no plans to initiate any positions within the next 72 hours.
I wrote this article myself, and it expresses my own opinions. I am not receiving compensation for it (other than from Seeking Alpha). I have no business relationship with any company whose stock is mentioned in this article.