2015 was a disappointing year for Dunkin' Brands (NASDAQ:DNKN), with its stock price falling by more than 15% and the international segment showing no signs of improvement. However, the company's initiatives towards the end of 2015 might lead to a promising start to 2016 by boosting domestic sales. The company announced a multi-year marketing partnership with Madison Square Garden (NASDAQ:MSG), making its subsidiary Dunkin' Donuts' products the official coffee, baked goods, and breakfast sandwich of the MSG arena, providing huge visibility to the company. The company also announced its commitment to source 100 percent cage free eggs used in its U.S. menu by 2025, part of which will be fulfilled by the end of 2016. Dunkin' Donuts' new menu for 2016 provides healthier alternatives, and the company started testing its delivery and mobile ordering services toward the end of 2015. These initiatives could help the company meet its target of 2-4% increase in U.S. comp sales for the next five years.
Boosting Domestic Sales Through Several Initiatives
While announcing its new menu for 2016, Dunkin' Donuts stated it is bringing back the Chicken and Apple Sausage Sandwich, a low calorie, healthy alternative, which will be available all day. This appears to be one of its efforts to focus on improving sales, post breakfast hours. Currently, 60% of sales in the chain happen between 4 a.m. and 11 a.m., indicating there is a large potential opportunity in the later hours of the day.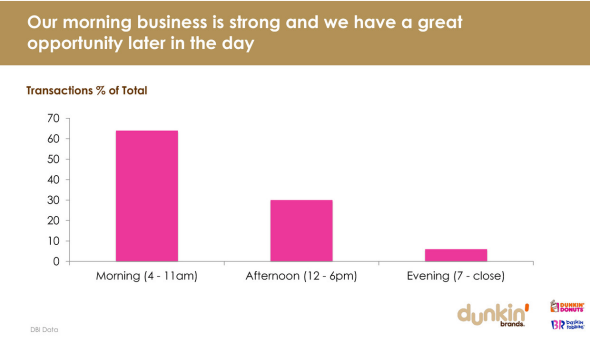 While McDonald's (NYSE:MCD) introduced "All Day Breakfast" in October 2015, Dunkin's strategy to make certain popular menu items available throughout the day appears to be aimed towards improving sales in the later hours of the day.
Dunkin' Brands also introduced several healthy beverages in its menu for 2016, which appears to be an attempt to cater to changing customer preferences towards healthy food. Earlier in the year, the company announced its intent to source 10 percent of the eggs for U.S. breakfast sandwiches from cage free sources by December 31, 2016, while moving to 100 percent cage free eggs in its U.S. menu by 2025. It also pledged to map its international supply to determine the feasibility of transitioning to 100 percent cage free eggs on a global basis. McDonald's had announced in September 2015 that it will transition to cage free eggs in the next decade, and Dunkin' Brands appears to be ensuring that it demonstrates the same level of responsibility toward humane treatment of animals as its competitors have. According to our estimates, the Dunkin' Donuts U.S. segment accounts for more than 85% of the company's valuation and, while this segment showed strong comparable sales of more than 2.5% in the first two quarters of 2015, this figure fell to 1.1% in Q3 2015.
In November 2015, the company started testing its mobile ordering and delivery service in a few cities in the U.S. A test for advance mobile ordering was launched in Portland, ME, and delivery services test in Dallas in partnership with Door Dash, a food delivery service. The company plans to offer delivery service in Atlanta, Chicago, Los Angeles, and Washington D.C. in 2016. We believe these initiatives in the domestic markets should show results in 2016, as the company works towards reviving its international segment.
Disclosure: None