The Dogs of the Dow theory is an investing strategy based upon investing in the ten highest yielding Dow Industrial components at the start of each year. This strategy is premised on the idea that the higher yielding components are laggards that could catch up and provide capital appreciation, and that they should also provide an above-average income stream. Various modifications to the strategy do exist.
Because all Dow Dogs are DJIA components, the investments will all be large and liquid equities. The strategy is not designed for trading, but holding onto the positions for a year or longer. Most or many dogs from one year will likely stay dogs during the following year and become multiple year holdings. Eight of the 2011 dogs remained dogs in 2012.
The 2012 dogs are AT&T (NYSE:T), DuPont (NYSE:DD), General Electric (NYSE:GE), Intel (NASDAQ:INTC), Johnson & Johnson (NYSE:JNJ), Kraft (KFT), Merck (NYSE:MRK), Pfizer (NYSE:PFE), Procter & Gamble (NYSE:PG) and Verizon (NYSE:VZ). The two new dogs are GE and PG. These 2012 dogs are slightly more varied than the 2011 group of equities. The 2011 list lacked any financial sector exposure, which then turned out to be a good thing, but GE brings with it some significant financial exposure.
In 2011, the Dogs of the Dow outperformed the broader market as defined by the DJIA and S&P 500. The 2011 dogs combined to appreciate by 12.08 percent, well above the 5.37% appreciation by the Dow 30 and a 0.20% decline for the S&P 500. Further, the 2011 dogs provided an average yield of 3.87 percent, which was well above either index, and about 90 percent higher than the yield on a 2-year U.S. Treasury.
Like the broader market, most of the 2012 Dogs performed exceedingly well during the fourth quarter of 2011 and at the very start of 2012. Since then, some of the dogs have cooled off. Below are recent performance rates for the 2012 dogs, including their 1-week and 2012-to-date performance, as well as their current yields.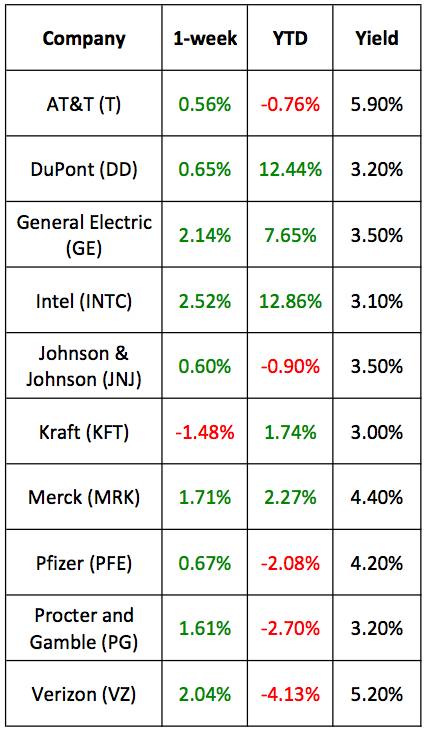 Click to enlarge
Currently, the 2012 dogs have an average yield of 3.96 percent. 2011 was a very volatile year that ended in an upswing, and it appears likely that 2012 could be similarly volatile, with issues such as European sovereign failures, Middle Eastern revolts, U.S. fiscal policy and potential Asian cooling all still overhanging.
So far within 2012, DuPont and Intel are by far the best performing 2012 Dogs, both up over 12 percent. Both have also appreciated over 35 percent from their respective 52-week lows. DuPont was the worst performing 2011 Dog, but may finally be catching up.
One point of concern about these dogs, as well as most investments within the broader market, is that so many major equities are at or near 52-week highs. Eight of the ten dogs are down less than ten percent from their 52-week highs, and five are down less than five percent. It is possible that a correction could come to the broader market or some of these large equities.
Disclosure: This article is intended to be informative and should not be construed as personalized advice, as it does not take into account your specific situation or objectives.