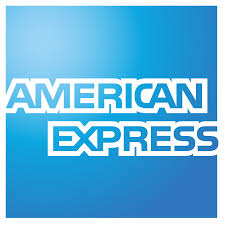 American Express (NYSE:AXP) has been an interesting story for me personally in the past couple of years. I was originally bullish on the stock as I thought it looked cheap but a series of missteps on the company's part and a general downturn in its business altered that view a while back. I've been saying for some time that AXP's premium valuation against its competitors was unsustainable and I echoed that sentiment back in October after Q3 earnings. But now that the financials are melting down and AXP's Q4 report is out, the stock is trading for just $60. Is it time to give up the bear argument or is there further to fall from here?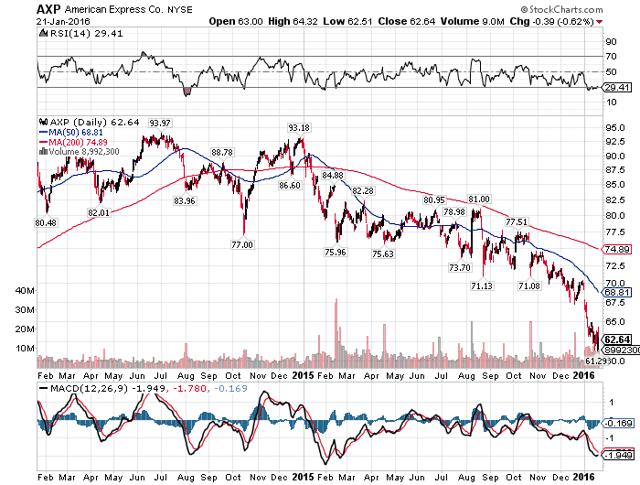 Click to enlarge
There's no mistaking it; AXP's Q4 was very weak. Revenue was down almost 8% as the company's top line was assaulted from all sides and earnings weren't much better at $1.23 versus $1.39 a year ago. But if we strip out forex translations and Concur gains from last year's Q4, adjusted revenue actually increased 4%. While that is not a reported number and matters far less than the negative 8%, it is interesting and we'll touch on this a little later.
Consolidated expenses were up 1% during Q4, something that AXP certainly cannot afford. Companies that are shrinking like AXP have to have a laser focus on costs and while cutting to the bone is not the right move, you can't simply ignore falling revenue and just keep spending. Thankfully, AXP finally recognized this and has initiated a two year cost savings program to cut $1 billion in costs by the end of next year. This is more than overdue so the fact that AXP is recognizing its new business model with lower revenue and trying to meet it with lower costs is refreshing. How it will turn out is still up in the air but it is certainly a good start.
AXP has always sported a premium over its less productive competitors in large part because its ROE is always sky-high. This is still true but unfortunately for AXP, its ROE fell precipitously as earnings tanked in 2015. Last year's Q4 ROE was 29.1% but this year, that number was just 24%. While that is certainly a strong number - no one would contest that - it is well off of AXP's recent standards and that is rightly causing concern among investors about AXP's future. Its earnings are at serious risk in excess of what we saw in 2015 because AXP is struggling in a lot of different ways.
The company's outlook for 2016 and 2017 certainly failed to impress as EPS for this year is slated to come in at $5.40 to $5.70 but for next year, that number is also supposed to be just $5.60+. That implies that over this year and next AXP is going to post flat to very slightly higher EPS compared to 2014 levels; that's not a good situation. AXP is telling us that its business - despite the new cost savings plan - is going to essentially fail to grow profits over this year and next. Given all of the problems AXP has, that sounds very bearish to me.
While AXP has been floundering, analysts have failed to appreciate the gravity of the situation, sticking to overly bullish calls for 2017.

This year's estimates are near the low end of the range AXP provided but next year, analysts are well in excess of the bottom end of the guidance provided by AXP. Perhaps they are just that bullish or perhaps they think management provided 'kitchen sink' guidance that it can easily beat. I'm not willing to give AXP the benefit of the doubt considering how poorly it has executed of late so for me, I think cuts to 2017 estimates are coming. AXP has shown that it is in free-fall in the past few quarters, losing key client relationships and posting sizable declines in revenue and profits; why should I expect any different moving forward?
After posting a net revenue decline of 4% in 2015, AXP is expected to see a 1% loss in revenue in 2016. That seems pretty bullish to me considering the enormous impact the strong dollar is having on AXP's results. Since the Fed began to remove accommodation and actually raised rates last December, the dollar has moved higher against other currencies that are still seeing accelerating QE from their central banks. That's bad news for companies that do business in those countries like AXP because when the revenue is translated to dollars, the total amount is translated lower than it otherwise would be. And with the dollar removing 11% from revenue for the international card services business in Q4, the headwind is sizable to say the least. With the Fed sticking to its story of a few rate hikes this year, this problem will get worse before it gets better and that means AXP has to crush it in order to post even flat revenue this year. Ex-forex revenue growth of 5% or so is not something I'm willing to be on with AXP because it hasn't earned that right. Modeling in that kind of organic growth requires a lot of faith and that's not something I'm willing to take on.
AXP's member spending has been strong and that continued in Q4 but it has so many other problems including costs that are bloated and the strong dollar that I still have a hard time believing it will hit estimates. The cost savings program is definitely a step in the right direction but it is also something that probably should have been done two or three quarters ago. But, better late than never and when those savings start to flow through to the bottom line we should see some margin improvement. But still, margin improvement from cost savings will likely be offset by stagnant or declining revenue from the dollar and a generally weak business environment for AXP. At $60 it is certainly tempting to try and call a bottom but it is has the weakest fundamentals of any of the major financials so for that reason, I see no cause to own it. You can do much better with Discover if you want a similar business model or the money center banks in addition to any number of regional banks. AXP is very weak right now and its only plan seems to be to cut costs but it needs to address revenue growth as well. I think the bias is still lower from here.
Disclosure: I/we have no positions in any stocks mentioned, and no plans to initiate any positions within the next 72 hours.
I wrote this article myself, and it expresses my own opinions. I am not receiving compensation for it (other than from Seeking Alpha). I have no business relationship with any company whose stock is mentioned in this article.