India ETF products had an outstanding week as Indian markets continued to rise on lower inflation data and the rising expectation of interest rates cuts. Unleveraged India ETFs gained between 4% - 8% for the week. Here's the weekly India ETF list displaying the performance of all India ETFs in the United States.
(Click charts to expand)
Source: IndiaETFs.com
India is now in bull market territory based off a 20% move from December lows on widely followed indices like the Sensex. In fact Bespoke Investment Group wrote an article last week, which included an informative graphic on Indian bull and bear markets since 2000. It specifically examined the Sensex and two variables: the average gain and length of previous bull runs. The article concluded the average bull market in India gained 111% and lasted 394 days. Clearly there could be considerable upside ahead for Indian markets if the historic averages serve as a guide. Here's the Bespoke chart highlighted in the article.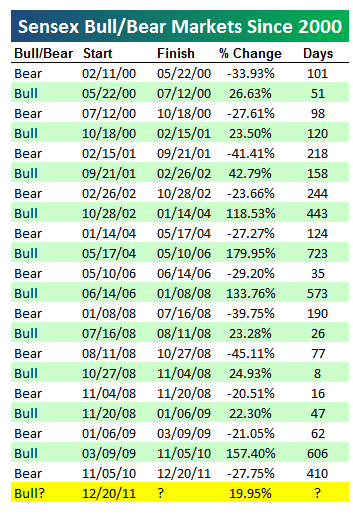 While India focused ETFs are all positive in 2012, a few have stood out. The small-cap ETFs, SCIF and SCIN, have led the pack from the beginning of this market rebound. SCIF, the Market Vectors India Small Cap ETF, has gained over 57%, more than doubling the 2012 return of the most desired stock in the world Apple (NASDAQ:AAPL). Trailing SCIF year-to-date are two ETFs: the EG Shares India Small-Cap ETF - SCIN, and the EG Shares India Infrastructure ETF INXX. Both have gained over 43% this year. The two largest India ETFs, WisdomTree's EPI and PowerShares PIN, have gained 37% and 27% respectively.
Despite the strong performance of India ETFs in 2012, every product continues to remain in negative performance territory over the last 12 months (see first chart). India suffered a tough 2011 due to high inflation, its currency - the rupee - losing value and foreign investor capital fleeing over fears surrounding the European debt crisis. January of 2011 for example saw $1 billion of outflows from foreigners while January of 2012 has produced over $ 2 billion of foreign inflows. Thus this current bull is a result of a painful sell-off in 2011. Here's the four-year chart of the largest India ETF, PIN, to illustrate the roller coaster ride for investors over the last few years.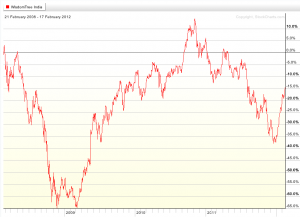 Going forward India's chief concern appears to be internal inflation. Any pickup of inflation within the country would significantly harm the markets' current valuation because recent lower inflation data has caused investors to price in an interest rate cut. These anticipated cuts will only be able to happen in the face of continued lower inflation numbers. If future interest rates were suddenly perceived to stay the same or go higher, India would lose its luster. Externally the Greek bailout benefits the Indian markets as "risk on" inflows from investors should continue. A flare up in Europe or a conflict in Iran however could change that investor mentality toward a "risk off" approach, which would harm India. For the immediate future though, it appears India continues to be well positioned at the start of this new bull market.
Disclosure: I have no positions in any stocks mentioned, and no plans to initiate any positions within the next 72 hours.
Additional disclosure: IndiaETFs.com is published by Christian Magoon.