The EUR/USD is one of those currency pairs that has been on somewhat of a stationary see-saw over the past year, following a dramatic decline in the EUR in 2014. On the basis of the 1-week chart, we can see that the pair has remained within the 1.05-1.15 range, and the ADX indicators have shown convergence, indicating an absence of trend: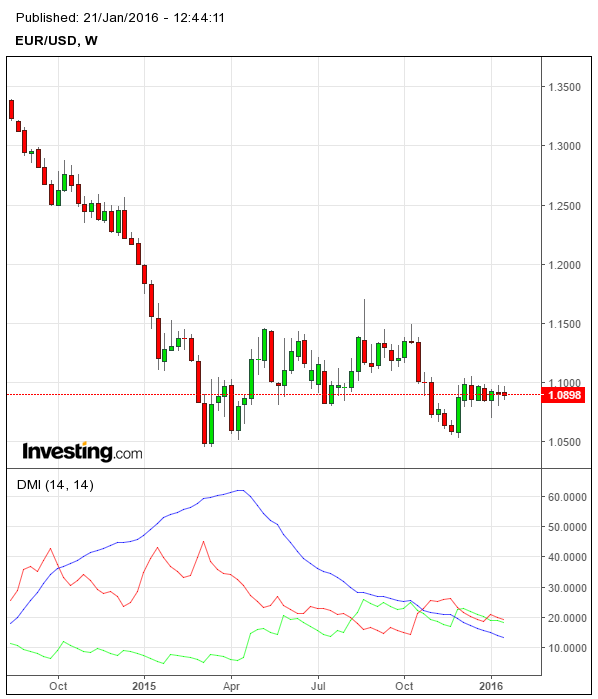 On the basis of fundamental analysis, I would not have been expecting the currency pair to trend significantly in the coming months, given that both the eurozone and the United States are in somewhat of a similar place economically right now. The Federal Reserve has only recently raised interest rates, and despite the ECB's use of quantitative easing to bolster economic growth, the central bank is limited in how much further such easing can take place.
Indeed, interest rates by the ECB have been left unchanged as anticipated. Moreover, in spite of the current market downturn, further stimulus by the ECB would risk heightening inflation expectations to an excessive degree and there is the risk that prices would then rise sharply on the back of a recovery. I envisage that this is something the central bank is keen to avoid, and therefore further monetary easing is not a given.
Moreover, the current market sentiment is that the Federal Reserve will not be raising interest rates again in 2016; there has already been speculation that markets were perhaps not ready for this step after all, which has added fuel to the fire of the current market decline. In this regard, what does this mean for the EUR/USD?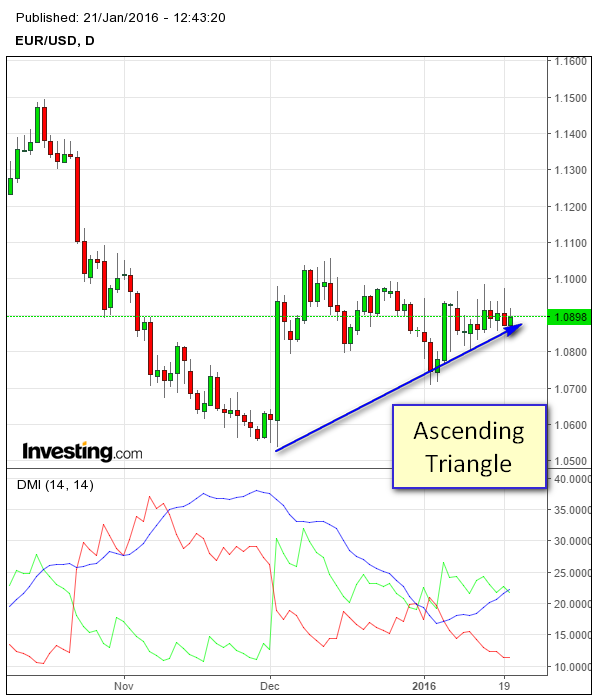 On a technical analysis on the 1-day chart, we see that the EUR/USD pair has been forming an ascending triangle since December, and potential divergence between the Directional Movement Indicators could mean that the pair is ready for a breakout to the upside. It may well be the case that given 1) a lack of anticipation that the Fed will raise rates again and 2) the expectation that QE cannot continue in Europe indefinitely - the currency could see a bounce to the upside. I would look for a breakout above the 1.11 mark for confirmation.
To conclude, the fundamentals of the dynamics between the United States and Europe appear to be changing somewhat and on the basis of technical analysis, I am watching this currency very closely in anticipation of a possible breakout over the coming months.
Disclosure: I/we have no positions in any stocks mentioned, and no plans to initiate any positions within the next 72 hours.
I wrote this article myself, and it expresses my own opinions. I am not receiving compensation for it (other than from Seeking Alpha). I have no business relationship with any company whose stock is mentioned in this article.