Kohl's (NYSE:KSS) will be reporting its 4th quarter earnings this Thursday, February 23. Analysts' consensus estimate for the company is $1.80 EPS. Much is contingent upon a strong holiday selling season. If Macy's (NYSE:M) and Saks (NYSE:SKS) earnings releases are any indicator, Kohl's may fare well.
The Wisconsin-based department store's long-term strategy has been to differentiate itself by transitioning toward private and exclusive product offerings. Kohl's has expanded this segment to approximately 48% of its product mix. According to the company, the private and exclusive offerings have enabled greater control over the production process and resulted in greater pricing flexibility and maintenance of gross margins despite inflation of input materials.
The strategy has also resulted in a customer perception of quality merchandise at "value" prices. This perception was confirmed in a recent Consumer Reports customer survey where it received above average scores across all categories in which sufficient responses were received. This positive perception may help Kohl's increase market share at the expense of competitors such as JCPenney (NYSE:JCP) and Sears (NASDAQ:SHLD) which are currently undergoing turnaround efforts.
Kohl's has also put emphasis on growing its internet business. It quadrupled its online revenues from 2006 to 2010 with a stated goal of achieving $1 billion in sales for 2011 (an increase of 35% from the 2010 level of $743 million. The company's February 2 press release announced it had achieved the $1 billion goal).
Whether versus its peers or on a historical basis, Kohl's represents solid value at its current price and shows potential to reach and exceed the 52 week high of $57.00 of July 22, 2011. Compared to peers JCPenney and Macys, Kohl's represents a more attractive valuation based on trailing 12 month and forward P/E ratios. It has superior operating margins (11.76% vs. 4.89% & 8.89% respectively for TTM), and a lower debt-to-equity ratio (65.51% vs. 68.6% & 118.87% in the most recent quarter). It also trades below its 5 year historical P/E average of 15.4x.
right click to enlarge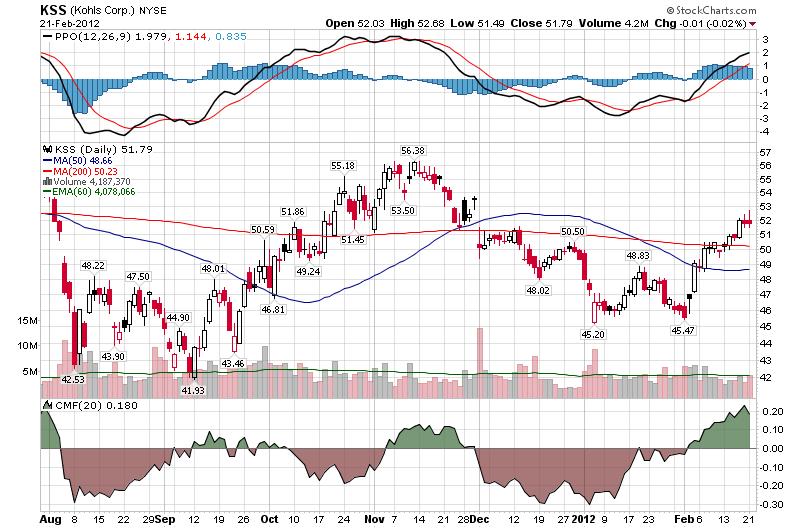 | | | | | |
| --- | --- | --- | --- | --- |
| Company | Operating Margin (TTM) | Debt / Equity | P/E | Forward P/E |
| Kohl's | 11.76% | 65.51% | 12.2x | 10.5x |
| JCPenney | 4.89% | 68.6% | 45.1x | 19.1x |
| Macys | 8.89% | 118.87% | 13.4x | 11.3x |
Source: Yahoo Finance
StockpickerUSA, our proprietary quantitative trading system, has KSS buy-rated at 4 out of a possible 5 stars (as of 2/17/12).
Disclosure: I have no positions in any stocks mentioned, and no plans to initiate any positions within the next 72 hours.