"We have tried spending money. We are spending more than we have ever spent before and it does not work...We have never made good on our promise. I say after eight years of this administration we have just as much unemployment as when we started. And an enormous debt to boot!"
Henry Morgenthau in 1939
Introduction
With two recent articles titled "Is The Stock Market Decline Just Getting Started?" and "The Stock Market Decline Is Gaining Momentum", I have articulated and re-circulated my market outlook, which has been firmly bearish for some time on the broader market. While earlier cautious articles written in 2015 now look prescient, the truth is that the broader market has just now started breaking down over the past month. Building on this, January of 2016 has seen the worst start to a year for the stock market in recent history. Thus, a bounce could happen at any time, yet the underlying fundamentals and technical levels suggest that there is more downside in-store for the broader markets. While I remain bearish, there are opportunities in out-of-favor stocks and sectors. Specifically, value stocks appear set to outperform their growth counterparts in my opinion.
Thesis
The broader markets have been in a slow motion crash, and while a bounce could happen at any time, rallies should be sold.
Worst Start Ever For Stocks
As Howard Silverblatt notated, the Dow Jones Industrial Average (NYSEARCA:DIA) had its worst start to the year ever, and S&P 500 Index (NYSEARCA:SPY) had its second worst start to the year, behind only 2009's horrific opening. Through yesterday, January 21st, the SPY is down 8.43% to open 2016.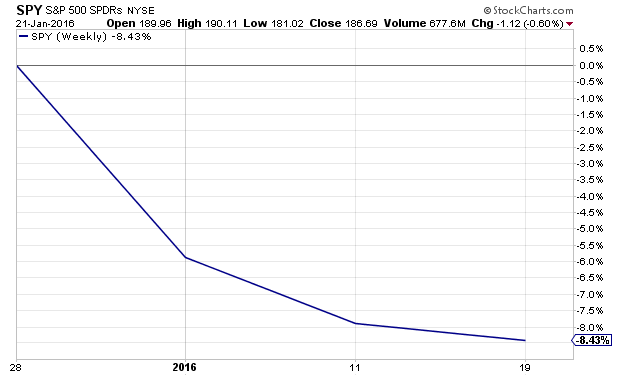 Anytime there is a dramatic move in the markets in one direction, the likelihood of a countertrend rally increases, so even bearish traders should be on the lookout for a bounce.
Broad Weakness Persists
While the S&P 500 Index has not undercut its August 2015 lows yet, a host of U.S. stocks and benchmarks have significantly broken their August lows. First, let's look at a five-year chart of the S&P 500 Index, as measured by the SPY.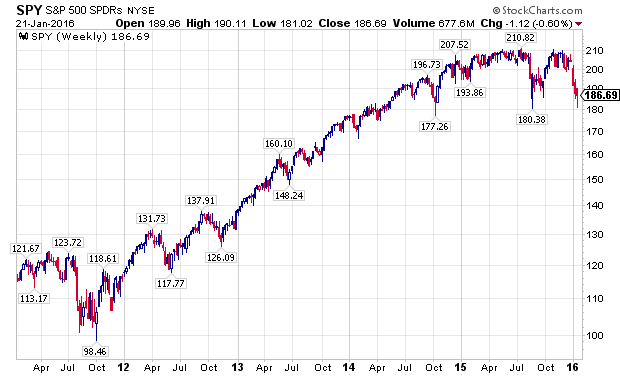 Now, in contrast, we will examine the performance of smaller capitalization stocks, as measured by the iShares Russell 2000 Index (NYSEARCA:IWM), which has clearly undercut its August 2015 low as shown below.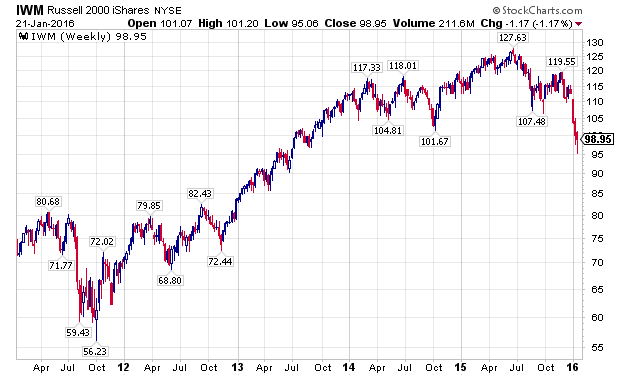 Additionally, high-yield bonds, as measured by the iShares iBoxx High Yield Corporate Bond Fund (NYSEARCA:HYG), and by the SPDR Barclays High Yield Bond ETF (NYSEARCA:JNK), have continued to trade lower, though a reversal is being attempted this week.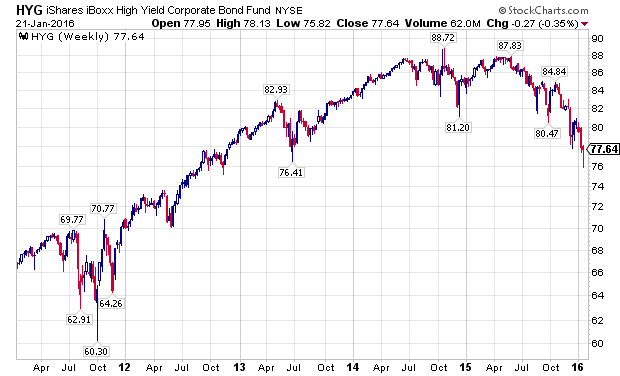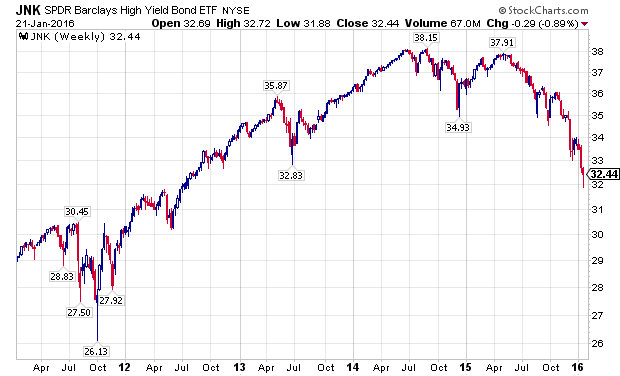 International Stocks Relatively Underperform
Similar to their smaller capitalization U.S. counterparts, international stocks have been underperforming since 2014. Two relevant examples shown below are the iShares MSCI EAFE Index (NYSEARCA:EFA), which measures a broader basket of international equities, and the iShares MSCI Germany ETF (NYSEARCA:EWG), which is a proxy for German equities. German stocks had been leading market performers before they started their underperformance in the middle of 2014.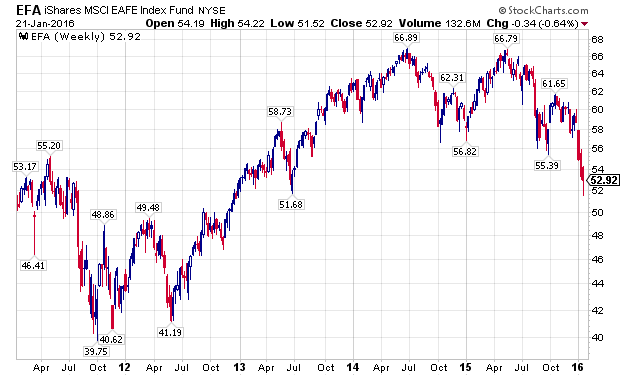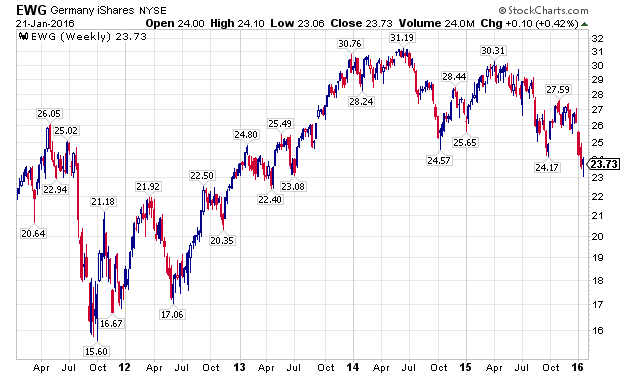 In contrast to developed market international equities, emerging market stocks have not participated in the bull market since 2011. This is illustrated by the performance of the iShares MSCI Emerging Markets Index (NYSEARCA:EEM), which is shown in the chart below.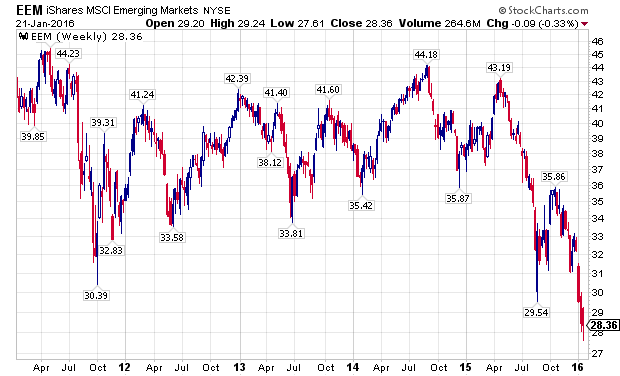 Chinese stocks have borne the brunt of the criticism for the recent downturn, but they have been underperforming since 2011, as shown by the iShares FTSE China 25 Index Fund (NYSEARCA:FXI) in the following chart.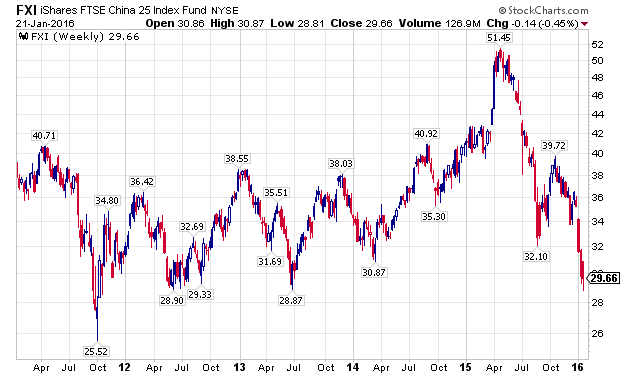 Hong Kong stocks, arguably the blue-chip, undervalued China play, have underperformed in 2015 and 2016 as currency fears weigh on shares. Even with recent pressure, Hong Kong stocks have outperformed the FXI over the past five-years, as shown by iShares Hong Kong ETF (NYSEARCA:EWH).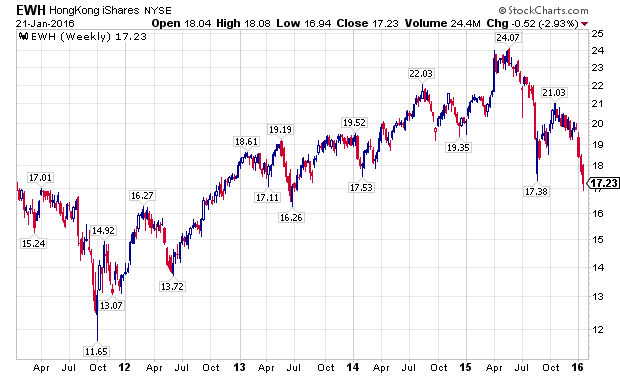 Momentum Stocks Have Lost Momentum
As the stealth bear market evolved in 2015, leading momentum plays did not decline, and in fact, they made new highs. This disguised the broader market weakness, but that has changed over the past month. Now, momentum stocks, such as Amazon (NASDAQ:AMZN), Facebook (NASDAQ:FB) and Netflix (NASDAQ:NFLX) have sold off sharply, though they remain significantly above their August 2015 lows.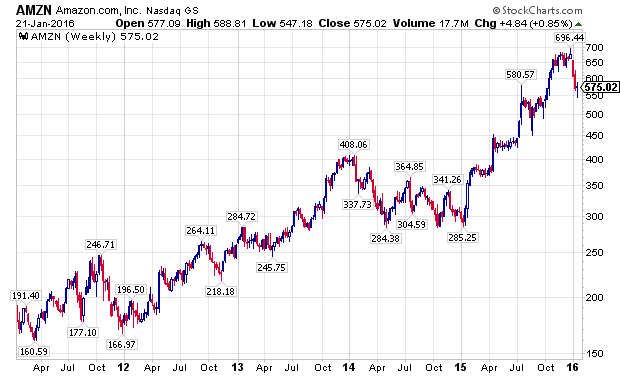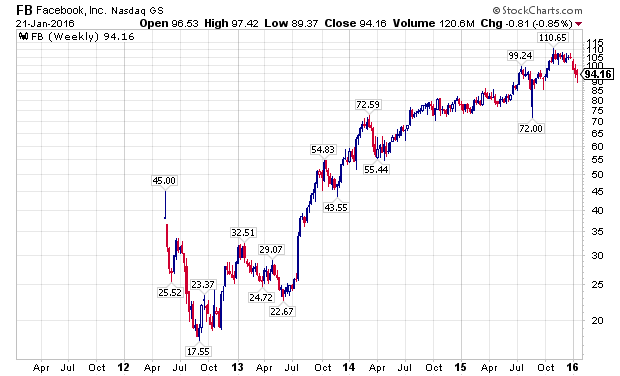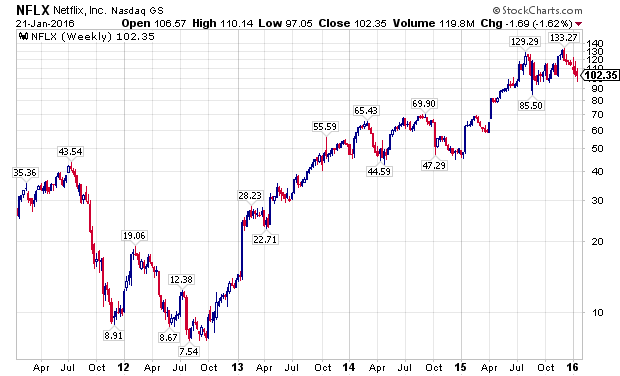 It has been my contention that this market correction will not be over until the leading stocks decline materially.
In contrast to the above leading equities, which are still displaying relative strength, there are former leading stocks and sectors that are already showing signs of a breakdown. I warned about the "bubble" in biotech stocks last year, and it has burst, as shown by the iShares Biotech ETF (NASDAQ:IBB) in the following chart.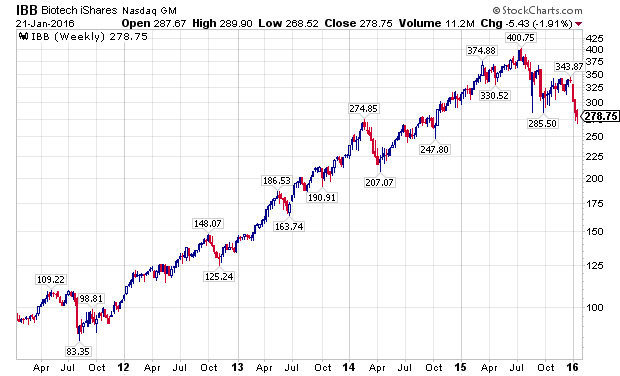 Even biotech stocks with relatively good fundamentals, like Gilead Sciences (NASDAQ:GILD) have not been immune to the selling pressure.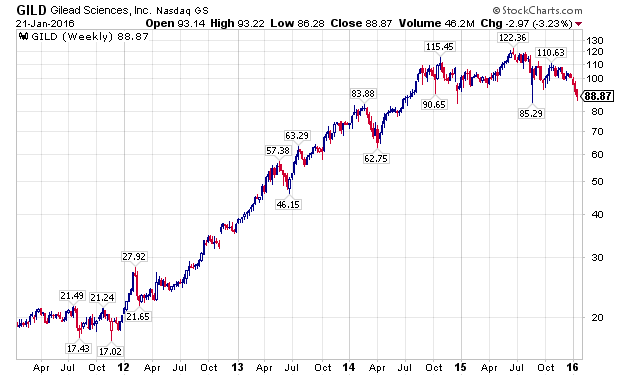 Value Stocks Offer Opportunity
In a recent long/short portfolio strategy article, I looked at the comparative performance of growth and value stocks by examining performance of the iShares Russell 1000 Growth ETF (NYSEARCA:IWF) relative to the iShares Russell 1000 Value ETF (NYSEARCA:IWD). Over the past one, three, and five-year time frames, there has been a clear trend of outperformance by growth stocks over value stocks.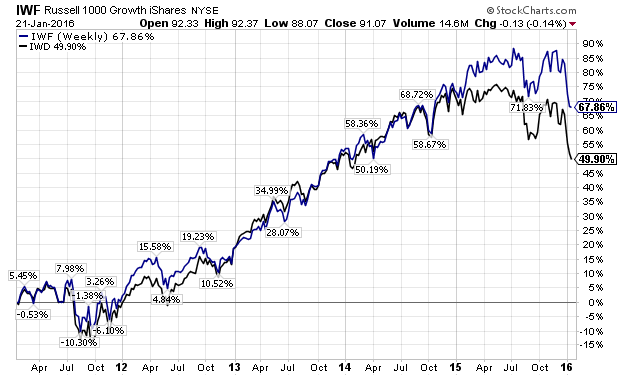 There are many ways to play a reversion to the mean. An investor could simply buy value stocks, or he/she could initiate a pair trade with the aforementioned IWF and IWD, or a more comprehensive long/short strategy could be employed. Whatever method is utilized, finding a way to take advantage of the valuation gap between growth and value stocks should be the goal.
Conclusion - Sell Rallies & Buy Value
The market sell-off has been a slow motion crash (commentator's poked fun at me for using this phrase in a past article) that accelerated over the past month. The sheer size of the decline guarantees there will be a countertrend rally. For investors that own the broader market, this is an opportunity to lighten your equity position in my opinion. For value investors, who have underperformed since 2011, the opportunity set is different, and dips should be used to accumulate out-of-favor stocks. Earnings estimates for 2015 and 2016 are still declining as shown in the following charts.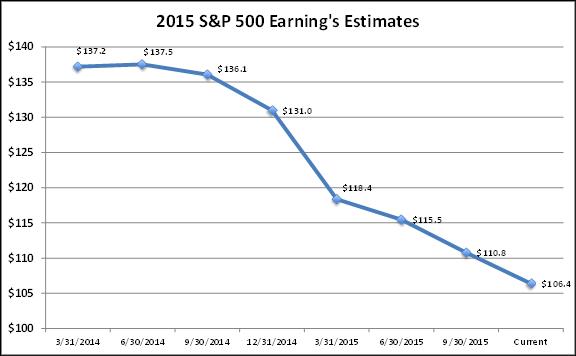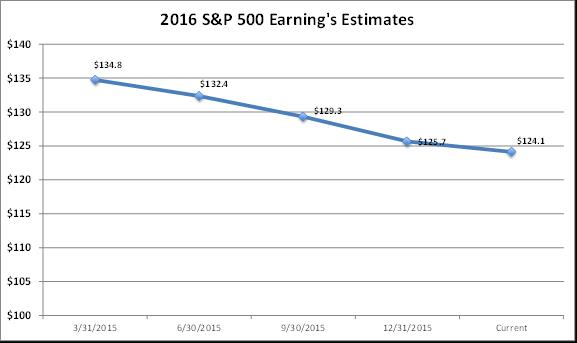 To close, rallies should be sold, value stocks should be accumulated, and the defensive team should remain on the field.
Disclosure: I am/we are short SPY.
I wrote this article myself, and it expresses my own opinions. I am not receiving compensation for it (other than from Seeking Alpha). I have no business relationship with any company whose stock is mentioned in this article.
Additional disclosure: Every investor's situation is different. Positions can change at any time without warning. Please do your own due diligence and consult with your financial advisor, if you have one, before making any investment decisions. The author is not acting in an investment adviser capacity. The author's opinions expressed herein address only select aspects of potential investment in securities of the companies mentioned and cannot be a substitute for comprehensive investment analysis. The author recommends that potential and existing investors conduct thorough investment research of their own, including detailed review of the companies' SEC filings. Any opinions or estimates constitute the author's best judgment as of the date of publication, and are subject to change without notice.