My apologies for focusing exclusively on insider trading ideas in this edition of the Tuzz Report Idea Generator, but in a world of rapidly dropping stock prices, it's a nice attribute to hang your hat on when valuation metrics seem to lose meaning to many scared investors. Insiders can definitely be wrong, but there is no mistaking their intentions or beliefs when they step in with a sizeable purchase.
Insiders:
The S&P 500 is down over 12% from its March 2015 highs, an unpleasant experience for the average investor. However, below the surface, in the small-cap world where I operate, the Russell 2000 has suffered through a vicious, vomit-inducing plunge of 23%. This drop has only picked up steam as the small-cap index has dropped 12% in 2016 alone.
This gut-wrenching move lower has me asking the following question: "What steely-eyed missile man has the nerves of steel to get in front of this runaway train?" To answer the question, I ran a screen. The CEO/CFOs below have bought at least $200,000 of company stock in 2016. Only companies with a market cap of $2 billion or below were included. Undoubtedly, there is some serious conviction exhibited by these purchases and investors looking for ideas should take note. (If the charts below appear unclear, please click on them to enlarge.)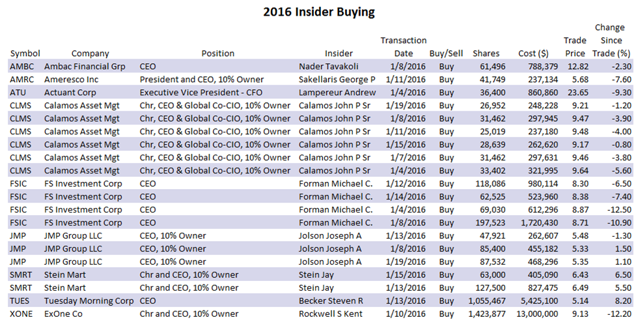 More Insiders:
This is a chart that only a mother could love, or possibly a CEO who wants to pick up some shares on the cheap.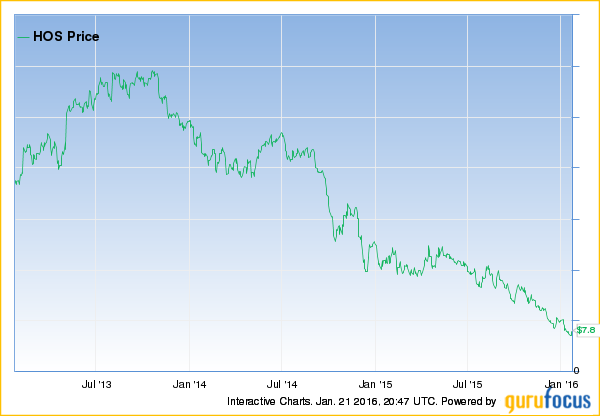 The operator of supply vessels for offshore drilling has been in a free fall for over two years. There have been plenty of falling knives in the energy space, but Hornbeck Offshore Services (NYSE:HOS) stands out. I'm not above trying to snag a knife out of the air if the valuation makes sense to me and screams bargain. The company's typical value-investing metrics indicate that we have reached bargain status: PE: 4.1, PB: .2, PSR: .5, etc. It is easy, however, to argue that these metrics are meaningless if the price of oil continues lower and the company's operations are impaired for an extended period of time.
One thing that most of the other falling knives in the energy sector do not have is insider buying. HOS insiders (CEO, CFO and COO) have stepped up to purchase nearly $750,000 in stock (see below) over the last two months. This is the same group that was selling shares in 2013 at prices 85% higher than today's quote. This is not a group that has a history of making routine purchases on auto-pilot, but one that has bought and sold company stock at opportune times. The $8.44 a share in cash on the company's balance sheet may just give it the slack it needs to wait out the industry downturn and prove these insiders right.

Investing Alongside Jay:
I have previously written about Jay Schottenstein, CEO of American Eagle (NYSE:AEO), and his excellent market timing as demonstrated by his skilled trading of DSW Inc. (NYSE:DSW) and AEO. You can find more details in this previous article. Well, he's at it again with an opportunistic purchase of nearly $2.2 million in AEO stock on 1/11/16, a day where the stock dropped approximately 17%. Investors have been handsomely rewarded for betting alongside Jay Schottenstein in the past and very well may be again.
Best of Small-Cap Seeking Alpha:
These are the articles that caught my eye recently on Seeking Alpha.
You can't seriously call yourself a contrarian if you haven't at least considered investing in coal. I've placed my money on another pony (NYSE:CLD), but MassifCapital does a nice job discussing CNXC and the safety of its dividend.
MassifCapital
CNX Coal Resources LP: A Coal MLP With A Safe Distribution Currently Yielding 31%
Titan should be a long-term winner, but it's recent struggles are a concern. Will they receive some relief from imports soon?
Tarik Umar
The defensive nature of supermarkets may be attractive to investors right now. I love a good spin-off story, but the Supervalu debt load leaves me slightly queasy.
Hawkinvest
Supervalu: This $6 Stock Is A 'Strong Buy' With The Upcoming Save-A-Lot Spin-Off
FutureFuel is a name that constantly shows up on my value screens. Here is a great summary of recent events.
Tristan R. Brown
FutureFuel: An Improving Operating Environment And Potential Acquisitions Bode Well For 2016

Thank you very much for reading and have a great weekend. If you enjoyed the article and believe in my approach to finding compelling small-cap value ideas, please consider the Tuzz Report which is my premium service where I refine these ideas and present actionable, detailed analysis.
Ideas that were featured graphically, but not in text: Ambac Financial Grp (NASDAQ:AMBC), Ameresco (NYSE:AMRC), Actuant (NYSE:ATU), Calamos Asset Mgt. (NASDAQ:CLMS), FS Investment Corp. (NYSE:FSIC), JMP Group (NYSE:JMP), Stein Mart (NASDAQ:SMRT), Tuesday Morning (NASDAQ:TUES) and ExOne (NASDAQ:XONE).
Additional disclosure: This list is just a starting point for further analysis. Please do your own due diligence before investing.
Disclosure: I am/we are long CLD, AEO.
I wrote this article myself, and it expresses my own opinions. I am not receiving compensation for it (other than from Seeking Alpha). I have no business relationship with any company whose stock is mentioned in this article.
Editor's Note: This article covers one or more stocks trading at less than $1 per share and/or with less than a $100 million market cap. Please be aware of the risks associated with these stocks.