Nevsun Resources (NYSEMKT:NSU)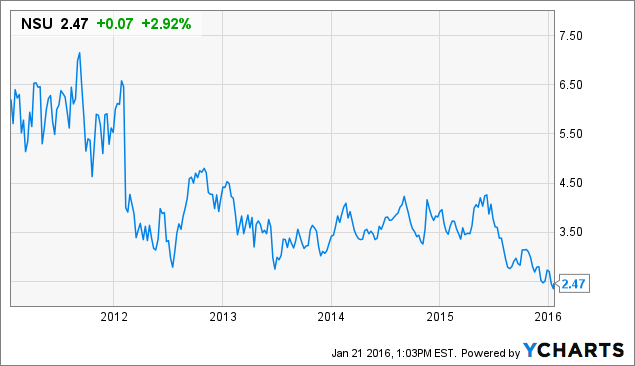 Recent Stock Price: $2.47
Shares Outstanding: 199.78 million
Market Cap: $493.46 million
52-Week Range: $2.27 - $4.36
I first covered Nevsun Resources back in November of 2014 and was quite bullish on the company; despite a significant decline in the company's stock price since that time (mainly due to falling copper prices, which is out of the company's control), I remain long-term bullish, especially given the latest news that Nevsun's Bisha Zinc expansion project will come in under budget by $20 million.
This saves the company money during a time when margins will likely be under pressure the next few quarters, due to falling copper prices. Nevsun says that there have been zero lost time injury incidents to date on the zinc expansion, and now forecasts a total capital budget of $80 million as opposed to the original $100 million estimate.
What's more: the project is on schedule for ore commissioning for mid-second quarter 2016, with the zinc plant now over 90% complete, according to the company.
This project is absolutely critical to the long-term success of Nevsun as it will allow the company to process up to 2.4 million tonnes of copper-zinc-gold-silver ore per year from both the existing copper flotation and the new zinc flotation plants; the company expects to average 225 million pounds of zinc and 53 million pounds of copper production annually throughout 2025. The addition of zinc to its metal production should also lower its total cash costs.
By 2019, copper equivalent production is expected to jump to over 120 million pounds annually, rising to as high as 140 million pounds by 2022, according to the corporate presentation. Life of mine payable copper equivalent is over 1.1 billion pounds worth over $2 billion in revenue at current copper prices.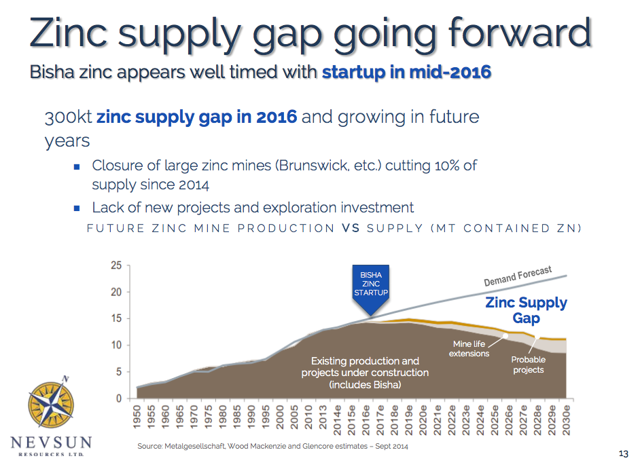 (Credit: Corporate Presentation)
While zinc prices have been under pressure along with nearly every other commodity lately, this zinc expansion is timed almost perfectly as there is still an expdected zinc supply gap starting this year due to the closure of several large zinc mines. Zinc prices currently sit at just under $.70 per pound, down from 2010's highs of $1.15 per pound, but above the $.50 per pound bottom seen in 2009. In a best-case scenario, zinc prices would rise to over $2 per pound sometime over the next few years, as prices did back in 2008.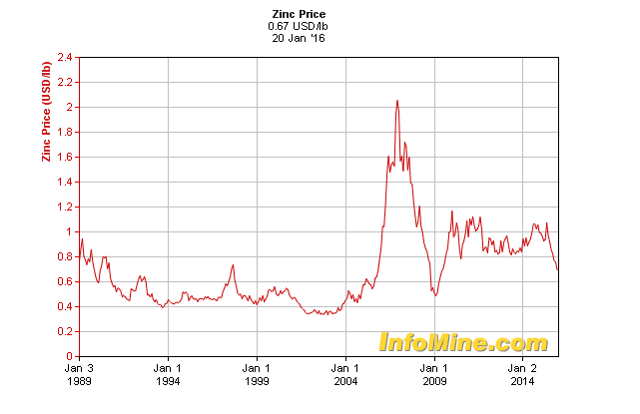 (Credit: InfoMine.com)
As mentioned, I expect margins to be a little tighter than usual this next quarter with copper prices trading right near $2 per pound; however, readers should remember that Nevsun is a very low cost producer of copper and produced the metal at $1.56 per pound cash costs last quarter and $1.24 per pound for the first nine months of 2015. So, I'm still expecting a profitable quarter.
In addition, Nevsun has maintained its enormous cash balance, which sat at $434 million last quarter and should come in right around that figure this next quarter; working capital totals $489 million, and the company has zero debt.
Meanwhile, Nevsun continues to pay a generous quarterly dividend of $.04 per share, giving shares a current yield of 6.81%; with positive free cash flow from operations and $434 million in cash, I see no reason to believe a dividend cut is in store. The annual dividend of $.16 amounts to just $31.84 million per year in dividends. Theoretically, Nevsun could shut down all operations or break even at the Bisha Mine and still be able to pay this dividend every year for at least 10 years, because of its cash position.
Meanwhile, the stock's valuation has only gotten more ridiculous. Nevsun has a market cap of $491.46 million, and as mentioned, the company has $434.1 million in total cash and zero debt. This gives it an enterprise value of just $45.38 million, while Nevsun also carries a book value per share of $3.39. The market is placing almost zero value on Nevsun's Bisha mine, which is astounding given the fact that this is a profitable mine with huge exploration upside and at least 10 more years of production left.
I understand that falling copper prices is a cause of concern here and it affects the company's margins. But we aren't talking about a company like Freeport McMoran (NYSE:FCX), which is down nearly 80% over the past year, cut its dividend and carries a massive which the $20 billion debt load on its balance sheet. Nevsun is profitable, has zero debt and pays a sustainable dividend. My strategy has always been to buy shares every 1-2 months or so and re-invest the dividend, and that's exactly what I continue to do.
Disclosure: I am/we are long NSU.
I wrote this article myself, and it expresses my own opinions. I am not receiving compensation for it (other than from Seeking Alpha). I have no business relationship with any company whose stock is mentioned in this article.