Facebook (NASDAQ:FB) recently announced Sports Stadium, a sports-tailored feature of the social media platform dedicated to being a centralized location for everything sports. Sports Stadium, currently exclusive to US iPhone users and available only through search, is a place where users can receive game information (time, TV airing and location), browse videos and expert posts, get real-time stats, and check out what their friends are saying about the game on Facebook, all in a tabulated format. We took a picture from Facebook's press release of what the feature looks like on the mobile platform and have pasted it below for reference.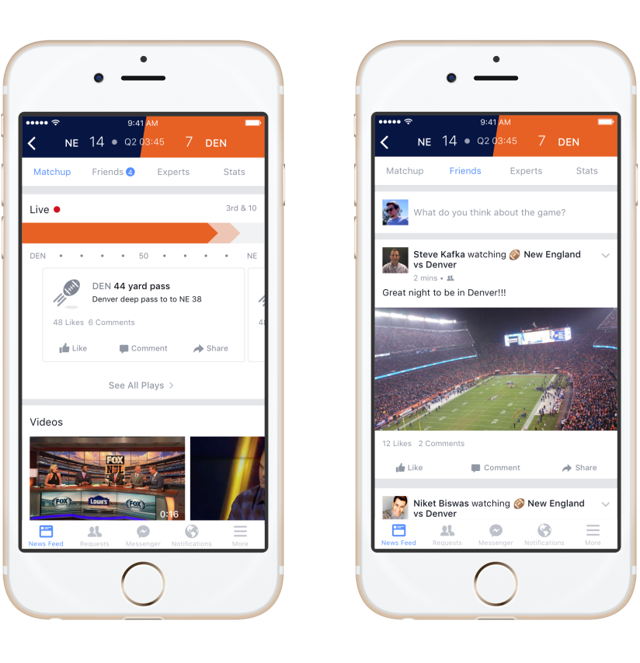 This is a natural step for Facebook. Facebook is attempting to add sufficient functionality to its multiple-app-ecosystem (Facebook, Messenger, Instagram, and WhatsApp) to make it so that users don't have to spend much time outside of those four apps. They are doing this through consolidating and layering various functionalities into each app. For example, we have previously written on how Facebook is creating a discovery and rating system which will eventually make Yelp (NYSE:YELP) obsolete. We also have previously written how Facebook is transforming Messenger into a consolidated commerce marketplace.
As we have noted previously, this consolidation will work because of what is dubbed as the app enigma. People love smartphone applications but don't download new ones. Around 65% of smartphone users do not download a new app every month and an average phone user spends 84% of his or her time in just five apps.
The story is no different with Sports Stadium. We actually see this as a more natural step than both discovery and commerce because it blends seamlessly with Facebook Trending. Facebook Trending is a personalized and organized news feed. Sports Stadium is a similar type of news feed about a particular sporting event. We find this particularly useful given the high amount of fragmentation in the sports information world in ESPN, Fox Sports, CBS Sports and Sports Illustrated, among several others. Sports Stadium looks like a mobile Google (NASDAQ:GOOG) (NASDAQ:GOOGL) search with filtered results and within the greater context of a platform where you can see what your friends are saying about the game and check the in-game stats.
We know that what is currently available is not a finished product, but we believe Facebook can do a lot more with Sports Stadium that what it currently is doing. Within each game interface itself, we think Facebook has significant potential to convince users to use the Sports Stadium feature as their go-to app for mobile game check-ins. We believe adding more to the game information section could be beneficial, including the line on the game, weather conditions (if applicable), and previous match-ups between the two teams. As it stands, one cannot view historical stats for each team, so we would like to see that functionality on there as well.
Facebook also could afford to add a separate Sports Stadium chat feature, where Facebook users can create their own private chat groups specific to the game. As it stands, the "Friends" section is for public Facebook posts only. Adding a layer of privacy to supplement the public post section could generate greater user engagement. We imagine Sports Stadium being a place where Facebook users cannot only post publicly about the game, but also chat privately with friends about the game as well. Sports fans already do this on Messenger or with text messages, creating group chats to talk about the game, so it seems intuitive to build out a feature that allows for this directly through the Sports Stadium app.
It also is important to note that sports fans already use a Facebook account to comment on sports sites like ESPN. Sports Stadium can essentially move that conversation between Facebook users to the Facebook platform and create a "Comment" section within Sports Stadium.
On a broader scale, we think Facebook can flesh out Sports Stadium to have a central page. As opposed to being forced to search for the game, we imagine there being a button within the Facebook interface that says "Sports Stadium." Clicking that button would redirect the user to the central Sports Stadium page. We imagine that page to list all games, sorted by sports filters (NBA, NFL, MLB, etc.) and time filters (live, upcoming, and completed).
In the long-term picture, we think this should be able to be incorporated well with team pages and league pages, which Facebook already has for most sports teams and leagues. There is potential to flesh out those team and league pages to include stats, schedules, rosters and standings. For example, imagine a user goes to the Broncos vs. Patriots NFL game on Facebook. The user then clicks the Broncos team-page, and can see their record, roster and stats. The user then clicks on Peyton Manning and can see his personal stats and game-log. It would be an ESPN-like set-up, sans articles and analysis, within the Facebook platform. This, however, is a lot of data to add to the platform, and the set-up of pages currently is that the data would have to be inputted by those running the team and league pages, not Facebook. This is why we label this as a more long-term picture for Sports Stadium and do not consider it something that will happen any time soon.
As is stands, Sports Stadium is a nice idea that points to Facebook's desire for app consolidation. If Sports Stadium incorporates the functionality we have detailed in the prior few paragraphs, we believe the new feature could transform into a comprehensive destination for mobile sports information. We see the market for sports information as highly fragmented among the likes of ESPN, CBS Sports, Yahoo Sports and many others. This makes consolidation of information an attractive solution for the typical sports fan.
At the end of the day, we think Facebook's size (1 billion daily users and 650 million sports fans) gives the platform leverage in consolidating functionality. It is in the very early stages of Sports Stadium, but we view this as a crucial step in the direction of increasing the amount of time a user spends on Facebook.
We remain long Facebook, and affirm the strength of the secular story that Facebook's share of users' mobile app time will grow.
Disclosure: I am/we are long FB.
I wrote this article myself, and it expresses my own opinions. I am not receiving compensation for it (other than from Seeking Alpha). I have no business relationship with any company whose stock is mentioned in this article.