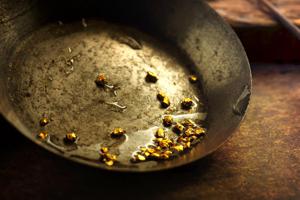 This article is an update to my preceding article on Sandstorm Gold Ltd. (NYSEMKT:SAND), published November 16, 2015, about Q2 2015.
On January 19, 2016, SAND announced that it:
... has agreed to acquire 56 royalties (the "Royalty Package") from Teck Resources Limited and its affiliates (collectively, "Teck") for total consideration of US$22 million (C$32 million), payable in US$1.4 million (C$2 million) in cash and US$20.6 million (C$30 million) in common shares of the Company (the "Common Shares") (the "Transaction"). Certain royalties in the Royalty Package are subject to rights of first offer and first refusal as well as the requirement for various transfer consents and as a result, the Transaction will have a number of closing dates, with today being the first such closing date.

As consideration for the royalties, Sandstorm has issued a total of 8,365,863 Common Shares priced at C$3.57 per share, the price of the Common Shares being based on the ten (10) day volume weighted average price of the Company's Common Shares traded on the Toronto Stock Exchange. A portion of the Common Shares will be held in escrow to be released on subsequent closing dates.
Based on CAD $1 = USD $0.700984, the shares have been issued at $2.50.
Only, four of the assets purchased are currently producing which is a poor deal based on today value. However, assuming a better price for oil the deal may turn positive down the road. It is a small consolation for SAND shareholders who have seen the stock price going down the drain after the last two "deal" that the company did, using its own stock as the main currency.
There is a definitive drift between the company desire to expand in this depressed market, and the shareholders who are the ones paying for this rapid expansion.
SAND Portfolio, including the most recent transactions:
Company

Mine

Date

Location

Gold Production 2013 oz.

Attributable oz. sold in Q3 2015

Gold Stream Agreement

Upfront

Payment

Special

Arrangement

Information

1

Luna Gold Co.

Aurizona Stream

2009

Brazil

Maintenance

(2,527 Oz)

3-5% royalty on the Aurizona mine;
2% royalty on the Aurizona Greenfield;
US$30 million debenture bearing interest at a rate of 5% per annum.

$17.8 million + 1.1 million common shares
$20 million non-revolving loan at 12%
2

Primero Mining Co. (NYSE:PPP)

Black Fox Mine

2010

Ontario Canada

98,710 gold

Outlook: 75-85k gold for 2015

(1,351 oz.)

8% of LOM gold from Mine

6.3% of LOM gold from Mine extension

at $518/oz.

$31.9 million
Primero acquired Brigus Gold in 3/14
3

Silver Crest Mine Inc.

Santa Elena Mine

2009

Sonora Mexico

31,099 gold and 796,731 oz. of silver

(2,226 oz.)

LOM 8 years

20% of LOM gold at $350/oz. (to 50Koz. of gold)

At $450 after the first 50Koz. gold

$12 million

plus 700K common shares

-
4

Metanor Resources Inc. (OTCPK:MEAOF)

Bachelor Lake Mine

2013

Quebec Canada

50,000 oz./year

(1,559 oz.)

20% of the LOM at $500/oz.
$20 million
Guarantee to Sandstorm of $20 million by 2017
5

True Gold Mining Inc.

Karma Mine

Burkina Faso West Africa

(JV 25/75) with Franco-Nevada (NYSE:FNV)

Reserve of 949Koz. of gold

Construction began 9/14

Expected 97Koz. of gold/year for 8.5 years

25Koz. over 5 years plus 1.625% thereafter

at 20% of the gold spot price

$25 million (8/14)
Option to True Gold to purchase another $5 million payable in 3 installments of 7.5K oz.
6

Rambler Metals & Mining (OTC:RBMTF)

Ming Mine

Newfoundland

Canada

N/A

(425 oz.)

25% of the first 175Koz. and 12% of the LOM thereafter

At 33% of the gold spot price

$20 million (3/10)
Special consideration regarding % acquired
7

Entrée Gold Inc. (NYSEMKT:EGI)

Hugo North Extension and Heruga

Mongolia
N/A

25.7-33.8% of between 20% shares gold and silver production

Plus 2.5% of entire 20% copper production

$220/oz gold

N/A
Heruga has been halted since 2013
8

Doray Minerals Ltd.

Deflector Mine Project

Australia
60,000 oz. of gold for 6.5 years
2.6% of LOM at $500/oz.
$6 million
9

Glencore Xstrata Plc

Bracemack McLeod Royalty

Quebec Canada

3,000 TPD copper/zinc

LOM 4 years

3% Net smelter royalty
N/A
10

Yamana Gold (NYSE:AUY)

Gualcamayo Mine

2013

San Juan

Argentina

127,337 oz. of gold
1% net smelter royalty
From Premier Royalty acquired by SAND in 2013
11

Newmont Mining Corp. (NYSE:NEM)

Emigrant Springs Royalty

2013

Nevada

USA

70-80Koz. per year
1.5% net smelter royalty
From Premier Royalty acquired by SAND in 2013
12

AngloGold Ashanti Ltd. (NYSE:AU)

MWS Royalty

South Africa

80Koz. gold per year
1% net smelter
From Premier Royalty acquired by SAND in 2013
13

Orezone Gold Ltd. (OTCPK:ORZCF)

Bomboré Royalty

Burkina Faso West Africa
N/A

0.45% net smelter

Plus new royalty 01/15

$3 million (2015)

Plus $5 million as a drawdown/2Y

Option to repurchase from Orezone

14

Solitario Exploration & Royalty Corp. (NYSEMKT:XPL)

Mt. Hamilton Royalty

Expected 48,000 oz. of gold and 330Koz. of silver

8-year LOM

N/A
2.4% net smelter
$10 million (2012)
15
Other streams and Royalties

5 Producing mines

8 Development mines

5 Advanced explorations

24 Explorations

N/A
Average 1.5% net smelter
16
Gold Royalties
18 Royalties on 13 projects in Canada
N/A
N/A

Shares swap

Sale close on 4/27/2015

17
Diamond Royalty
Diavik Mine A-21 Kimberlite pipe in Canada

Diamond production

LOM to 2023

(1,228 Oz)

1% gross proceeds royalty ("Royalty") over property in Lac de Gras in the Northwest Territories, Canada, including property constituting the Diavik Diamond Mine ("Diavik Mine") operated by Rio Tinto plc.
$56.8 million (including 3 million share warrants)
18
3 Royalties in Canada From Pacific Ridge Exploration
Canada
N/A

1.65% NSR on the Spectrum gold property

1% NSR on Pacific Ridge's Eureka Dome

1% NSR on Pacific Ridge's Gold Cap

$0.5 million
19
Alexandria Minerals Corporation
Canada
N/A

1% NSR on certain claims in Alexandria's Cadillac Break property

2% NSR on the Roc d'Or claim owned by Integra Gold Corp.+

SAND subscribed for C$1 million in Alexandria common shares

C$300K or $228k
20
Yamana transaction
Streams up to 5 Yamana's project.

$152 million in cash

15 million warrants of SAND

21
The Teck Transaction
56 Royalties package
$1.4 million in cash and 8,365,863 shares at $C3.57
Sandstorm has acquired a portfolio of 132 streams and royalties, of which 19 of the underlying mines are producing. The total gold production from Royalties/Stream in 2014 was 44,821 oz.
Commentary
Three notable recent events preceded this latest acquisition of 56 royalties from Teck Resources:
On October 27, 2015, the Company entered into three agreements with Yamana Gold Inc. (NYSE:AUY) that included commodity streams from up to five of Yamana's mining projects. For consideration of $152 million in cash and 15 million warrants of the Company, Sandstorm received a multi-asset silver stream that includes production from Chapada, Minera Florida and Cerro Moro, a copper stream on Chapada, and an early deposit gold stream on Agua Rica.
On October 26, 2015, the Company amended its revolving credit agreement, to allow the Company to borrow up to $110 million for acquisition purposes. As part the Yamana transaction, the Company fully drew on the $110 million in available credit.
On November 3, 2015, the Company completed an equity financing for aggregate gross proceeds of $28.8 million. Upon closing of the equity financing, the majority of the net proceeds were used to reduce the balance of the Company's revolving credit facility.
As we can see, Sandstorm management is eager to expand and it is a good idea, at first glance, assuming the company has the cash for it, of course, and Sandstorm doesn't have it. Thus, this all expanding activity has been financed by actual shareholders, who have seen the PPS going from bad to worse in 2015, and collapsed at barely $2 a share during January 2016, reaching all time lows.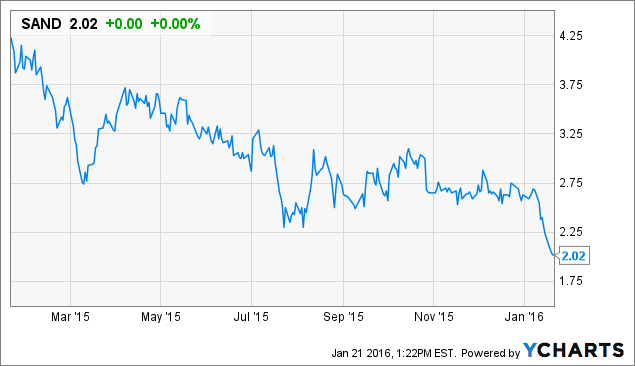 I believe the PPS has still some downside in store, and I am expecting a low, probably below $1.75, at which point, it could justify some prudent accumulation. However, it is quite risky now, because of a price of gold that could be depressed a major part of 2016 and a highly diluting expansion strategy that "might" pay off down the road for the lucky shareholders.
Disclosure: I/we have no positions in any stocks mentioned, and no plans to initiate any positions within the next 72 hours.
I wrote this article myself, and it expresses my own opinions. I am not receiving compensation for it (other than from Seeking Alpha). I have no business relationship with any company whose stock is mentioned in this article.