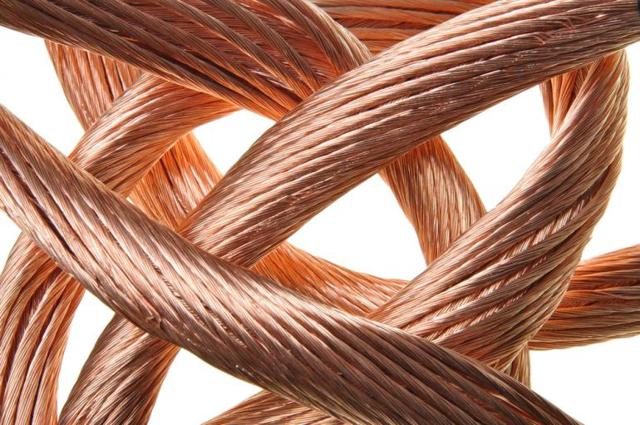 Click to enlarge
Copper witnessed a bad start to the year before rebounding from a 2016 low of $4,318 per tonne earlier in January. Still, the red metal is still down about 5 percent on the year, after falling 25 percent last year.
The sell-off in copper prices at the beginning of the New Year was chiefly driven by the re-emergence of a risk-off environment, triggered by investors' fears over a hard landing in China, which resulted in a broad-based decline in risky assets on lower risk-taking and higher risk aversion.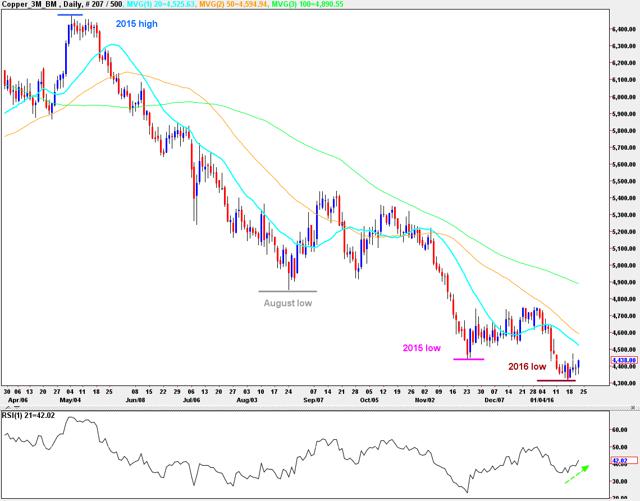 Click to enlarge
Source: NetDania.
Although investors' worries have not dissipated, as evidenced by the elevated level of volatility among most asset classes, copper, alongside other base metals, seems to have entered a bottoming-out process. In this article, I wish to assess the situation in the copper market and examine the sustainability of a possible rally in the months ahead.
First and foremost, some recent positive developments in the copper market have emerged over the previous months, which could improve meaningfully the forward supply and demand balance of the market and therefore exert upward pressure on prices.
First, 10 large Chinese copper smelters of the China Smelters Purchase Team (CSPT) agreed late in November to cut 350,000 tonnes of refined copper output in 2016, corresponding to 4.4 percent of China total output, to tackle the steep decline in copper prices.
Second, in response to the Nonferrous Metals Industry Association request to the National Development and Reform Commission (NDRC) to buy surplus metal early in December, the State Reserve Bureau is considering to buy as much as 150,000 tonnes of copper, according to some sources.
Third, some miners have announced a number of supply cuts in the world ex-China. Glencore (GLNCCY) announced the suspension of production in African mines for 18 months, which will remove about 400,000 tonnes of mine production. Freeport (NYSE:FCX) also announced production cuts, corresponding to 160,000 tonnes, including the closure of its Sierrita mine (40,000 tonnes per year) in Arizona. These recent supply cuts announced by the large miners could support copper prices this year.
Finally, demand in the downstream copper sectors in China is showing some signs of stabilization. Automobile production turned positive in November and should continue to expand at a moderate pace in the first months of 2016 given solid China's car sales, which rose 18 percent in December from a year earlier. Power grid investment grew at a robust pace last year, up 11.3 percent in the first eleven months of 2015 from 2014, and is likely to strengthen further in the months ahead following the end of corruptions investigations.
But a number of crosscurrents remain and could undermine a possible upward trajectory for the red metal, we think.
Economic performance in North America, Europe, and Japan - 31 percent of the copper market - and in China - 45 percent of the copper market - has disappointed. In the US, industrial production, down 0.4 percent month-on-month in December, fell for the fifth straight month. In Europe, industrial production dropped 0.7 percent month-on-month in November, the lowest rate since July 2014. In Japan, industrial production, down 0.9 percent month-on-month in November, fell for the first time in three months, reflecting sluggish domestic demand. In China, industrial production slowed to 5.9 percent year-on-year in December from 6.2 percent in November, reflecting China's slowing growth. Should the slowdown in China become faster than previously envisaged, and the recovery in the US, Europe, and Japan continue to lose momentum, copper demand could be negatively affected, thereby putting downward pressure on prices.
Moreover, in addition to the structural slowdown in Chinese copper demand in so far as China is rebalancing its economy from investment toward consumption, copper demand from the property sector should remain cyclically weak this year. Although home prices continued to rise in December, with average new home prices in 70 major cities up 7.7 percent year-on-year in December, investment growth in real estate projects rose only 1.3 percent year-on-year in the first eleven months of 2015, the slowest pace since 2009, suggesting that developers remained unwilling to take on more projects in the current environment.
Equally important, the end of the zero-rate era in the United States is likely to result in a further appreciation in the dollar this year while the rebalancing of the oil market is set to warrant weaker oil prices for some time. Local production costs in copper-producing countries are therefore expected to drop further, which could result in stronger supply on deflation costs and exert some negative pressure on copper prices.
Finally, the recent developments in China suggest that a further depreciation of the yuan cannot be ruled out this year, which could impact negatively copper via two channels. First, a fall in the yuan tends to produce a risk-off environment where investors liquidate risky assets amid a flight to quality, as was the case at the start of 2016, thereby putting downward pressure on most commodities, including copper. Second, a lower yuan means higher costs for Chinese metal imports, which results in lower domestic demand and translates into a drop in prices.

Click to enlarge
Source: CFTC, LME.
Putting all together, however, we believe that the copper market is well positioned for a rally over a 3-month horizon, forecasting copper prices to average $4,700 per tonne over the first quarter of the year. Our view is reinforced by our analysis of the speculative positioning, which can prove quite useful in order to predict prices over a short-term horizon. We note that speculators have sold copper aggressively on the COMEX and the LME since late October, resulting in a tangible overstretched positioning on the short-side. On the COMEX, non-commercials pushed the net short fund position to an all-time high of 42,025 contracts earlier this month. On the LME, money managers are now net short copper for the first time since August 2015. A strong wave of short-covering could emerge sooner or later, which would fuel a rally.
Disclosure: I/we have no positions in any stocks mentioned, and no plans to initiate any positions within the next 72 hours.
I wrote this article myself, and it expresses my own opinions. I am not receiving compensation for it (other than from Seeking Alpha). I have no business relationship with any company whose stock is mentioned in this article.