J.C. Penney (NYSE:JCP) touched $6 on January 20, as overall market weakness and a flight from riskier assets weighed on the company. Personally I don't believe that market manipulation or shorts (as some have suggested) have much to do with J.C. Penney's currently low price.
J.C. Penney has improved significantly over the past couple years, but there is still concern over its leverage and the long-term future of department stores. Although there is a long way to go, I believe that it is still on the right trajectory. If J.C. Penney can produce solid guidance for 2016 and then meet its guidance, the concern over its leverage will diminish as it approaches $1 billion EBITDA.
Fear Of Risk
The flight from riskier assets can be seen in the performance of J.C. Penney's bonds. Despite delivering strong Q3 2015 results and posting good holiday numbers amidst unfavorable weather, the yield on its 2020 bonds has risen from 7% at the end of October to around 12% now. This is a yield similar to when J.C. Penney was flirting with disaster in 2013. J.C. Penney has made substantial financial improvements since then, but has been dragged down by larger market forces that have increased the risk premium (with a corresponding effect on its stock price).
Sentiment Towards Physical Retail
The sentiment towards physical retail is also quite poor right now, and many companies are closing significant numbers of stores and online retail continues to take market share. Wal-Mart is closing 154 stores in the U.S., while Macy's is closing 40 stores. J.C. Penney is trimming its store base too, with plans to close an additional seven stores in 2016. Meanwhile, online sales rose 12.7% during the last two months of 2015, highlighting the increasing importance of the online presence for retailers.
Department store websites have increased in popularity as more and more people either make online purchases or use the website for research. For some department stores the increase in online sales doesn't cover the decrease in brick and mortar sales. In J.C. Penney's case, online growth appears to be on par with competitors, but it is also doing some modest growth in brick and mortar sales as well.
Improving Its Internet Position
Although J.C. Penney still has work to do to catch up to Macy's and Kohl's in terms of internet traffic, it appears to be at least matching those companies in terms of growth now. The following chart shows J.C. Penney's Alexa traffic rank compared to several competitors. Its curve appears similar to Macy's and Kohl's and it has nearly caught up to Sears.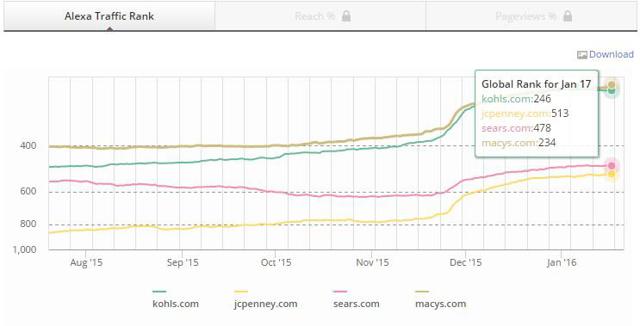 Click to enlarge
Source: Alexa - Jan 2016
Note that department stores have Alexa traffic rankings that improve significantly towards the end of the year due to holiday interest. Therefore the improvement versus summertime is primarily due to seasonality.
Compared to a chart that I included in an article a couple years ago, J.C. Penney has noticeably improved its position. Back in early 2014, it was well behind all three of Macy's, Kohl's and Sears in terms of internet traffic and also was trending poorly versus those companies, falling even further behind.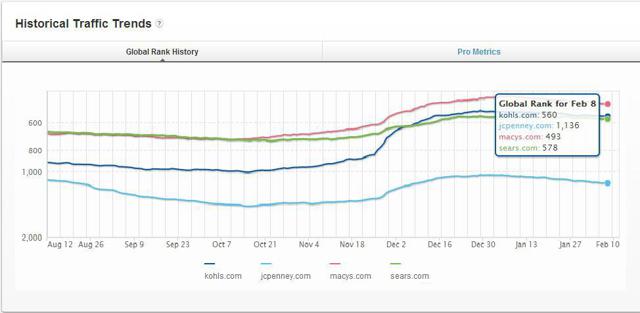 Click to enlarge
Source: Alexa - February 2014
The Direction Of J.C. Penney
J.C. Penney has been revamping its management team with a significant number of people from Marvin Ellison's past employers. Therace Risch and Mike Robbins came from Target, while Joe McFarland and Michael Amend came from Home Depot. While J.C. Penney has also made several promotions from within the company, Ellison's past history is clearly helping to shape J.C. Penney's future.
This is also evident in the decision to test out selling appliances. Home Depot is the third-largest seller of appliances, with over $3 billion in annual sales. I'm not sure how selling appliances will work out for J.C. Penney, but it appears to be a low risk move at least. It is being tested in a small number of stores and J.C. Penney has limited inventory risk. If selling appliances doesn't work out, the damage is minimal, while the program can be expanded if initial results are promising.
Sears is still the second largest seller of appliances despite all its problems. Of course, Sears has its house appliance brand Kenmore, while J.C. Penney will be selling other brands, limiting its differentiation from other retailers. At least J.C. Penney is not risking too much by trying this out.
Conclusion
J.C. Penney's share price will probably continue to be limited for now by overall concerns about riskier assets as well as questions about the future of department stores. Although it has increased its market share over the last couple years, its share price would probably be higher if it had taken less market share, but had delivered the same comparable store sales growth, as then the sector troubles wouldn't be weighing on the stock.
The market is also not currently favorable to companies seen as higher risk. In this case, J.C. Penney would be considered higher risk since it has a relatively high debt load and is in a stagnant or declining sector.
Absent an improvement in sentiment towards physical retail and/or riskier assets, J.C. Penney's next chance to significantly improve its share price will be its Q4 2015 earnings report. Solid improvements in gross margin plus guidance for around +4% or +5% growth in 2016 and a few hundred million in positive cash flow would help J.C. Penney stand out as a company continuing to overcome the retail climate, as well as decreasing its risk profile.
Disclosure: I am/we are long JCP.
I wrote this article myself, and it expresses my own opinions. I am not receiving compensation for it (other than from Seeking Alpha). I have no business relationship with any company whose stock is mentioned in this article.
Additional disclosure: Also long KTP