Some contrarian or deep value investors like to buy stocks making new 52 week lows in the hope of a turnaround. Others prefer to ride the wave of momentum when stocks are soaring to new 52 week highs. Is the strategy of buying high-fliers a sound one? Which stocks should you consider buying?
52 Week High and Momentum
Soaring stocks can have two separate effects that boost share prices. The first is momentum - stocks which have beat the market over the past 52 weeks generally do so over the following year.
On the other hand, the theory behind the "52 week high effect" is that investors become hesitant when prices near 52 week highs. Share price valuations compress at this "anchoring point," which is merely a psychological barrier. When prices finally do break through, a nice run of excess gain may follow. Buying stocks that are at 52 week highs is a valid back-tested strategy based on anchoring bias from investors. What are a few stocks reaching new highs now that you may want to look at?
Abbott Laboratories (NYSE:ABT) - This major drug manufacturer is making new highs and plans to spin into two business models - one for pharmaceuticals and the other for diversified medical supplies. What is it that really makes me excited about this company?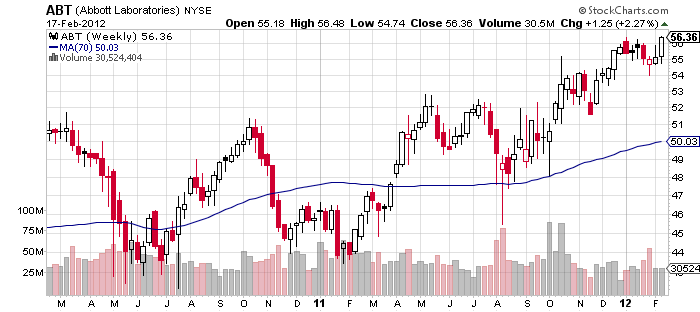 One of the stock screens, simulations and portfolios that I make freely available at Portfolio123 (a stock and ETF screening and back-testing platform) is based on high-yielding stocks with decent earnings and dividend growth over the past 5 years and with yields at least 20% higher than the 5 year average. Often this captures deep value stocks in a temporary lull, but once in a while, such as with ABT, it uncovers stocks with dividends rising faster than share prices.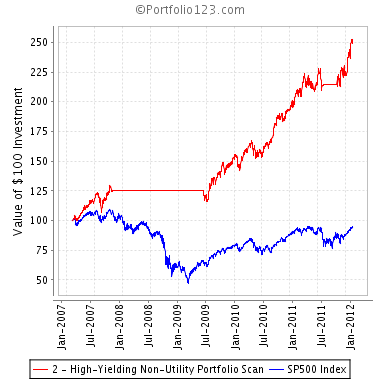 While the 5 year average yield is 3%, the latest quarterly dividend hike to 51 cents gives a forward yield of 3.6%. The 5 year dividend earnings growth is over 10% and the 5 year earnings growth is even higher. Annual sales growth is roughly 10% in the past year, and when looking at 3, 5, and 7 year averages. Based on the 2012 earnings forecast of $5.02 per share and the forward dividend of $2.04, the payout ratio would be a lowly 40%.
If investors who are happy with this company push prices up so that the yield sits at the longer term average of 3%, this would translate into a total 12 month return of 23%. This is in line with the average gains of the 'High-Yielding Non-Utility Portfolio Scan' strategy I created for anyone to use, as mentioned above.
QUALCOMM Inc. (NASDAQ:QCOM)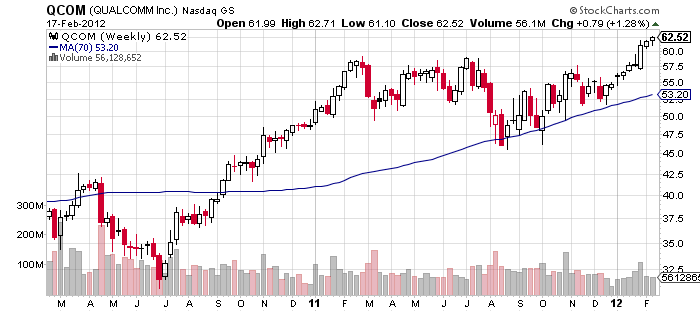 I like QCOM based on momentum and the fact that it is breaking out to new price highs, but I am not so bullish from a dividend point of view. There are a few methods to value the price which give this a decent upside:
Sales are at $9.74/share. The annual 5 year sales growth rate has been 14.7%. If you use the 5 year average price to sales ratio, you come up with a 12 month target of over $72 based on previous sales trends. That represents a possible 16% price jump.
This year, QCOM is expected to earn $3.75 per share. Using a 5 year average P/E ratio of 24.1, we could see a share price as high as $90.375 or a 44% gain.
Right or wrong, I prefer to base some of my targets thinking of these companies as mature value stocks: what if this company paid out 50% of its earnings in the form of a dividend? How would investors price the share price? This is largely guesswork, but if 50% earnings were paid out, and investors set the share price to give a 4% yield, this would only give a share price of $46.875. If 80% of forecast earnings were paid out at a 6% yield, this would only value share prices at $50. As an extreme example, what if share prices did hit $90, and the company decided to pay 80% of the earnings, the yield would only be 3.3%.
My point is that QCOM has a strong growth upside based on former P/E and P/S multiples, and is a fine purchase if you are a growth investor. I'm not sure why they are choosing to pay dividends at this time, and would definitely think twice if you are strictly a deep value dividend investor.
Colgate-Palmolive Co. (NYSE:CL) - To be honest, I find Colgate-Palmolive to be a bit boring, but that isn't always a bad thing. There is something to be said for fiscal consistency. Prices are at 52 weeks highs and if prices can push past this time there should be a nice little run of profit.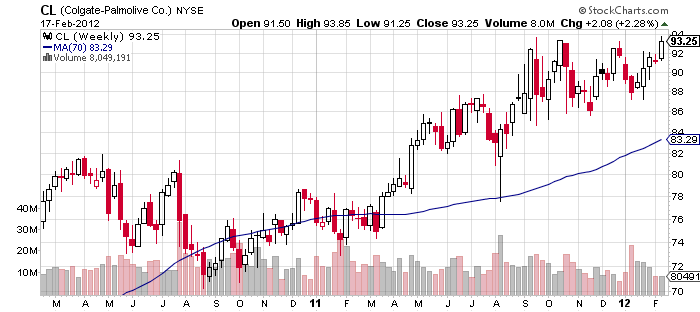 Sales growth for the past 1,5, and 7 years has hovered around 7%. Earnings for the same time frames are in the low double-digits. I give this stock a 12 month price target of $106, based on slow and stable earnings and dividend growth patterns over the past 5 years.
Price based on earnings: 14.1% growth rate means future earnings of $5.68 based on trend (this is higher than analyst estimates though). Multiply this by average P.E of 18.6 for a possible share price of $105.69.
Price based on dividend growth: 5 year dividend growth is 12.7%. This gives a forward dividend of $2.56. 5 year average price to dividend multiple of 41.7 gives a price of $106.60.
This would give a total return of over 16% if the stock keeps up with the past trends. Something to think about while you brush your teeth.
52 Week High Strategy and You?
Trading momentum or building a strategy based on the investor '52 week high' bias is not for everyone. Still, it may be prudent to look through the 52 week high list to see if any of your favorite value or dividend stocks are present. The more ways you can stack the cards in your favor, the better your odds are of having a winning hand at the end of the investing year.
Disclosure: I have no positions in any stocks mentioned, and no plans to initiate any positions within the next 72 hours. I may intra-day trade these companies over the next 72 hours but currently have no plans to do so.