Unlike iPhone supply chain rumors, China's three major mobile phone carriers provide hard numbers on subscribers and subscriber growth on a monthly basis. Subscriber growth for 3G/4G services continues to be strong, indicating continuing y/y growth in the Greater China market for Apple's (NASDAQ:AAPL) iPhone.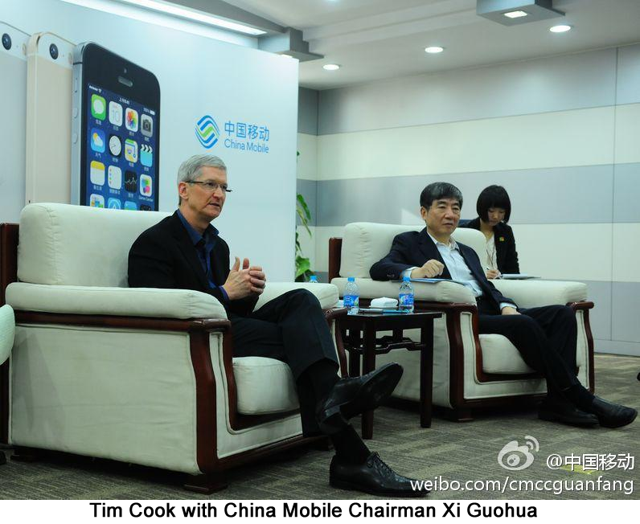 Click to enlarge
Source: techinasia.com
Sifting the Telecom Data
China Mobile (NYSE:CHL), China Telecom (NYSE:CHA) and China Unicom (NYSE:CHU) all provide monthly stats on total customers and customer number changes. The overall growth in mobile 3G and 4G customers indicates that there is still a very robust market for more 3G/4G handsets. Although total customer growth among the three carriers is not very strong, growth in 3G/4G customers is quite strong, as customers trade up to more capable handsets.
China Telecom and China Unicom only provide customer data for 3G and 4G combined, while China Mobile provides separate data for 3G and 4G. In the chart below, I show the growth of total 3G and 4G customers of the three carriers, as well as the growth of 4G customers at China Mobile.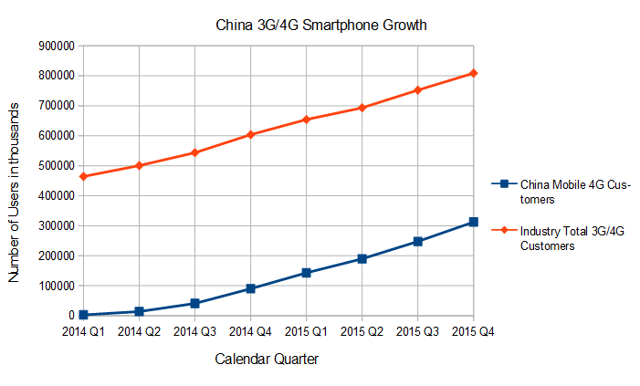 Click to enlarge
Growth in the total number of 3G and 4G customers is not necessarily a proxy for smartphone sales in China. There are a number of reasons for this. China Mobile's data shows that 3G customers are declining in number, while 4G customers are rising. Clearly 3G and older phones are being taken out of service and replaced with 4G phones. The chart below highlights this for the case of China Mobile.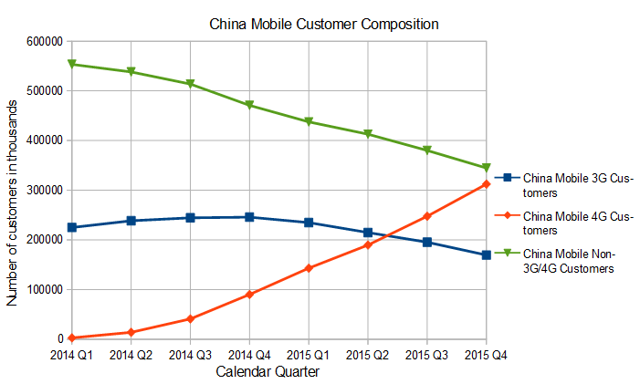 Click to enlarge
Although the overall expansion of 3G and 4G usage in the China mobile phone industry can only provide a broad brush indicator of the health of the smartphone market in China, China Mobile's 4G customer growth does provide a proxy for the market segment that iPhone addresses in China.
Here, my reasoning is that 4G customer additions for China Mobile likely entail the purchase of a new handset. Quarterly 4G customer additions have been running at an enormous rate of 50 million or better at China mobile for most of the year since 2014 Q4, as the chart below shows.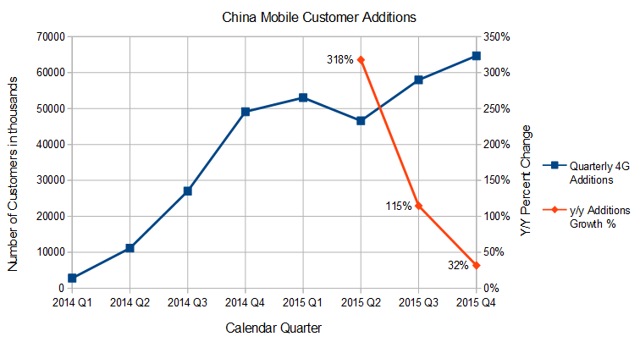 Click to enlarge
Most importantly, except for some slowdown in 2015 Q2, when there was so much concern about the Chinese economy, that customer growth has continued to accelerate through calendar 2015 Q4. In the chart I also show y/y % change in customer additions. The y/y change has necessarily dropped as the 4G customer base has gone from nearly zero at the beginning of 2014 to 312 million by the end of 2015.
What I think is important about the 4G customer growth at China Mobile is that despite the fact that China Mobile's 4G customers grew by 49 million in 2014 Q4, it still grew by nearly 32% more than that in 2015 Q4, or 64.6 million customers.
The 4G smartphone market is the market segment that iPhone addresses, and China Mobile's data indicates that this market segment grew by a substantial 32% y/y, regardless of what might have been going on in the overall smartphone market in China in the December quarter.
If we approximate the 4G smartphone market in China by China Mobile's customer growth numbers, then we find that Apple only had about a 26% share of the 4G segment in calendar 2014 Q4. This is derived from IDC's estimate of iPhone sales in China for the quarter of 13.2 million. With a 32% y/y expansion of the 4G market in China, Apple can achieve a substantial y/y unit sales increase even if it looses market share.
Investor Takeaway
I doubt very much that Apple lost any market share in China in calendar 2015 Q4. According to Kantar's most recent data, Apple's market share increased slightly in the three months ending in October 2015 (at 22.9%) compared to the three months ending in July (at 19.1%). If Apple grows its unit sales in China proportional to segment growth (~30%), then it will increase unit sales in China from 13.2 to 17.2 million for the December quarter.
The 4 million unit increase puts Apple at the top end of my guidance range of 74-79 million for the December quarter and assumes basically flat growth in the rest of the world. On the basis of the China telecom data, I now believe that 79 million is a conservative number, and it will be what I go with when I prep my earnings estimate for my Apple earnings preview article.
I continue to be long Apple and recommend it as a buy. I'd like to thank one of my readers, Tony Chang, for pointing out the value of the China Mobile data.
Disclosure: I am/we are long AAPL.
I wrote this article myself, and it expresses my own opinions. I am not receiving compensation for it (other than from Seeking Alpha). I have no business relationship with any company whose stock is mentioned in this article.