Looking for solid dividend stocks that aren't getting pounded by the market pullback? How about ones that are actually outperforming the market?
You've come to the right place. This article focuses on AT&T (NYSE:T), a Dividend Aristocrat which has been outperforming the S&P 500 over the past year, quarter, month, and even year to date, as has its rival, Verizon, (NYSE:VZ). (We've often noticed how, on market down days, telecoms seem to hold their value better than most other sectors.):

We first wrote about T back in November, in a previous article, which detailed how you can increase your dividend on range-traded stocks such as AT&T via selling covered calls. We've updated those details further below with two new ideas that will capture its next dividends, plus a more conservative trade.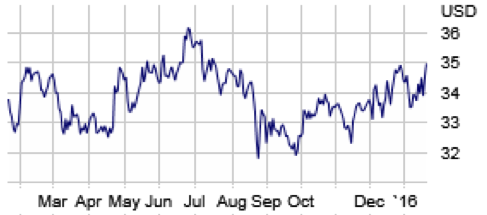 (Source: T website)
Dividends: T increased its quarterly dividend from $.47 to $.48 in January. Its next ex-dividend date should fall in early April. Slow and steady is the word here - T's five-year dividend growth rate isn't that impressive, at 2.38%, but its 32-year record of raising dividends through all of the economic ups and downs is laudable, and it yields a solid 5.5%.
Our High Dividend Stocks By Sector Tables track T's price and current dividend yield, (in the Telecoms section).

Options: We've added two covered calls trades - one in April and one in July, (to take advantage of T's next two quarterly dividends) to our Covered Calls Table, where you can see more details for them and over 30 other income-producing trades.
Both of these trades feature a $36 call strike, which should leave you enough headroom to avoid having your shares assigned/sold prior to the ex-dividend dates.

Click to enlarge
The $36 strike is $1.11 above T's $34.89 price/share.
A: In the static scenario, T wouldn't rise above $36.00 before the April ex-dividend date and expiration date. You'd collect $1.00 in call option and dividend money.
B: In the assigned scenario, T would rise above $36.00 before the April ex-dividend date and expiration date. You'd collect $1.63 in call option and price gain money, but no dividend money.
C: If T rises above $36.00 after the ex-dividend date, but before the expiration date, you would retain all three income streams, for a total of $2.11, which is a 6.05% yield in around 11 weeks, or 26.28% annualized.

Click to enlarge
This next trade goes further out in time, to July, when T's second quarterly ex-dividend date occurs.

Click to enlarge
The three scenarios are mostly the same, but with larger payouts - this time there are two $.48 dividends, for a total of $.96/share, and a higher call premium of $.82, since the expiration date is further away. A further wrinkle in this trade is the possibility that your shares may get assigned after the April ex-dividend date, but before the July ex-dividend date, in which case you'd collect $2.41/share, for a 6.89% nominal yield.

Click to enlarge
The put-selling trade below has a $34.00 strike, and expires in April, with a breakeven of $33.09. It pays $.91, but you won't receive any dividends, as, unlike covered call sellers, put sellers don't receive dividends, since they don't own the underlying stock.
Our free Cash Secured Puts Table will give you details for this trade and over 30 other income-producing trades.

Click to enlarge
Analysts Estimates Are Rising: Several analysts have adjusted their estimates upward for T's Q4 2015, Q1 2016, full-year 2015 and full-year 2016 earnings.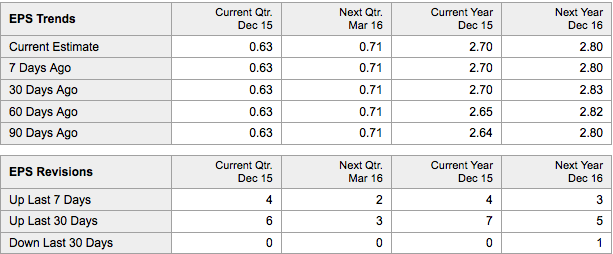 T will be reporting its Q4 and full-year 2015 earnings on Tuesday, 1/26/16, after the market close. Analysts have a consensus revenue growth estimate of 24.10% for Q4 2015 and 11.80% for 2015.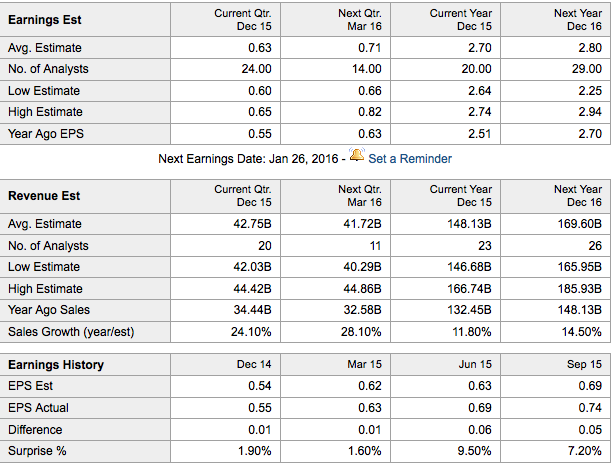 (Source: Yahoo Finance)
Financials: One interesting thing to note about T's much lower ROA, ROE, ROI and operating margin vs. Verizon for the trailing four quarters is that T took a huge $4B, (-$.77/share) write-off in Q4 2014. If its Q4 2015 EPS is anywhere near analysts' consensus of $.63, these figures should all improve dramatically, (on a trailing 12-month basis) as the -$.77/share Q4 2014 loss gets replaced by a substantial profit/share in Q4 2015.

Analysts Targets: Well, we can't have it all - with T's steady price performance, it's just 6.42% below analysts' current mean price target.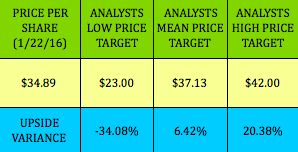 Valuations: T looks a bit more expensive on a P/E basis, but has a higher dividend yield and a much lower price/book valuation.

All tables furnished by DoubleDividendStocks.com, unless otherwise noted.
Disclaimer: This article was written for informational purposes only.
Disclosure: I am/we are long T.
I wrote this article myself, and it expresses my own opinions. I am not receiving compensation for it (other than from Seeking Alpha). I have no business relationship with any company whose stock is mentioned in this article.