Arena Pharmaceuticals (NASDAQ:ARNA) and the branded anti-obesity pill sector seem to be seeing their luster dull in the weight loss segment. With every new year we typically see a rise in script sales that lasts at least through the second quarter. This past week we saw the segment as a whole all show week over week declines.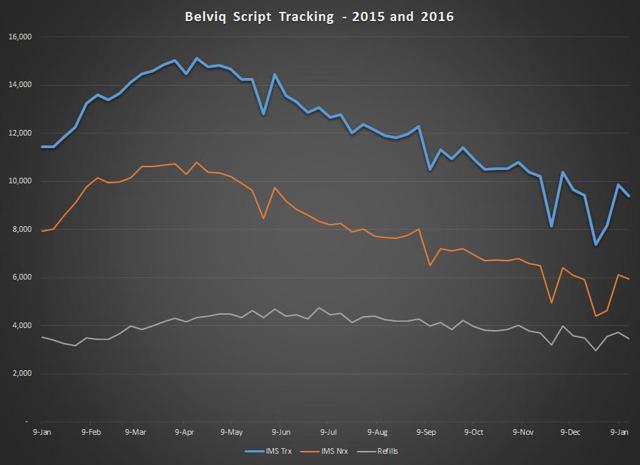 Chart Source - Spencer Osborne
As yet, Arena has not really offered much in the way of guidance for U.S. sales in 2016. Arena competitor Orexigen (NASDAQ:OREX) has stated that it anticipates sector growth for branded anti-obesity pill to be in the "low double digits". Indeed, we are seeing that type of growth in the first two weeks of the year. In week two of 2015 the segment had 29,400 scripts compared to 32,600 scripts in week two of this year. That equates to about 11% growth from the sector, but even that growth is deceiving. Last year Orexigen's Contrave was still new and fresh to the market in Q1. It will be easy to show sector growth in Q1. That story will shift as Q2 begins to unfold.
On a quarter over quarter basis, one would expect any Q1 to blow away any Q4. That is certainly not the case with Belviq thus far. With two weeks of data in place, Q1 of 2016 is pacing at a 10% decline from Q4 numbers. No matter how you look at it, Q1 is not starting off well in terms of U.S. Belviq sales.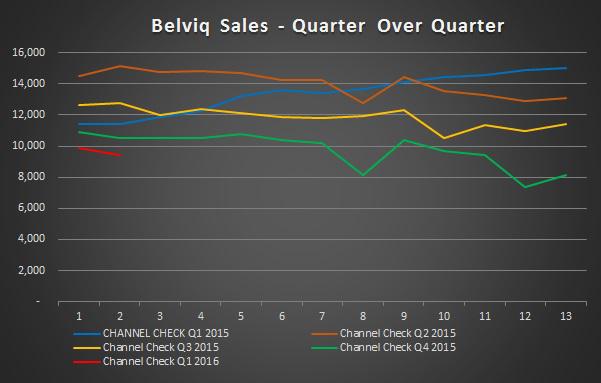 Chart Source - Spencer Osborne
The year over year comparison is even worse than the quarter over quarter. This should be of particular concern to investors because financials tend to focus on year over year comparisons. Sales in 2016 are pacing 15.86% lower than 2015. It is difficult to assess whether the sales dip in week two this year is an anomaly, but it could indicate that there is a weakness in this space that will make 2016 a challenging year for sales. Let's face it, the "newness" factor with Belviq began to wear off in mid 2015.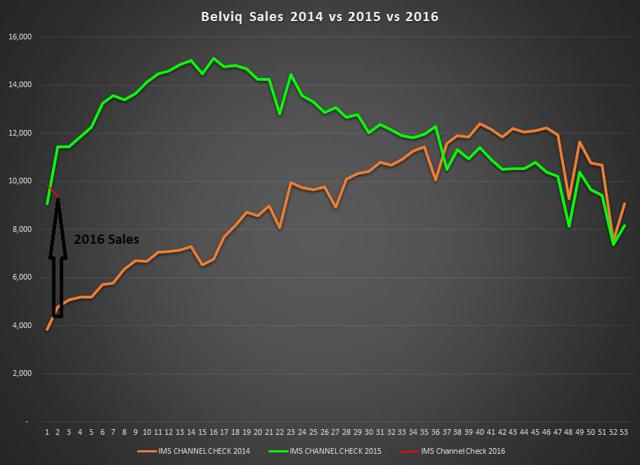 Chart Source - Spencer Osborne
From a market share perspective Belviq demonstrated a modest gain this week from 28.65% to 28.82%. This is good enough for second place above Qsymia from Vivus (NASDAQ:VVUS), but well shy of the 43.37% share that Contrave has. In my opinion, keeping market share above 25% in Q1 is critical for Belviq. If a competitor is allowed to dominate the space, the ability of Belviq to gain traction becomes more difficult.
The bottom line is that the sector is demonstrating year over year growth, but Belviq is not participating in that growth. Some will point to approvals and sales in other nations as potential catalysts, but realistically speaking, if Belviq can not be a success in the United States, it will not be a success elsewhere. Success in the U.S. market is critical. At this stage Arena is a speculative play on the pipeline, but not a viable play on Belviq. Stay Tuned!
Disclosure: I am/we are long ARNA, OREX.
I wrote this article myself, and it expresses my own opinions. I am not receiving compensation for it (other than from Seeking Alpha). I have no business relationship with any company whose stock is mentioned in this article.
Additional disclosure: I have no position in Vivus