Starbucks (NASDAQ:SBUX) has been one of those companies where the business is firing on all cylinders, but the stock's valuation is higher than many traditional investors would like to see.
The way I justify my ownership of such stocks is by taking a long-term view of the company, as well as understanding the notion that a high quality company with strong growth rarely comes with a low valuation.
While the stock is up a whopping 42% over the past year, it's only up 4% over the last six months. That consolidation has been great for investors, as it has allowed Starbucks (with its great results) to grow into its high valuation. Its forward valuation has come down, while the stock price has remained flat.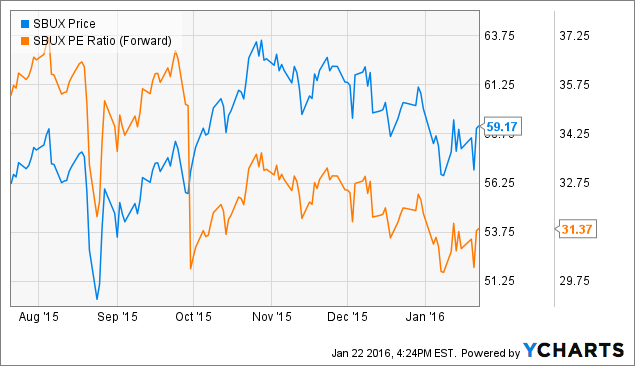 China: Pro or Con?
When Starbucks reported earnings on Thursday and in October, the company's China/Asia Pacific region (CAP) reported comp-store sales results just below analysts' expectations. Six and five percent comps for Q4 2015 and Q1 2016, respectively, are of course, very good - especially in this environment.
For comparison, Starbucks generated CAP comp-store sales of 11% in Q3, 12% in Q2 and 8% in Q1 2015. CAP is the company's fastest growing market and any slowdown would be a major concern.
After last quarter's "disappointment" - if that's what we really want to call it - I was hoping either Starbucks would beat estimates this quarter or at least give some more color on the conference calls as to why the comp-store sales seem to be coming in light.
Unfortunately, most results were met with "Business in China and across CAP remains very, very strong," and "We've seen no systematic slowdowns."
Let's be real though. While Starbucks is coming in shy of analysts' expectations, this doesn't mean the company is doing poorly. Yes, it would make us all feel better if Starbucks was blowing out double-digits comps in China. It would make us feel better about its economy and its consumers.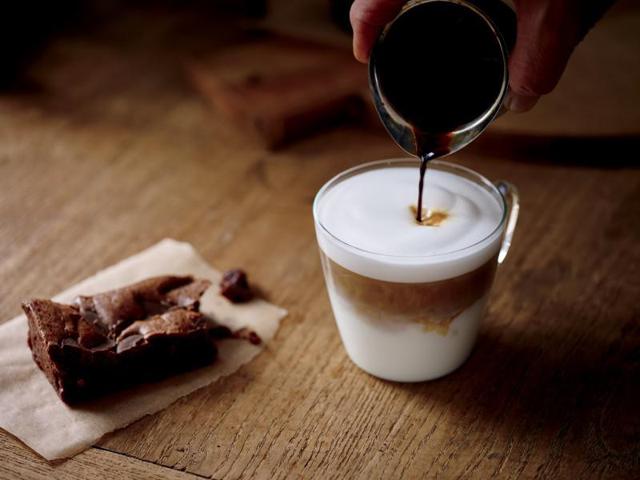 But that's not happening and this is where you have to ask yourself what type of investor you are: Do you bail on a strong company who slightly misses analysts' marks in China, or are you investing in the business and recognizing the long-term opportunities that lay ahead?
I am of the latter, and even though China's economy isn't perfect right now, I still think Starbucks is a doing a fine job navigating its way - highlighted by the company's most recent plan calling for aggressive expansion, shooting for 500 new stores per year in China through 2021.
China Is Startling for Others
While companies such Apple (NASDAQ:AAPL), Nike (NYSE:NKE) and Starbucks continue to shine in China, many companies are not - which I summed up in my Third Quarter Pulse on FutureBlueChips.com.
Growth scares out of China are concerning investors, and coupled with falling oil prices - or more broadly, commodity prices - these catalysts are driving the broader stock market lower. But I think that's a buying opportunity for investors, as Starbucks' business continues to benefit.
Lower oil prices are good for consumers, especially when it comes to disposable income at places like restaurants and convenience stores. It may also provide a spark for customers to purchase higher margin products, (something cited by Darden Restaurants (NYSE:DRI)). This could have an obvious benefit to Starbucks.
While lower oil prices are good for Starbucks' customers, falling coffee prices (and it's expected to last through this year) are good for Starbucks' margins.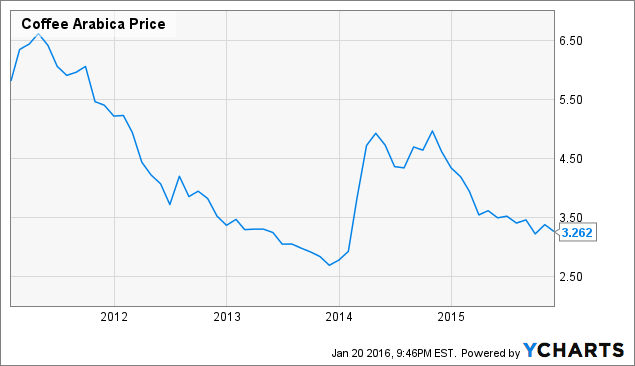 If you've been sitting idly on the sidelines waiting to buy Starbucks, what are you waiting for? (you can always buy in stages, like I'm just starting to do with Chipotle Mexican Grill (NYSE:CMG)).
If the 5%-instead-of-6% comp result in China, or the full-year guidance falling a penny short of analysts' estimates is scaring you away, maybe Starbucks is not your type of stock.
In fact, it's these minor blimps that I would like to see do more damage to stock, so I can pick up more shares. In the after-hours we saw shares drop toward $56. By close of trading Friday, they were positive on the day, over $59. I would love to see a drop to sub-$55.
Starbucks is an incredibly well-managed company with strong margins, high quality products, and lots of future growth ahead of it. It's not a fast-food chain with little care for the environment or neighborhood. Starbucks understands the culture in the countries in which it operates and this gives it a huge advantage, especially in countries like China.
I'll let Howard Schultz, who I have a ton of respect for, sum it for me: "If you look at our peer group, not only within the restaurant and retail sector, but any bricks-and-mortar retailer around the world, who's putting up 4% global traffic, 8% global [comps], 9% [comps] in the U.S., and 5% [comps] in Asia?"
The answer? No one, except Starbucks.
Disclosure: I am/we are long NKE, SBUX, CMG.
I wrote this article myself, and it expresses my own opinions. I am not receiving compensation for it (other than from Seeking Alpha). I have no business relationship with any company whose stock is mentioned in this article.