I embarked on a strategy of regular, consistent position accumulation across a basket of high-quality, wide-moat dividend paying stocks late in 2014. The way that I am implementing this strategy is to invest several thousand dollars every quarter across a basket of some 30 stocks, and buy these stocks cost effectively, in one shot via a Dividend Motif .
As I wrote recently, the market turmoil that we have witnessed over the last few weeks hasn't changed my consistent approach to regular quarterly accumulation of my 30 high quality dividend growth stocks. That being said, the advice of various commentators to seek optimal price points as still echoes in my ears as a constant theme of feedback from my prior buys. I also remembered the advice of BuyandHold2012 to look at 20% declines from market highs as a potential buy point.
On this occasion, greed got the better of me, and I completed my purchase just recently when the S&P was trading at approximately 15,750 with the index down close to 16% from market highs. I'm not sure if this will be the market low for 2016 and markets may well continue to fall. It matters little to my investment strategy.
While my Q1 2016 Buy represented the "cheapest" purchase that I have made of my index, I still proceeded to invest exactly the same amount as I had every other quarter, even though I had surplus cash on hand. The reason for this is that one of the major mistakes I made in 2009 was to buy too aggressively too soon. Hence, I am happy just investing the same amount quarterly, even though I'm arguably getting more "bang for my buck".
The intriguing thing that occurred to me when I made my purchase was that by and large, many of the stocks that I just picked up are relatively unaffected by events in China and the turbulent energy markets. Of course Exxon (NYSE:XOM) and ConocoPhillips (NYSE:COP) are directly impacted, however Starbucks (NASDAQ:SBUX) continues to sell coffee, Johnson and Johnson (NYSE:JNJ) continues to sell medications and Pepsi (NYSE:PEP) continues to move soft drink and snacks. The stocks I've selected I have significant competitive advantages that lend themselves to an enduring moat that will be difficult to breach, and which should increase in intrinsic value over many years. Lower prices just provide opportunities to accumulate more stock for each dollar invested.
Q1 2016 Purchase Details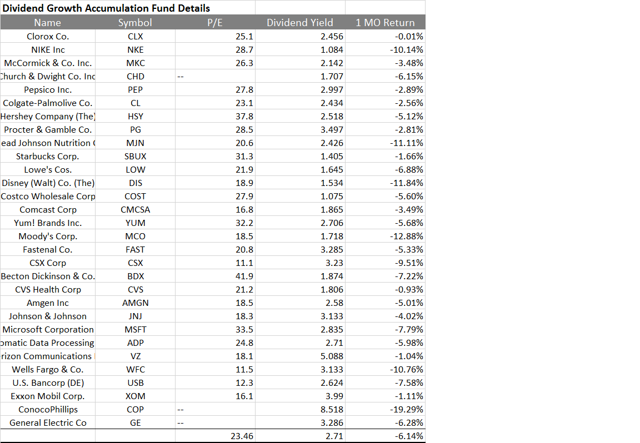 Click to enlarge
In Q1, I invested $2,500 across this basket of stocks, which has been roughly what I invested through each quarter of 2015. Since I commenced my accumulation strategy I have invested close to $13,500. Not surprisingly, my Dividend Growth Accumulation fund has taken a hammering in the last few weeks, and is down 1.6% since I first started my accumulation. Nonetheless, this still compares favorably to the S&P 500 which is down by close to 5% over the same time.
Interestingly, both the valuation and volatility ratings for the portfolio remain at Medium, which represents an improvement in the valuation rating from High in Q4 2015.
Yield and Valuation Highlights of Positions
At my purchase point, the effective dividend yield in my fund was approximately 2.7%, the highest that it has been since inception. The yield implies that I added roughly $60 of annual income for the quarter.
I was able to purchase individual positions at a fairly broad yield spread and a wide range of P/E points.
The most favorable positions that I purchased from a dividend yield standpoint was Conoco Phillips (NYSE:COP), which was purchased at dividend yields of more than 8.5%, which raises significant questions about whether this yield will actually be sustainable. Verizon which was purchased at a dividend yield of 5.1%. Apart from these positions, I had several other purchases above 3% dividend yield, which included Exxon (NYSE:XOM) (4%), GE (NYSE:GE) (3.3%), P&G (NYSE:PG) (3.6%) and Johnson & Johnson (NYSE:JNJ) (3.1%) and Fastenal at 3.3%.
The least favorable as far as yield was concerned was Costco (NASDAQ:COST) (1.0%) and Nike (NYSE:NKE) (1.1%) were the only positions below 1.5% yield. No positions were below my minimum desired 1% yield. The inclusion of a handful of lower yielding positions is a deliberate strategy of mine to attain strong dividend growth over time, via a combination of higher payout and strong organic growth, as well as to bolster expected total return.
What was interesting to observe was the compression in P/E ratios over the last month. Becton Dickinson (NYSE:BDX), Yum Brands (NYSE:YUM), and Starbucks (NASDAQ:SBUX) were all over 30. The lowest P/E ratios of the positions I purchased was CSX and Wells Fargo which had a PE ratio of just 11x earnings. There were many more stocks that had P/E ratios of less than 20 than the previous quarter, including Comcast (NASDAQ:CMCSA), GE (NYSE:GE), J&J , Microsoft (NASDAQ:MSFT), US Bancorp (NYSE:USB) and Wells Fargo (NYSE:WFC), Amgen (NASDAQ:AMGN), Colgate (NYSE:CL), Disney (NYSE:DIS), Moody's (NYSE:MCO).
As a test to see how reasonable the valuation points were that I was accumulating, I checked the positions I had purchased against Morningstar's ranking system, which suggested that my portfolio blended average was 3.54 stars, out of 5 stars on valuation, which suggests a portfolio that overall is better than fair value. This measure that I have been benchmarking has strongly increased since the last quarter, when it was just 3.18 in Q4. What this seems to suggest is that the decline in stock prices is not fundamentally driven decline driven by declining business valuations and should be thought of as an opportunistic time to add to positions.
Interestingly, the compression in stock prices over the last quarter has resulted in my portfolio having the greatest number of 4 and 5 star positions than it ever has. Amgen and CSX were both rated at 5 stars, with almost 16 companies sporting 4 stars. Church & Dwight (NYSE:CHD), Clorox (NYSE:CLX) and CostCo (NASDAQ:COST) were the only 2 star rated positions.
Looking at the 1 month performance of all my positions, every single position has shown a decline in return, which speaks to the irrationality of the sell off in my mind. Conoco, Wells (NYSE:WFC), Moody's, Disney, Mead Johnson (NYSE:MJN) and Nike (NYSE:NKE) all showed share price declines in excess of 10%, with Conoco showing a share price decline of almost 20%.
Overall, I'm happy with the purchase of the Dividend Accumulation Fund this quarter. I believe this purchase will prove to have been a well made one down the line.
Disclosure: I am/we are long AMGN,CSX,COST, CLX, CL, GE, JNJ, PG, MSFT, CHD, COP, DIS, NKE, SBUX, MJN,PEP, USB, XOM, BDX.
I wrote this article myself, and it expresses my own opinions. I am not receiving compensation for it (other than from Seeking Alpha). I have no business relationship with any company whose stock is mentioned in this article.