PNC Financial (NYSE:PNC) reported Q4 2015 revenues of $1.02 billion, decreasing 2.5% y/y, but coming 1.6% above the consensus. EPS recorded for the quarter was at $1.87, which beat the analysts' estimates by $0.07. While the sluggish loan growth disappointed, the beat versus market consensus was largely driven by lower compliance/legal costs. For FY 2015, PNC recorded 1% decline in revenues and 1.2% growth in EPS.
NII was up by 1.5% q/q while NIM improved by 3 basis points mainly on the back of the fast growth in non-interest bearing deposits (and a despite a contraction in L/D spread). Management did not guide for a certain margin trajectory. The rate-hike cycle will definitely have an impact on NII, however we might see margins move slowly given the current trends in the bank's asset liability mix.
Taking a look at the average balances of PNC, we saw securities, loans, and deposit growing by 10.5%, 2.9%, and 7.8% respectively in 2015, when total assets rose 8.3%. That said, the decline in consumer loans was more than offset by the rise in commercial lending, where yields are remarkably lower. The bank also on average had a huge amount cash of $32.9 billion parked in other banks as deposits. Keeping all this in mind, a significant contraction in NIM was almost inevitable, and not surprisingly, NIM for FY 2015 was down by 34 basis points from 3.08% to 2.74%. This was partly due to high-quality underwriting standards to produce loans that PNC followed last year. It is a fact that this, coupled with the low interest rate environment, had high pressure on margins, and the impact of conservatism was also pronounced in the loan portfolio growth. However, PNC performed very well regarding asset quality, as the NCO rate for commercial loans was only at 8 basis points, while it stood at 0.5% for consumer lending. PNC also had a great recovery performance in stressed commercial loans. We might see things turning a little bit sour in the U.S. credit markets this year, but PNC is likely to be in good shape in this regard. Secondly, supported by the deposits account in other banks and other high-quality liquidity assets such as cash balances and securities, the bank currently meets the liquidity coverage requirements. Aggressive deposit rivalry on tighter liquidity conditions will probably have a negative impact on NIIs system wide through higher funding costs, but, downside risks for PNC will be remarkable lower there.
On the fees and expenses side, management foresees stable growth in revenues and stable expenses which will deliver a positive operating leverage. As a part of the conservative banking policy, the bank will probably look for higher fees from the existing clients this year instead of pursuing new relationships for attractive loans. Also, in the consumer lending side, the bank's focus was on credit cards, which will produce more fees on the bank. For expense management, the bank has been investing in technology with an improvement program in order to increase the efficiency. Considering the increasing personnel costs, I find the outlook for expenses not encouraging. The technology spending line is also be higher due to the depreciation accounting. We will have to wait a few more quarter to see a significant rise in efficiency.
PNC's investment in BlackRock (NYSE:BLK) also needs to be factored at this point. Along with being a prominent dividend payer in the industry, having +20% stake in the asset management company provides PNC a protection from downside price movement.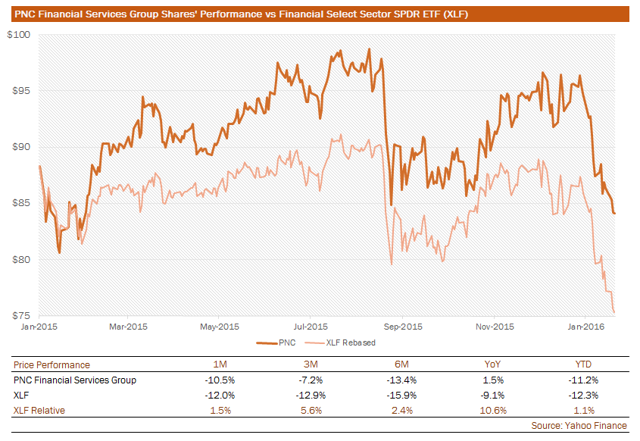 Click to enlarge
PNC is currently trading at 2016E PE 11.2x, 2016E PBV for 1x for 9.3% ROAE. According to Reuters, only 9 of the 32 analysts covering the bank have a buy rating for the stock. Even if it is hard to draw a rosy picture, interest income outlook, higher fees, and more importantly asset quality, will lead to consensus upgrades and provide share price support in my opinion. I continue to believe that PNC is a good investment, with the possibly of a triple-digit stock price on the horizon.
Disclosure: I/we have no positions in any stocks mentioned, and no plans to initiate any positions within the next 72 hours.
I wrote this article myself, and it expresses my own opinions. I am not receiving compensation for it (other than from Seeking Alpha). I have no business relationship with any company whose stock is mentioned in this article.