Intel (NASDAQ:INTC) reported earnings last week and sold off on the news as has been discussed by various authors on Seeking Alpha.
The one thing missing from the analysis about revenue growth, EBITDA and products is the amount of inventory Intel has sitting on its balance sheet. I first wrote an article concerning this last summer.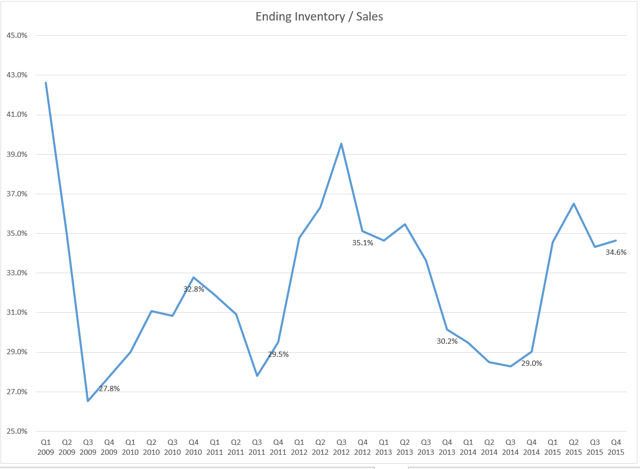 Source: I-Metrix
The amount of ending inventory impacts Intel's gross margin as shown in the following formula:
COGS=Beginning Inventory + Purchases (Cost to Manufacture) - Ending Inventory
Hence, with a higher ending inventory, this lowers the COGS, which results in a higher gross margin.
Intel, of course, had a different take on why the gross margin rose, which can be found here on pages 2 and 3.
Some investors previously thought that Intel's cost of "purchases (cost to manufacture)" would drop as it manufactured more 14nm chips. Intel provided this reason for part of the gross margin expansion. While lower production costs are unquestionably good, and this figure did drop from Q2 2015, it was still above 2013 and 2014 levels.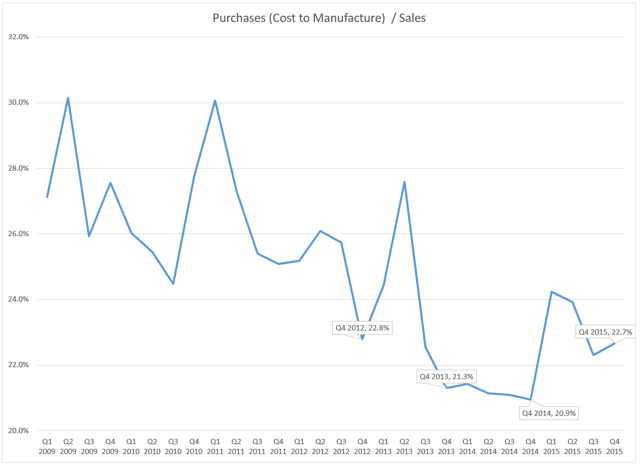 Source: I-Metrix
In the Q2 2015 conference call, Stacy Smith, Intel's CFO says:
I'm predicting that we'll end the year with inventory levels roughly flat to where we are today, not dramatically different. But again, units will be down, dollars will be flat.
In Q2 2015, Intel had $4.818 billion in inventory; it finished Q4 2015 with $5.167 billion, a 7.2% increase (Source: I-Metrix).
I did not find the issue of the inventory levels addressed in the Q3 2015 conference call transcript. The Q4 2015 transcript had this to say:
How is the channel looking right now and what sort of expectation should we have for your internal inventory looking into this year? Thanks.

Brian Krzanich

Sure. We believe that 2015 ended with I would just call it very healthy inventories. In fact, one of the things we saw was a slight decrease in the inventory levels as we exited the fourth quarter. If you take a look at what we had originally projected and what would have been more an industry norm would have been a slight increase in inventory. We expect those kind of healthy inventory levels to extend through '16. There is no sign that anybody is adding inventory or not moving of a cautious position on inventory and that is what has been built into our forecast as well.

Stacy Smith

Yes. To the question on internal inventory levels, I would just say, we ended Q4 with a little more inventory than I was expecting and a little higher than I would like. Two drivers there, we saw as I said a little bit weaker units, so we made up for us in rich mix, a little bit weaker unit and we saw yields get better on 14 nanometer and the combination of that - little more inventory leaving Q4 than I would like.

You will see it, on a dollar basis, will go up in Q1 as a result of Altera, so Altera will cause the inventory levels to go up some, but when you look at it from a business standpoint, I think we will work through the inventory we have, and when we get into the back half of the year, we will bring inventory levels down.
Remember:
COGS=Beginning Inventory + Purchases (Cost to Manufacture) - Ending Inventory
Hence, as ending inventory levels are lowered in the 2nd half of 2016, the COGS will rise and likely lower gross margins, which is also dependent upon depreciation and amortization levels.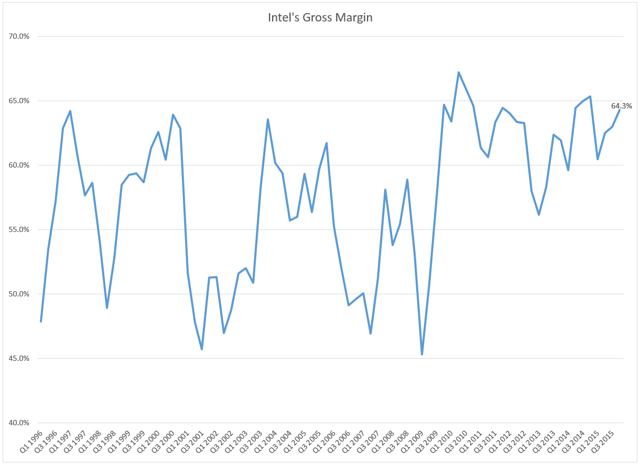 Source: I-Metrix
This appears to be a mean reverting time series. So, I did some statistical testing. I found the presence of mean reversion to be statistically significant.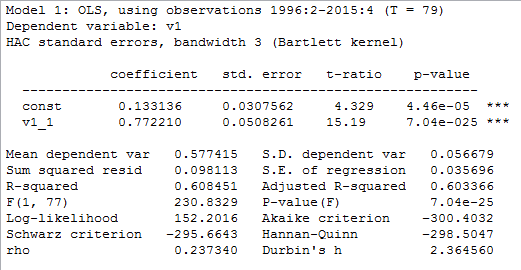 Source: I-Metrix & Gretl Software ("V1" is Intel's Gross Margin)
The formula for the mean reversion level is:
Level = [ Constant / (1 - Coefficient 1st Lagged Variable)]
For the whole time series from 1996 to 2015, this would compute to 58.4%. From 2009 to 2015, the mean reversion level is 62.4% (data not shown). The question is: Is 2009-15 a 'new era' for Intel's gross margin, or did the extraordinary stimulus, both monetary and fiscal, boost margins?
Proclamations about 'new eras' typically do not end well.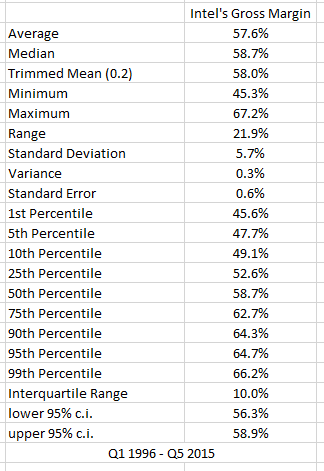 Source: I-Metrix & Author's calculations
The days it takes to sell inventory has been rising in this 'new era', on a trailing 12-month basis.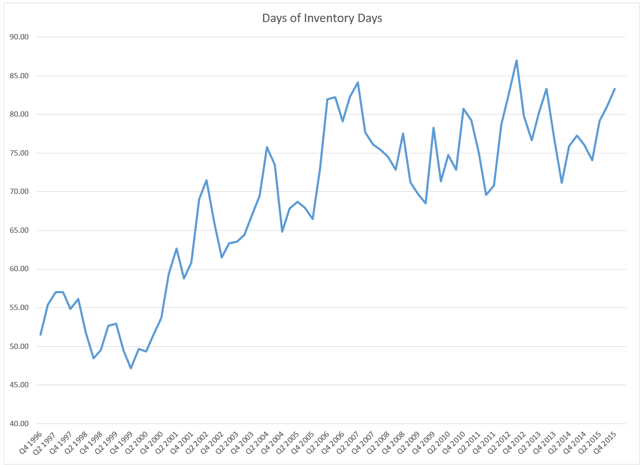 Source: I-Metrix
I also noticed that accounts receivable is rising as a percentage of sales in the "new era" time frame.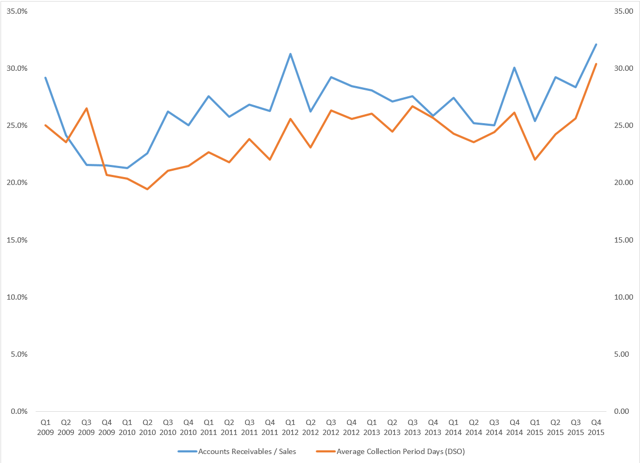 Source: I-Metrix, AR/Sales: Left Axis, DSO: Right Axis
This data suggests Intel is not collecting cash from customers as efficiently, or has loosened its credit policy to generate more sales. The result is Intel had the highest cash conversion cycle in 2015, since 1996.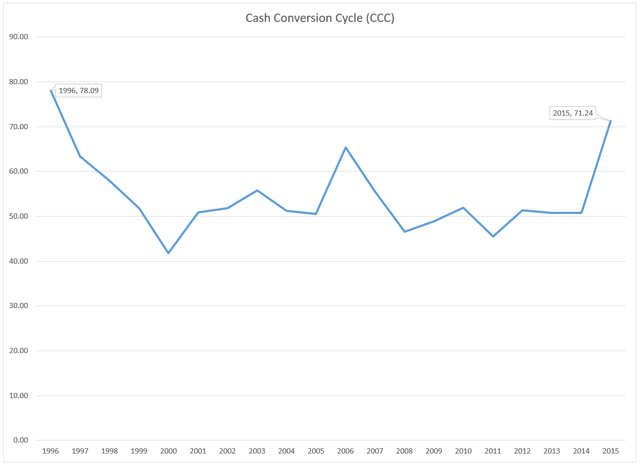 Source: I-Metrix
I also noticed that Intel had a low effective tax rate last quarter, only 16%. I worked out a "pro-forma" analysis of what Intel's earnings would have been if inventory levels were at initial projections, and if the tax rate was at 26%, near the historical level.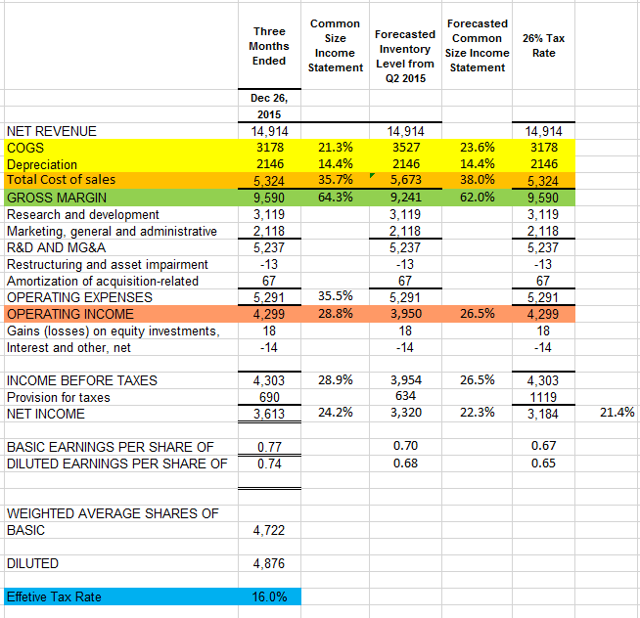 Source: Intel's SEC filing & Author's Calculations
We see that adjusting for the inventory level, but keeping the tax rate at 16%, drops EPS (basic) from $.77 to $.70 a share. Just moving the tax rate up, from 16% to the near, average 26% results in an EPS of $.67 (and this is not using adjusted inventory levels).
From all of the above, one can see that Intel is not as healthy as initial reports suggest. It has been a wild open to 2016, but I would remain a seller of Intel on rallies until it gets the inventory and accounts receivable levels stable relative to sales. I'll update with further analysis once the full 10-K is released.
Disclosure: I/we have no positions in any stocks mentioned, and no plans to initiate any positions within the next 72 hours.
I wrote this article myself, and it expresses my own opinions. I am not receiving compensation for it (other than from Seeking Alpha). I have no business relationship with any company whose stock is mentioned in this article.