Most people have a hard time envisioning change, and they are almost incapable of envisioning major change. Most people are guided by their experience of the immediate past. If the past was good, they believe the future will be good. If the past was rotten, they believe the future will continue to be rotten. Yet anyone who has studied the history of the stock market knows this is not true.
Some of the best investors I know realize that they're actually not that smart. The beauty of investing is that a PhD is not a requirement. Good investing is really just common sense. From where I sit, that simple trait prevails most of the time. These investors recognize the fact that they're going to be wrong a lot. But in realizing this they also acknowledge a more important fact, they don't have to be right all the time to succeed. They just have to be right about the right stuff when it matters. So for anyone that has been bullish during this entire run, that's a feather in your cap.
Whether it's buy and hold investing and understanding that stocks tend to rise over long periods of time or understanding the up and down economic cycles that can bring both Bull and Bear markets, investors need to understand they can flourish in either. I have observed smart investors as they form their strategy in terms of probabilities and not certainties.
Importantly, this isn't about knowing what will happen. It's about understanding the world for what it is and applying some reasonably high probability outcomes to certain events.
That brings us once again to the bull/bear debate. The price of Crude oil seems to be the only issue that matters, as market analysts waffle on whether it is signaling a global recession or stating that it is an oversupply issue.
There are times when it pays to be bullish. And there are times where it pays to be bearish. Some have come to the conclusion that we are already in a "bear" market, and so in their mind it pays to be positioned that way.
There's never been certainty in the markets, we can only assign probabilities to the events that shape the current market environment and define a strategy from that. What came to mind last week is that there are also those times where it makes sense to realize that we are just in a difficult market environment.
Last week one gentlemen made a comment that I was a fence sitter. At the moment he is correct. Other than some defensive posturing back in December of last year, my equity positioning is in a holding pattern with no drastic changes made. As often stated in these commentaries to readers, sometimes the best thing to do is nothing.
Some of the best money managers I know often use these erratic periods to gain further insight into the market. Clearly the message from market participants lately has been fear, panic, and if last Tuesday's market reaction was a telling sign, perhaps capitulation.
Here are a couple of thoughts on that "stay the course" stance in the face of this global growth scare that has sent many investors over the edge.
The U.S economy might just remain in a "Jekyll and Hyde" mode, with manufacturing/export industries weak and the service/consumer economy strong. The former is being held back by continued U.S. dollar appreciation and economic softness in China. The latter is being buoyed by cheaper energy costs, cheaper import prices, a strong housing market and continued job and wage gains.
The last two years has seen the equity market extremely weak in January. Both saw decent February recoveries. January 2014 plunged by 5.9%, but February 2014 rebounded by 8.2%; January 2015 fell by 5.0%, and February 2015 bounced by 6.8%.
So there is some recent historical precedent that investors started off the new year by pricing in their worst fears, and then backtracked in February, as fundamentals were less bad than expected. Will corporate earnings results show that is the case this year as well?
Since everyone is hypnotized by the price of crude oil, what if it actually stabilizes and starts to rise?
Economy
Scott Grannis brings some clarity and sanity to the emotional situation that has gripped market participants.
I found this chart from the article to be the most interesting, as it questions the argument that the debt issues in the energy sector will take down the entire economy.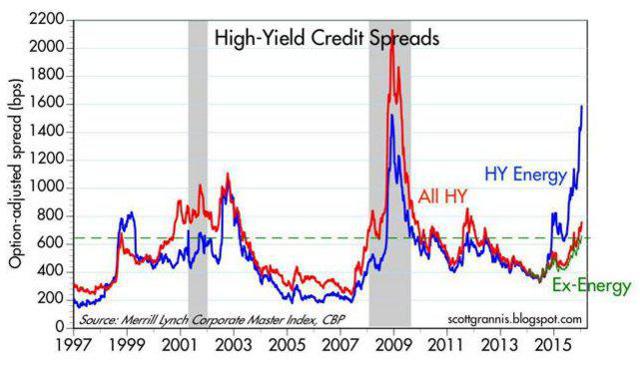 Click to enlarge
Ex-Energy spreads clearly shows the lack of stress that is demonstrated by the energy sector.
Many view the drop in oil prices as signaling a more pronounced global slowdown and fear that the U.S. domestic economy may not be robust enough to escape that.
Recently market participants have heard more talk of the possibility of a U.S. recession. Curiously, while the odds have gone up, a recession in 2016 is still viewed as unlikely. We are never "due" for a recession. The probability of recession does not depend on the length of the economic expansion preceding it.
Energy has been an important component of the U.S. economic recovery. Up until the bust in oil prices, jobs in energy exploration were rising about five times faster than overall employment.
However, the number of jobs is tiny compared to overall non farm payrolls (we have lost 130,000 jobs in the energy sector in the past year, while non farm payrolls rose by more than 2.6 million). While this may be devastating for local communities (these tend to be high-paying jobs), it's not much on a national level.
I believe the U.S. economy can withstand global weakness. Our economy is largely self-contained, with consumer spending 70% of GDP being the key factor. Worries about China won't go away anytime soon, but step back and look at what that means to us here in the U.S.
China, our third largest trading partner, accounted for 8% of U.S. exports in 2014, that's less than 1% of U.S. GDP. China has been a major importer of raw materials, so commodity exporters (Australia, Canada, and Latin America) are going to suffer. So, we're talking about a broad global economic slowdown, that's slower global growth, 3% or a bit less, not a contraction.
For sure, 2016 U.S. GDP growth may be slower than what we had hoped to see, but a recession?
GDP growth is scheduled to be released on Friday, January 29. Consensus expectations are for GDP growth of 2.0%, a level which seems to be falling rapidly. The Atlanta Fed for example, raised eyebrows recently when it cut its own forecast to 0.8%.
That magnitude of reduction implies expectations for a significant reduction in inventory accumulation. If companies do, in fact, gut their pace of inventory accumulation in this fourth quarter GDP flash, resulting in very weak fourth quarter economic growth, I believe that may be viewed as a positive. These bloated inventories are one of the key reasons that manufacturers are under pressure, along with falling energy prices, the strong dollar, weak overseas demand and a rising trade deficit.
So if businesses did indeed "bite the bullet" with their inventories to "mean and lean" levels in the fourth quarter, that could help to spark a second half restocking cycle.
Total truck tonnage in December came in just below all time highs following a weak patch at various points last year. Trucking volume is indicative of total economic growth because it's required for both industrial output and the delivery of goods to consumers to meet final demand.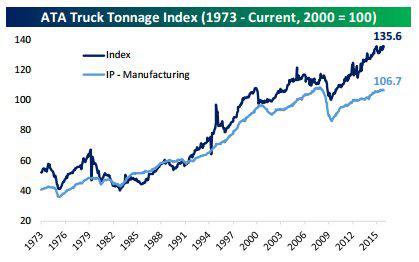 Source: Bespoke
American Trucking Association chief economist Bob Costello;
High level of inventories throughout the supply chain will have a negative impact on truck freight volumes over the next few months at least. Overriding any strength from consumer spending and housing at the moment.

While we are slightly less pessimistic on the impact, we agree inventories are the biggest risk to growth in the foreseeable future.
Loan growth continues to impress and accelerate for most segments. Weekly data tracked in the Fed's data release shows that total bank credit, loans and leases, real estate loans, and consumer loans all sit either right near or at recent highs as far as growth rate goes.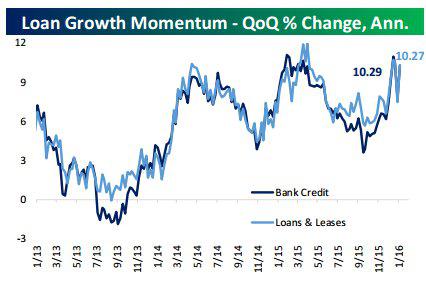 This week's Philly Fed Manufacturing report for the month of January came in at a level of -3.5 on the headline number, which was modestly better than the consensus forecast of -5.9.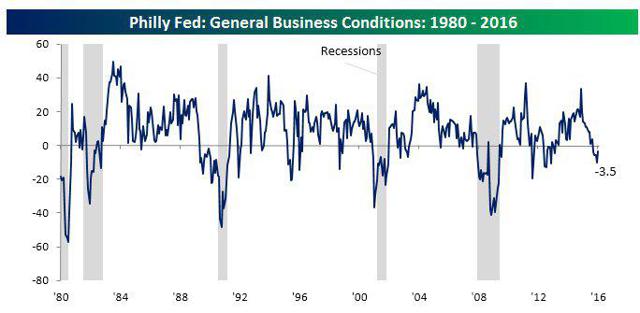 Click to enlarge
Source: Bespoke
As with most economic indicators lately, investors are looking at current readings and how they compare to recessionary and pre-recessionary readings. As shown in the upper chart, the negative levels we have seen in the Philly Fed report so far are nowhere near levels that we have seen during recessions, and there have been plenty of periods where the Philly Fed dropped to lower levels and a recession did not ensue.
Here is why it can be foolish to overreact to one data point in any series of data points that are being reported.
Existing home sales were declared dead and buried and the housing recovery was brought into question late last year. That was due to this headline that declared sales fell by 11% in November 2015.
No one seemed to read what the cause was, the newly enacted "Know before you owe rule." Instead it was more of the same running with a headline that we have seen in the past.
Fridays 14.7% increase in December existing home sales now brings the housing sector back into context.
Ok, I get it, despite what can be shown to refute the 'recession" predictions, it seems that is the minority viewpoint.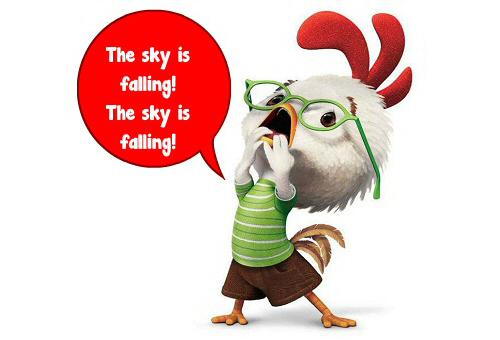 I would now be remiss if I didn't at least provide some information about the history of the S&P and economic recessions.
From the peak at the beginning of the recession to the low, the S&P 500 has seen declines ranging in the area of just 3.8% (1960) all the way to 54.3% (2007) for an average maximum decline of 18.7%.
From the time the S&P 500 reaches its low to the high point of the recession, the S&P 500's return has ranged anywhere from 11.4% (1957) all the way up to 35.9% (2007).
For the entire recession as a whole, the range of returns for the S&P 500 have spanned from a decline of 37.9% (2007) to a gain of 17.9%. Overall, the average S&P 500 change during recessions has been a gain of 1.3%.
One interesting trend to note about the table below is the market's reaction to recessions. While the economic cycle may have become less volatile over the decades, the market's reaction has become more pronounced. As shown in the chart to the right, in the five recessions from 1945-1960 the peak to trough decline during the recession never exceeded 15% once.
However, in the seven recessions post 1960, the peak to trough decline has been at least 15% in all but one period. Similarly, following the low in the five recessions up to 1960, the average trough to rebound peak in the S&P 500 was 20.8%, but in the seven periods that followed the average rebound was 28.5.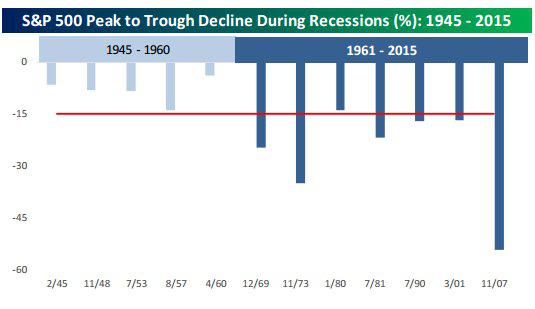 Source: Bespoke
Global Economy
The headlines read "China's growth the slowest in 25 years." Fodder for the global recession fans to run with. Maybe it is best to look at the transition that is taking place and attach more emphasis on the 11% retail sales growth that was reported. The beneficiaries of this massive change will be U.S based companies that will sell products into that growth.
Apple (NASDAQ:AAPL), Nike, (NYSE:NKE), and Starbucks (NASDAQ:SBUX) come to mind. The yield on AAPL is currently more than the 10 year treasury yield. Amazing what a negative feedback loop can do.
The Chinese consumer and the "services" part of their economy continues to grow. As they move away from a "manufacturing" based economy, it is little surprise that the largest user of commodities over the past few years has caused the downward pressure on prices that we are witnessing.
Then Bespoke Investment Group rolled out this gem and I wonder how many will scratch their heads over it. That doesn't seem to be following the global recession script.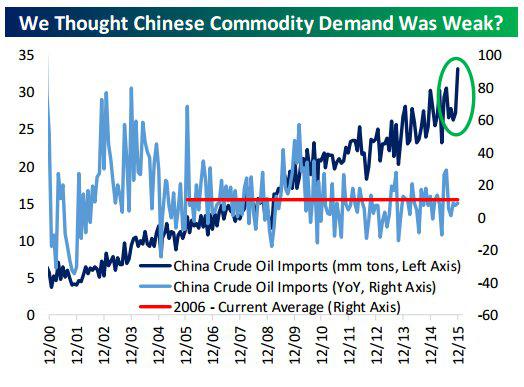 Source: Bespoke
The chart above is supported by a report last Tuesday from Reuters:
The market drew support from preliminary Reuters calculations that showed oil in China, the world's No. 2 oil consumer, likely hit a record high in 2015 of 10.32 million barrels per day (bpd), up 2.5 percent from 2014.
Record high oil imports would not seem to be synonymous with China taking the world down into a global recession.
The Fed

WTI isn't the only issue that has investors hypnotized. Market participants are hanging on every word of every Fed official that is trotted out to get their "air time". Since the Fed hike on December 16th, with the S&P at 2073 the stock market is off 8%. At the lows this week the S&P had fallen 12%.
In my opinion, the initial process of rate normalization was the "spark" for this decline. The price action of crude oil added the fuel to the panic.
The "worry" is that there will be many more rate increases this year. Remember the Fed is led by Chair Janet Yellen, who like her predecessor Ben Bernanke, believes it's only institutional mistake in its history was the premature tightening in 1937 that extended the Great Depression.
Yellen has vowed to never repeat this. If the market volatility continues as I expect, look for her or Vice Chair Stanley Fischer to signal a postponement of their previously planned next hike through a policy speech noting the importance of foreign developments to the U.S. economy and through that, to Fed interest rate policy.
Earnings
Every earnings season I construct and maintain a document highlighting the headlines of Corporate earnings. It gives an investor a quick glance on the results reported to date.
I always abide by the rule that earnings will eventually reveal how equities should be priced. I can now add that if an emotion, in this case "fear", is rampant, that trumps all in the short term. Not a whisper of the early earnings season results were heard this past week.
It is better to pay attention to the earnings picture as it unfolds rather than if China's manufacturing numbers are coming in as forecast.
When reviewing the earnings transcripts, keep in mind, there are few CEOs out there that are going to paint a bright rosy picture when the negativity around them is palpable. In my opinion, if one does, their stock is an immediate candidate for research and purchase.
Slow growth in corporate earnings has been a big concern among investors. Energy's expected earnings went from $19.20 per share of the S&P 500 to about $3 in a year and a half. The collapse in energy sector profits subtracted $16 from S&P 500 earnings per share last year.
Total forward EPS has flat lined in that period, despite 15% of the total disappearing. In other words, the earnings power of non energy companies is being vastly underestimated.
Ex energy, S&P companies grew earnings by 7% last year. Indeed, with prices heading lower and earnings higher, the S&P forward PE ex-Energy is back to levels seen in 2013, sitting at 14.72x versus 15.3x for the index as a whole.
Stated differently, there's no profit recession outside of the 10% of the S&P earnings that comes from energy. How much the negative trends that have stalled earnings abate will prove to be key as the earnings picture unfolds.
Add this all up and I will stay with my model for $120, rather than the $122- $125 that some are forecasting. Of course the skeptics believe it all falls apart as they call for another decline in earnings this year.
No matter how they were viewed this past week, rest assured, corporate earnings will decide equity prices.
Sentiment
More than $6b has flowed out of equity funds in the past 5 weeks. Since 2003, the only times outflows have been greater were in 2008 and at the market lows in March 2009 and late August 2011.
Urban Carmel recently posted the Citibank Panic/Euphoria model which is now at a level where equities over the past 30 years have always been higher a year later. A nice feature of this model is that it has not been fooled by any bear market.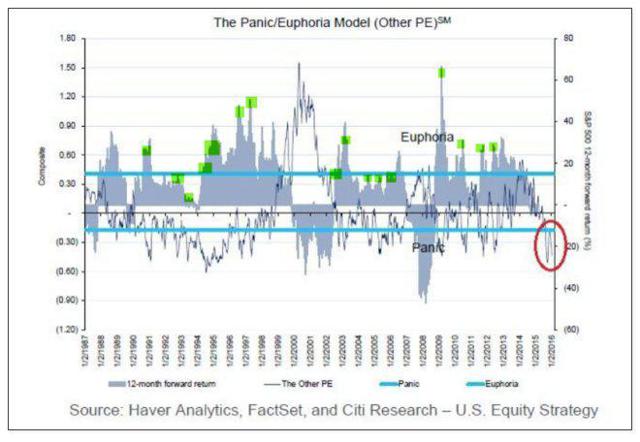 Click to enlarge
Crude Oil

Oil's price decline reached a fever pitch last week. Everyone in the financial world monitoring it's moves because of the impact it is having on other asset classes like equities and bonds.
I'm not sure all investors realize just how long oil has been trending lower now. Oil's move over the last two years is now -71%, which is the lowest rolling 2 year change seen for the commodity going back to the early 1980s.
The effect of falling oil prices on growth has been great. It is estimated that the collapse in oil prices could have subtracted up to 1% from global GDP last year by hobbling the third of capital spending that is commodity related.
Urban Carmel notes:
Based on a survey of the 47 largest international oil and gas companies, capital expenditures were cut by 28% last year. The fall in oil prices subtracted 2.4 percentage points from headline capital spending growth in 2015 in the US alone.
This chart puts things in perspective. In the past, oil prices have rebounded strongly after a downdraft like that seen in 2015. However the way this market has collapsed who can conclude for sure that will take place in 2016.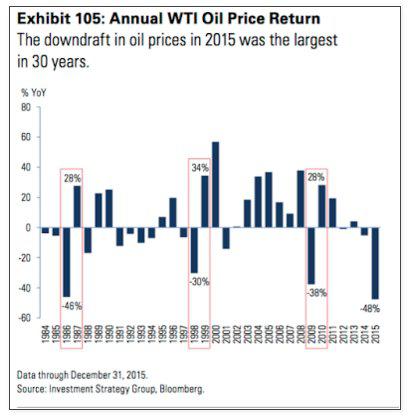 The current fall in oil, while substantial, is actually comparable to many other episodes in the past 30 years. Most of the lows in oil corresponded to higher equities in the months and years ahead.
Technical Picture

While many watch the daily price of crude oil, I continue to watch the technical picture. Specifically the Long Term S&P chart.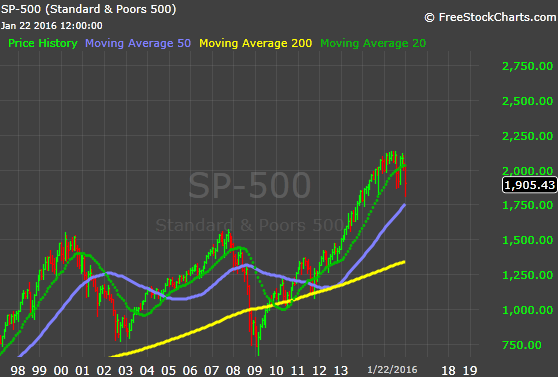 The 20 month moving average sits at 2025. A long way from where the S&P closed the week. A critical level that the bulls need to be recaptured to declare that the uptrend is still in tact.
For those making the assumption that we are in a bear market, here is the first thing that all investors need to realize. Bear markets have uptrends and downtrends like bull markets. Only the main direction of the overall market is in the opposite direction.
We can now look for a "retracement" of the move that just took the S&P from 2116 down to the intraday low of 1812, some 304 S&P points. I expect that could bring the S&P back to 1920 as a possible first stop. With the late week rally we are almost there. Depending on the backdrop that is in place at the time, the rally could then extend the S&P to the 2020 level.
For the bulls, one step at a time, one day at a time. The technical damage that was done can't be rectified in two trading sessions. For the bears they want to see the S&P stop right here, and at worse have the S&P fail at the 2020 - 2025 level.
The short term picture shown below reflects the oversold condition that persisted for the better part of 5 trading days.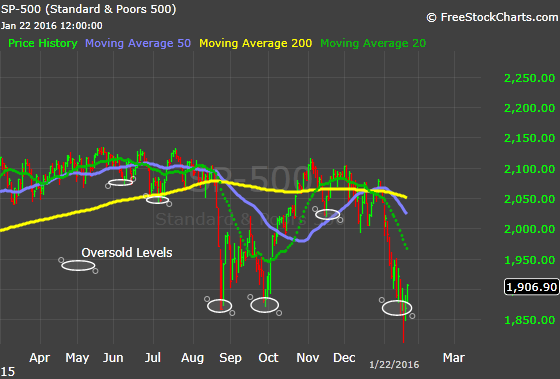 Overhead resistance stands at the descending moving average lines. These resistance levels coincide with the retracement levels I spoke to earlier.
Individual Stock

For long-term investors eyes only !!
The Biotech Sector - Valuations Close to Trough Levels
With fundamentals still largely intact, yet valuations now decidedly more compelling than they were just two weeks ago, I think a number of stocks make for intriguing opportunities going forward. While I obviously can't call the absolute bottom of the sector's recent sharp sell off, history provides some evidence that we may be close.
As such, I would focus my attention on ALXN, AMGN, BIIB, CELG and GILD as key names that have seen significant sell-offs in the last two weeks with no discernible change in fundamental outlook.
This sharp sell-off has made valuations on virtually all biotech stocks more compelling than they were mere weeks ago. Large-cap biotech names are currently trading at an average forward P/E of 19x, markedly below where they have traded over the past three years.
Note that the average large cap PEG ratio stands at 1.16. The sector often bounces when this value reaches 1.0. Having gone from a PEG of ~1.34 at the end of 2015 to ~1.16, we are a good portion of the way there and its time to take a look at the growth and value there.
It is possible that these name will hold up quite well during a downturn. The entire group finished the Wednesday 62 point S&P intraday drop on a positive note. Celgene bucked the trend with a 4% gain that day.
For conservative investors, stocks like T, VZ and MRK have all held up well, The yields on all three are very attractive.
Summary And Conclusion
Before the late week rally, U.S stocks dropped to their lowest levels since the lows of last seen during the global growth scare over the Ebola issue. Given that poor performance, many are asking is the stock market signaling a recession and the start of a bear market?
Many stock market gurus have recently come out painting some incredibly bleak future economic pictures for the U.S. economy based on the S&P's swoon this year.
I'll use the comments made by Howard Marks when discussing downturns in "The Market:"
It would be wrong to interpret the recent worldwide drop as meaning the market knows tough times lay ahead. It's important to understand for this purpose that there really isn't such a thing as "'The Market". There's just a bunch of people who participate in a market. The market isn't more than the sum of the participants, and it doesn't "know" any more than their collective knowledge.
It was economist Paul Samuelson, who wrote in September 1966;
Wall Street indexes predicted nine out of the last five recessions.
Investors should be aware that Bear markets rarely take place outside of an economic recession. There have been two bear markets that occurred outside of a recession since WWII.
The first occurred in 1966 which saw rapidly rising interest rates. (Fed assassination.) The second was in 1987, and that occurred after an euphoric 50% rise in equities over a 10 month period. (Irrational exuberance with bulls outnumbering bears four to one.) Neither of those factors are present today.
However the mixed signals to confuse investors are plentiful. Some of the evidence I have produced supports the possibility that a new 'bear" market has not arrived just yet.
For myself, I will use the technical indicators that have been presented here since last August as the tiebreaker when making my decisions as we go forward.
I can no longer assign the probabilities that I originally thought would take hold here regarding crude oil as a possible positive catalyst but it is possible that the earnings picture will bring in a stabilizing influence this time around. Of course, there is always a possibility that a "bottom" in WTI is near.
Whatever the outlook that one has established as their investment backdrop, it is never a good idea to make decisions when emotions are ruling the day. Last week's market action was a perfect example of that.
Bottom line, you don't want to do the wrong thing at the wrong time. Anyone with a long term horizon can use big down days to seek out high dividend paying blue chip names that have been around for decades and will continue to be around for decades.
The market is in a downtrend now. While it doesn't seem possible at the moment, there will indeed be an uptrend again. The staying power of any upswing will be important if you are a bull or a bear.
When that uptrend forms, whether it already has, is a few days from now, or a few weeks from now, that will be the opportunity based on your outlook to make intelligent decisions, absent emotion.
Until then, I stay invested in my diversified long term core holdings, and remain calm.
I'll repeat this message from last week:
If you have a clear understanding of where you are financially and what your goals are, then the first and foremost action would be to stick to that plan.

As an "investor" you must not lose sight of the long term by confusing what you are seeing in the short term. The "noise" gets ramped up as fear takes over. The most common mistake when an investor finds themselves surrounded by fear is to overreact and make bad "snap" decisions.
Best of Luck to all!
Disclosure: I am/we are long AAPL, CELG,GILD, MRK, VZ.
I wrote this article myself, and it expresses my own opinions. I am not receiving compensation for it (other than from Seeking Alpha). I have no business relationship with any company whose stock is mentioned in this article.