It hurts, a lot. Mortgage REITs took beating Wednesday as major indices once again went into a tailspin. Investors panicked and sold stocks without regard for the price they were getting. In other words: It is a good time to buy.
The extent and speed of the latest market meltdown implies a high degree of angst. Investors are so put off by the decline in energy prices that they are now unwilling to invest in anything including banks, real estate investment trusts, and, yes, mortgage REITs.
In all fairness, though, I feel the market correction was a little overdue. Too long did stocks march only in one direction without any consolidation providing a reality check for investors who have become too comfortable owning all kinds of risk assets.
Investors out of control?
Annaly Capital Management, Inc. (NYSE:NLY) was among the mortgage REITs on Wednesday that took a beating and whose shares slumped to new 52-week lows. I own a few shares of Annaly Capital, a very small position, but I can't help but think that the market sell-off is not grounded in reality, especially when it comes to mortgage REITs.
Annaly fell as low as $8.25 on Wednesday, before rebounding and closing 1.14% lower for the day.
At $8.25 Annaly sold for just ~69 cents on the dollar. Like many other income stocks, NLY has fallen too hard, too fast.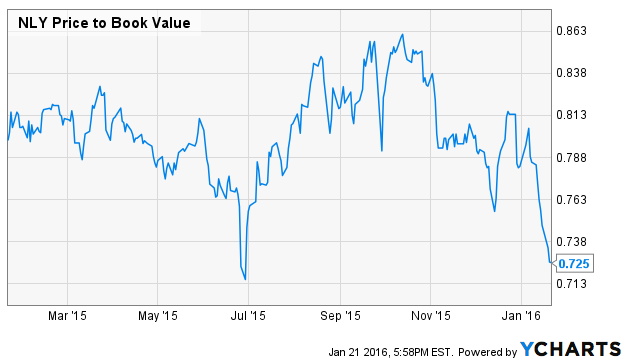 Annaly Capital now sells for a ~27% discount to accounting book value, and the stock trades at multi-year lows. On the other hand, with Annaly being on sale, there is an argument to be made for taking a risk and buying shares as stock market indices tumble.
Management needs to go full-in on stock buybacks
Importantly, the notion to buy Annaly's stock at this low a valuation should also hit home with its management, which might want to think about taking advantage of the market meltdown and buy back stock in the open market. At just 73 cents on the dollar, the company would not have to think for too long about whether stock buybacks make any sense for shareholders. Creating value fast has never been easier.
New Residential Investment Corporation (NYSE:NRZ) announced a $200 million stock repurchase program earlier this week, and plans to buy back stock over the next 12 months. The stock buyback comes exactly at the right time. New Residential's buyback program was authorized (at least partly) because of the developments in the stock market right now, which have made stocks quite a lot cheaper over the last three weeks.
Stock buyback would be a very smart investment
Investors would profit from a buyback in two ways: 1. Buybacks below accounting book value increase per-share book value, 2. Buybacks may have a positive effect on the stock price itself.
Whether Annaly decides to buy back stock or not, however, is irrelevant for investors that want to buy the stock. Investors do get a pretty big valuation discount right now, which is more than enough reason to buy NLY for income.
Your Takeaway
Annaly Capital should follow New Residential Investment's lead and double down on stock buybacks now that the market overreacts to the oil price crisis. Mortgage REITs, of all companies, should be able to withstand the market downturn and are not as affected as banks, for instance, that are forced to take a closer look at their energy loan portfolios. Annaly sells for just 73 cents on the dollar, which makes any stock buyback a smart investment decision. Annaly is worth buying with or without stock buybacks.
Disclosure: I am/we are long NLY, NRZ.
I wrote this article myself, and it expresses my own opinions. I am not receiving compensation for it (other than from Seeking Alpha). I have no business relationship with any company whose stock is mentioned in this article.