Last week I made my first stock buy of 2016. The market has been a mess since the start of the year. I've been itching to buy stock, but every morning it seems that the market keeps dropping more and more. I finally decided to pull the trigger. I bought 60 shares of Principal Financial Group (NYSE: PFG) at $39.59 per share, totaling $2,384.35. Immediately following this stock purchase, the market dropped almost 400 points. Had I waited 48 hours, I could have bought PFG near its 52-week low of $37.03. Timing the market is impossible. It would have been nice to buy lower, but since I plan on holding this stock for many years, it really doesn't matter. My purchase price is still well below PFG's average stock price. I've had PFG on my insurance stock watchlist alongside MetLife (NYSE:MET) and Aflac (NYSE:AFL). I went back and forth over which stock to buy, PFG or MET. I decided on PFG because it's new to my portfolio and I already own 50 shares of MET. This stock buy increases my annual dividend income by $91 dollars.
Principal Financial Group Dividends
Annual Dividend Yield of 4.01%
Annual Dividend Rate (IAD) $1.52
Payout Ratio (TTM) of 35.08%
Dividend Coverage Ratio of 285.07%
3-Year Dividend Growth Rate of 22.3%
5-Year Dividend Growth Rate of 20.7%
10-Year Dividend Growth Rate of 11%
The chart below shows the past eight years of PFG's annual dividend increases. The past five years, PFG has increased annual dividends at a rate of 20.7%.

Click to enlarge Source: Schwab.com
The next chart covers annual dividend amounts for PFG from 2002-2015. The company cut its dividend 50% in 2008, but since then PFG has steadily increased its annual dividend payouts. In 2008, dividends cuts were common, so I'm not too concerned about it.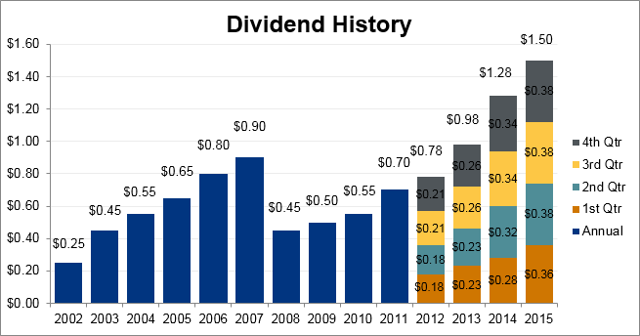 Click to enlarge Source: principal.com
Principal Financial Group Valuation
S&P Capital IQ ranks PFG as 4-stars, a buy with a fair value calculation of $57.50 and a 12-month target price of $56.
Morningstar ranks PFG as 4-stars, a buy with a fair value of $56.
The F.A.S.T Graph below shows that Principal Financial Group is well below the orange and blue lines. If you're unfamiliar with this tool, when the black line falls below the orange line, this indicates a stock is trading below the market standard P/E Ratio of 15. If the black line falls below the blue line, this indicates a stock is undervalued and is trading below its normal P/E Ratio. Based on the graph below, PFG is undervalued.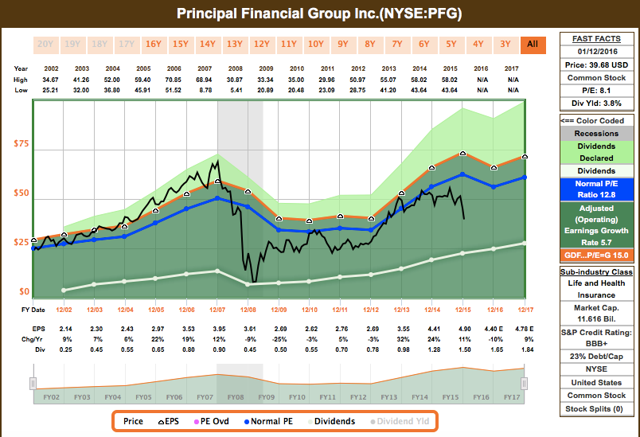 Click to enlarge Source: Fastgraphs.com
Conclusion
The market is extremely volatile lately. Banks and insurance companies are getting hit especially hard. The stock market is down, but it might not be a buyer's market yet. I expect stocks will continue falling for most of Q1. Only time will tell if I made this purchase too early. I could have parked my money for a while, but I want to increase my annual dividend income now. I chose to buy PFG stock now because I feel it is undervalued. Having said that, the stock could fall further due to an overall market downturn.
If this happens, I will likely buy 40 more shares. Once I've accumulated 100 shares, I will use covered calls to make money and reduce my overall cost basis.
What do you think of my Principal Financial Group buy? Are you a PFG shareholder?
Full Disclosure: Long PFG
Disclosure: I am/we are long PFG.
I wrote this article myself, and it expresses my own opinions. I am not receiving compensation for it. I have no business relationship with any company whose stock is mentioned in this article.