With American Express (NYSE:AXP) shares down -10% on the day at the time of this writing, it is more than clear that investor and analyst patience has thinned with management's direction. Results have largely met my expectations, so I'm a little surprised that the market has been nothing but a slow motion wreck for the company. Like everyone else, I'm disappointed in 2016 guidance, but after initially entering a position after the Costco (NASDAQ:COST) debacle, I knew full well there would be some pains associated with 2016 due to reorganization.
Despite weakness, there are some bright spots to take away from full year 2015.
Loan Portfolio Strength Remains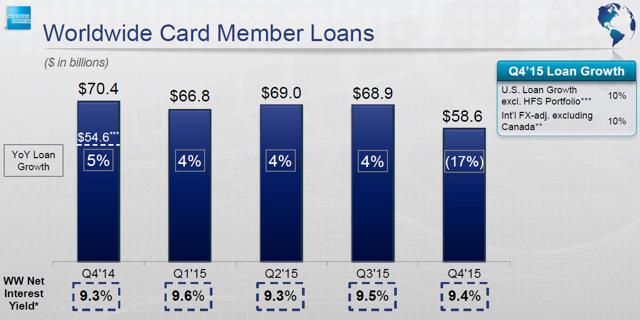 Click to enlarge
The reason why I own American Express over Visa (NYSE:V) and MasterCard (NYSE:MA) is simply a story of valuation and diversification. As I've spoken about before, I actually favor American Express' loan portfolio. Credit quality has always been high, and profitably solid.
The loss of the Costco and JetBlue (NASDAQ:JBLU) portfolios threaten that portfolio, and the above slide may trouble some investors skimming the investor presentation. At first glance, worldwide card member loans seemed to tumble 17% year/year. American Express' loan portfolio is a small, but integral, part of its net income generation, but investors need not be concerned here. This 17% drop is entirely due to the accounting reclassification of the JetBlue and Costco portfolios to loans held-for-sale. Excluding these two portfolios, worldwide loans were up 7% year/year, with U.S. loans up 10% year/year. At that rate of growth, the lost loans from the Costco partnership will be made up in a hair over two years.
… As Is Card Spending and Card Growth
Total cards in force, both overseas and domestically, was up 5% y/y. There are now more than 117M active American Express cards in the United States and that total continues to grow. Like loans, the loss of cards from the Costco partnership will be made up for in just two short years.
Likewise, American Express' expansion in credit cards has not come at the expense of card member spending or from charge-offs. Spending per card was basically flat, falling from $16,884 to $16,743 in 2015, despite the strengthening of the U.S. Dollar negatively impacting the translation of overseas transactions. Charge-offs, while up marginally, are still extremely low.
These are the core parts of American Express' business, and they all show signs of health still currently. But I'm not blind to pressures on the company.
The Average Discount Rate Remains A Hot Button Issue
Most of American Express' revenue is generated by swipe fees, reflected by the merchant discount rate - the average rate that the company charges merchants for processing swipe fees. This rate declined 2bps to 2.42% in Q4 2015 from Q4 2014.
As I alluded to in prior research on American Express, the discount rate is likely be aided by the loss of Costco. We've already seen tailwinds for the discount rate from the drop of the Canadian Costco partnership in 2015. As we know, the partnership with Costco was predicated by American Express granting Costco lower rates in exchange for exclusivity. With Costco gone in 2016, this overhang will no longer be there.
However, American Express management has guided down expectations for the discount rate in 2016 due to continued expansion of OptBlue, the company's program to garner more widespread acceptance of American Express credit cards with merchants. While I've personally encountered very few merchants that do not accept American Express, it nonetheless remains a pressure point for American Express in regards to consumer acquisition, as the myth of the lack of widespread acceptance still hangs in potential cardholder's heads.
Adding to pressure is regulatory pressure abroad; Europe recently implemented merchant discount rate caps at 0.3% on credit card transactions. The possible implementation of this worldwide, especially state-side, weighs on American Express. But unlike other industry players, American Express remains the cheapest option among companies with merchant networks.
Starwood
Co-branding is important, and I pointed out very early on of the potential impact that Marriott's (NYSE:MAR) acquisition of Starwood may have on American Express. Mark DeVries from Barclays raised this issue on the recent conference call.
Just one quick follow-up on Starwood, do you have any provisions in your program partnerships with, whether it'd be a Starwood or a Delta that preclude or limit the co-brand partners' ability to dilute the value of the points by changing and, on our redemption options? And then just one follow-up on the guidance, what does it contemplate in terms of FX and provisions for 2016?
- Mark DeVries, Q4 2015 Earnings Transcript
Unfortunately, we weren't able to get a concrete answer on this on the call due to the secrecy of contracts, but Ken Chenault remains much more optimistic about Marriott's potential treatment of Starwood's reward program than I do. I do hope that American Express has the proper safeguards in place to protect the value of what I believe to be its most important partnership with the most long-term potential, even more so than Delta.
Reality Check
Excluding the cash windfall from the Costco and JetBlue portfolio sales (projected to be in excess of $1B), operational cash flow will come in at over $8B in 2016, despite the lowered expectations. Even after cash dividends and capital expenditures of roughly $1.2B each in 2016, the company will generate more than $5.6B in excess cash flow. The company could easily retire more than 7% of shares in 2016 with that excess cash.
I have no problem selling stocks, even those at low valuations, if I believe they are entering value trap territory. American Express is far from a value trap. The core of the business remains strong, it continues to generate significant cash flow, and I still firmly believe that the company has some of the best risk/return potential from current levels compared to other companies in the large cap space.
Disclosure: I am/we are long AXP.
I wrote this article myself, and it expresses my own opinions. I am not receiving compensation for it (other than from Seeking Alpha). I have no business relationship with any company whose stock is mentioned in this article.