This past Wednesday Micron (NASDAQ:MU) hit a three-year low of $9.31, a 70% freefall from its one-year high of $32.84 on February 17th. During that period of time I wrote seven articles on Micron suggesting caution and questioning management's competence. The first of those articles, Today's News Shows Samsung Is A Long-Term Threat To Micron And Intel, was published on February 24th when Micron was at $30.77. My last sentence in that article was:
Anybody with Long January 2016 LEAPS should reconsider their bets.
My guess is not many people listened, but if they did they saved themselves a lot of money.
In my seventh and last article on December 4th, Micron: Should We Bury 3D NAND's 'Disruptive Cost' Right Next To DRAM's Oligopoly Pricing?, I concluded with this statement:
So I repeat my five previous caveats about buying MU's stock: wait until it actually generates some significant profits from the products it talks about before you commit.
Even though I have been a constant critic of Micron and its management for the last year I believe it has reached a price where the risk-reward ratio has shifted enough to inaugurate a buy recommendation below $10. Here are the reasons why.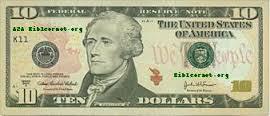 Buyout potential should keep the price above $10 for the next year or so.
In July Tsinghau Group made an offer to buy Micron at $21 per share, or about $23 billion. At the time Micron was selling at about $18 and Micron management showed no interest. In fact the subject was never even brought up in subsequent meetings with the press. Of course, as of today that offer looks pretty good. So Tsinghau did Micron a favor by just initiating the idea that Micron is a buyout candidate. That idea will keep a floor under the stock price for at least another year. I actually don't think a buyout will happen for the reasons I stated in, 4 Reasons Why Micron Hasn't Received Another Buyout Bid. But it is the possibility, not the fact, that will support the price whether there is ever an offer or not. By the way my last line in that article was:
When it comes to Micron I am from Missouri - show me don't tell me.
The projected loss for the next quarter should be the worst news for the next year.
In the latest Micron earnings call, management projected a 2Q loss of 5 to 12 cents a share. That was the trigger for the subsequent fall to $9.31. How could this former high-flying tech darling actually be losing money? But from a contrarian investor's standpoint this may be the bottom. Looking at the three-year stock chart showing the previous sub-$10 low we can see how in 10 of the previous 12 earnings releases (where the little triangles are) the stock price dropped over the subsequent month, and sometimes quite a lot including the last three. That's because investors were consistently expecting more positive things from Micron each quarter and Micron consistently disappointed. Now however, no one is expecting good results, and therefore barring disastrous results I would expect the stock to move higher over the next year.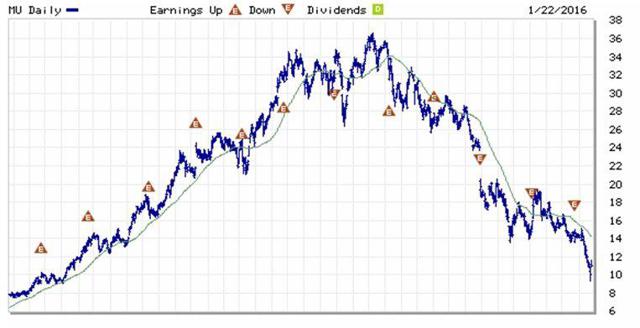 Click to enlarge
Source: MarketWatch
Inotera deal should add significantly to second half operating and free cash flow.
On December 14th Micron announced the purchase of the half of Inotera not already owned by Micron. This purchase will add to operating cash flow starting in the second half of the year according to CFO Ernie Maddock:
After closing, we will receive the full benefit of this cash flow. Over the last 12 months this would have generated an approximate $1.4 billion of incremental operating cash flow for the Company.
And regarding free cash flow:
Based on current market conditions Inotera's operations should on average generate north of $600 million of incremental free cash flow for a year for Micron.
These are significant amounts considering Micron's OCF and FCF over the last four quarters was $4.74B and $394M, respectively.
| | | | | | | |
| --- | --- | --- | --- | --- | --- | --- |
| | | | | | | |
| Micron | Feb | May | August | Nov. | Total | Inotera |
| Oper. Cash Flow | 1.25B | 1.34B | 1.03B | 1.12B | 4.74b | 1.4B |
| Free Cash Flow | 398M | 601M | (735M) | 130M | 394m | 600M |
| | | | | | | |

Conclusion

Even though Micron has been a performance laggard for the last year or so it has reached a price point where buying becomes attractive. The coming half year has many measurable milestones and, as such, will put pressure on the current management team to finally perform up to expectations. If they do not then there is a good chance new management will come in and that too would boost the stock price.
So there are many catalysts present over the coming year: production ramp ups, increased cash flow from Inotera deal, a terrible quarter coming up driving most or all of the true believers from the field and finally, if none of the above, a new management team.
Sounds like a buy to me. The safest bet would be to sell $10 puts but if you are brave 2018 LEAPS could present significant gains over the next two years.
Then again this is Micron so be careful.
Disclosure: I/we have no positions in any stocks mentioned, and no plans to initiate any positions within the next 72 hours.
I wrote this article myself, and it expresses my own opinions. I am not receiving compensation for it (other than from Seeking Alpha). I have no business relationship with any company whose stock is mentioned in this article.