Activist investor and corporate raider Carl Icahn bought a stake in insurance company American International Group, Inc. (NYSE:AIG) in the fourth quarter of 2015. Being brash and direct, Icahn immediately called for the insurance company to break itself into three pieces to lose the burdensome Sifi-designation. Besides getting rid of Sifi, three separately traded entities in Life, Property Casualty, and Mortgages would likely command higher market valuations since investors would have the opportunity to invest in exactly the kind of insurance business they prefer instead of an insurance conglomerate.
With the exception of a $3 billion stock buyback announced in December, American International Group has held back on announcing any specific steps so far, saying only that it would bring its own plan to shareholders in the new year.
With dissatisfaction growing over AIG management's reluctance to push for real change, Icahn sent a new scathing letter to American International Group's Board of Directors last week, which accused the management of losing credibility:
I recently had a discussion with Chairman Douglas Steenland regarding the upcoming investor presentation and he agreed that if shareholders' wishes go against those of the CEO, the board would definitely listen, take notice, and pay attention to what shareholders want. I was happy to hear this open mindedness because I believe management's credibility with shareholders is all but gone. I suspect, after two months of waiting, management will release a "strategic update" on January 26th that fails to present a drastic strategic shift and instead is limited to only incremental changes such as small-scale asset sales and incremental cost cutting. If this occurs then the little credibility management now has will be lost.
Besides accusing management of making "purposely misleading" statements in its public disclosures, or being "negligently uninformed" regarding the feasibility of Icahn's break-up proposal, Icahn continued to demand that the company pursue his plan to de-conglomerate the company, improve property casualty insurance operations, and adopt ROE as a performance measure instead of credit default spread levels.
Showdown is nearing
Icahn is ratcheting up the pressure on American International Group just days before the company will make its own proposal to unlock value... and that proposal will likely fall far short of Icahn's demands. According to a Reuters media report, American International Group is prepared to spin-off a part of its mortgage insurance business. A partial spin-off does not even come close to being the bold solution to AIG's performance problems that Icahn expects of management.
American International Group's mortgage insurance business, Mortgage Guaranty, has turned into a highly profitable enterprise in the last few years with premiums growing, falling delinquency ratios, and growing underwriting profits.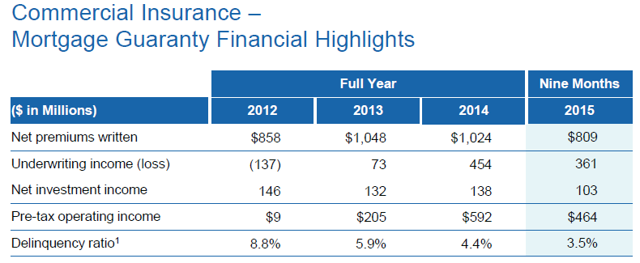 Click to enlarge
Source: American International Group
If management decides to spin off only a part of its valuable mortgage franchise, and keep its consumer insurance business, Icahn will be everything but happy, and might decide to take the gloves off in his dealing with management. A rougher stance might include a push to replace the CEO. Peter Hancock, present CEO of AIG, will likely draw more heat from Icahn next week if he fails to make a bold proposal for change. In any case, the activist battle over AIG is going to go into a new round on Tuesday.
Your Takeaway
American International Group may unleash Icahn's wrath on Tuesday if it doesn't shoot for a bold restructuring proposal. That said, AIG will most likely present a strategic plan that will include overhead cost cuts, a partial spin-off of its mortgage business, and stock buybacks. In other words, AIG will be on collision course with Carl Icahn who hopefully will keep pressure up on management and its current CEO Peter Hancock. Investors who believe that Icahn's activist campaign will be successful might want to consider buying AIG on the market sell-off. AIG now sells for 71 cents on the dollar.
Disclosure: I am/we are long AIG.
I wrote this article myself, and it expresses my own opinions. I am not receiving compensation for it (other than from Seeking Alpha). I have no business relationship with any company whose stock is mentioned in this article.