So far, Ford Motor (NYSE:F) has not been an investor favorite in 2016. But though the stock is down ~14% year-to-date, it might be a smart decision to keep a close eye on Ford and double down on the automaker in case markets slide again in the coming days and weeks. Why?
Besides a fundamentally sound business and good chances that 2016 will shape up to be even better than last year, Ford Motor might get even cheaper than it already is. But a better reward-to-risk ratio is not the only reason to buy the stock. A higher income and better yield are other reasons.
In early January I penned a piece on the automaker arguing that the auto maker's special dividend was really turning Ford into a high-yield income stock.
If you remember, Ford's CEO Mark Fields said in January that Ford would pay a special dividend of $1 billion, or $0.25/share in the first quarter, which would come in addition to the $0.15/share base dividend. Based on a total projected dividend payout of $0.85/share in 2016, Ford Motor's stock yields ~7% at the time of writing. But the dividend yield might climb even higher than that if Ford falls to new 52-week lows.
Ford is looking at a robust 2016...but what will the stock do?
Ford Motor has guided for fundamental improvements in terms of operating margins and revenues in 2016, but any upbeat guidance can quickly take a backseat to panic selling when markets are going into a tailspin.
According to Ford's latest guidance, revenues and margins are forecasted to grow in 2016.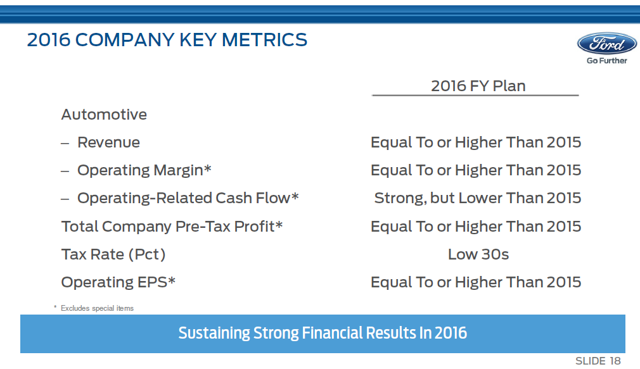 Click to enlarge
Source: Ford Motor
2016 is shaping up to be a good year for Ford, but the stock market is another animal than the auto market. The first three weeks of 2016 have been the worst kick-off period for stocks ever and that doesn't help investor confidence. Put differently, there is a good chance that markets will test their recent lows.
More downside?
Has Ford Motor's stock found a bottom yet?
I'd say, probably not. The biggest risk factor for U.S. and global equities remains the crude oil price, and there are still no signs that the global crude oil supply glut is easing. If oil slumps, so will U.S. stock prices.
Another risk factor is China's stock market that has officially entered a bear market now, which damps investor confidence even more. Poor macro data points out of China are likely to be a drag not only on Chinese stocks, but also on the U.S. stock market that includes Ford.
10% downside?
Ford Motor's stock slid just like the rest of the market last week and slumped to a 52-week low of $11.47 on Wednesday (not counting the flash crash on August 24, 2015). At that time Ford's stock sold for a whopping 7.41% yield.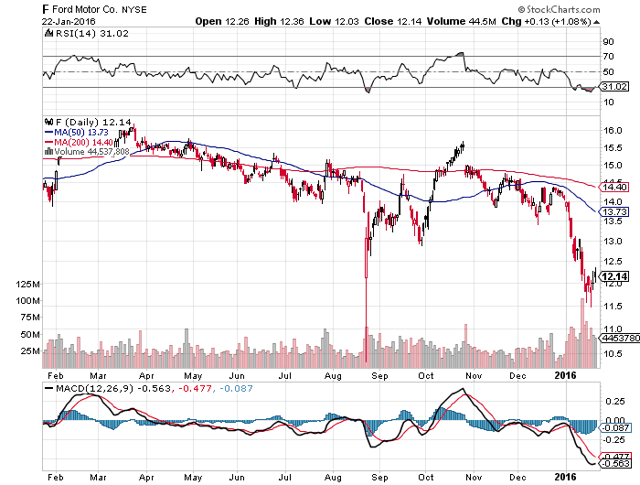 Click to enlarge
Source: StockCharts.com
U.S. stock market indices bounced back on Thursday and Friday after stocks got clobbered on Wednesday, but investor sentiment clearly took a hit in the first month of the new year...and that points to more downside over the short haul.
Investors must be prepared for a longer market correction that sees major U.S. stock indices drop another ~10-15% before they build out a bottom. Of course, this implies that Ford could fall another ~10-15% in value, too, no matter how well Ford's business is doing. Ford falling towards $10 on the back of a major market slide is a distinct possibility.
Your Takeaway
Ford expects all geographies with the exception of South America to turn a profit this year, and the auto company forecasted 2016 profits that are going to be at least as high as they were in 2015. Ford finished the year strong in the U.S., China, and Europe, so there is a point to be made for buying Ford despite the market turbulence.
That said, though, chances are that the market will test its latest lows, which implies more downside for Ford Motor. Investors are going to pay more attention to macroeconomic data points in the coming weeks. Any data that would hint at a slowdown could trigger yet another market panic. Another meltdown would make Ford only more compelling from a reward-to-risk ratio and yield point of view.
Disclosure: I am/we are long F.
I wrote this article myself, and it expresses my own opinions. I am not receiving compensation for it (other than from Seeking Alpha). I have no business relationship with any company whose stock is mentioned in this article.