One only needs to turn on their television or open a newspaper to see the geo-political drama unfolding daily. North Korea says they have hydrogen bombs and long-range ballistic missiles, Iran has the ability to process nuclear materials and has re-entered the global economy, India and Pakistan regularly exchange hostile words, and ISIS is determined to establish a global caliphate. On top of that the market has not been kind and has wiped trillions off the books all over the world. On the surface it appears that the world is coming apart at the seams, do not fret, the situation is well at hand and defense companies are here to provide the means to defend both innocent lives and our portfolios.
The United States military is the single most powerful military in history. Behind the scenes is a handful of defense companies providing the technology, infrastructure and products to help keep the bad guys at bay and the good guys safe. Raytheon (NYSE:RTN) is one of those companies. They have an incredible list of products and technologies ranging from FLIR thermal imaging systems to precision guided missiles to radios to the awesome Phalanx Close In Weapons System (<That's a video, watch it, seriously). There are many very strong defense companies publicly traded that an investor can choose, their fundamentals are all strong and they all provide absolutely essential products to the United States and others. In my ongoing quest to fortify my portfolio against volatility I recently added Raytheon.
I must admit that my decision to invest in Raytheon was not entirely based on fundamentals. Luckily their fundamentals are solid and the company is built for the long haul. In their last reported quarter they had $3B in cash and a manageable $5.3B in long term debt. They had an impressive $944M in FCF which brought their TTM total to $2B. Their year over year revenues have been dropping since 2010 but their EPS has steadily risen. For 2015 they will actually post increased revenue with TTM sitting at over $23B. Wall Street is forecasting about 9% growth in 2016 even amidst reduced defense spending. The management has done well and has produced about 20% ROE for their investors. In addition to the respectable ROE they've also been reducing outstanding shares every year for over ten years and they plan to continue that trend. On top of all that they even pay a safe and growing dividend. Right now F.A.S.T. Graphs shows that RTN is fairly valued and the forward P/E of 14 provides even greater value at this time.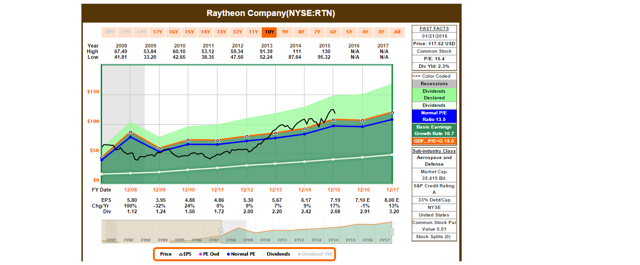 Click to enlarge
The dividend currently sits at 2.28% and is due for an increase from the current level of $2.68 annually. Speaking of the coming increase, they've given shareholders a raise every year since 2004 which places it on Mr. David Fishs' "Dividend Contenders" list. Raytheon has room to increase their dividend with rising EPS year over year which allows them to keep the payout ratio at around 40%. Being a defense company they are somewhat "recession proof" and were able to not only pay their dividend but increase it in the midst of the 2008-2009 recession. Despite the rising dividend RTN actually pays out less and less due to their aggressive share buybacks further fortifying the dividend. With a well balanced dividend and solid balance sheet combined with a low beta of .81 Raytheon is a great company for an investor to shore up their portfolio.
They are not the only solid defense company, so why did I pick Raytheon over the other giants such as Lockheed Martin, Boeing, General Dynamics, or Northrop Grumman? They are all great companies with incredible products, solid fundamentals, and excellent vision. The answer is actually kind of simple, Raytheon sells things to all of those companies. By being so diversified Raytheon is better protected from the loss of one or two major contracts like Lockheed or Boeing may be. If one of those companies loses a contract Raytheon will no doubt be hurt, but they have the others to peddle their wares to. Raytheon operates very successfully in the background and has an incredibly large moat further widened with over 7,000 patents.
The final and largest reasoning behind my decision to invest in Raytheon lies in my opinion of how I see future conflicts. Throughout history we can see that as the lethality of weapons increased the scale of conflict decreased. Gone are the days of lining up two opposing forces and shooting at each other until they're all dead or retreated. Historically speaking this is a largely peaceful period despite what the news would have you believe. We haven't had a large scale conflict since 1945, the atom bomb effectively ended the reasoning behind that. What has replaced that is an incredibly fast-paced environment where seconds dictate the outcome. The military routinely relies on integrated communication systems to carry out missions. Raytheon's Command, Control, Communications, Computer, Cyber, Intelligence, Surveillance and Reconnaissance (C5ISR) systems enable the military to control and manage every aspect of an operation simultaneously from a centralized location. This is the culmination of many of Raytheon's technologies and products and where I see the largest success for the business going forward.
With portfolio diversification such an important aspect of investing, Raytheon provides that with a very diversified business as well. For a long-term investor such as myself it is hard to find a situation where Raytheon would not be there in 50 years. The growing divided, low beta, healthy balance sheet, and incredible product portfolio made this an easy choice. I look forward to the comments and I appreciate you reading. As always, good luck to you all.
Disclosure: I am/we are long RTN.
I wrote this article myself, and it expresses my own opinions. I am not receiving compensation for it (other than from Seeking Alpha). I have no business relationship with any company whose stock is mentioned in this article.