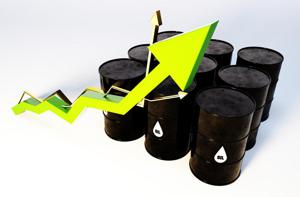 Oil prices soared more than 6% at one point on January 21st and managed to close up 9% on January 22nd, bringing WTI up to $32.25 per barrel. Although some of this increase was almost certainly driven by a previous overreaction to the downside, one big driver appears to be news from the EIA (Energy Information Administration) that showed oil inventories rose but that the increase was less than recently anticipated. In what follows, I will dig into the data and show that, while some of it was certainly bearish, investors have some right to be slightly optimistic.
Oil inventories increased
According to the EIA, oil inventories for the prior week rose by 3.98 million barrels, climbing from 482.6 million barrels to 486.5 million. While this is high (compared to "normal" levels of 359.8 million barrels), it's lower than the 490.9 million barrels that crude peaked at last year and the build was smaller than the 4.6 million barrels the API (American Petroleum Institute) had forecasted a day earlier.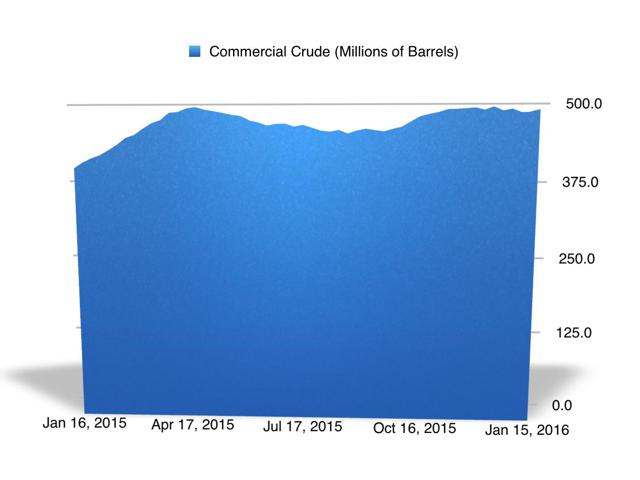 Click to enlarge
In addition to seeing crude inventories rise for the week, other categories of petroleum products rose as well. Based on the data provided by the EIA, motor gasoline managed to rise by 4.6 million barrels, jumping from 240.4 million to 245 million, while kerosene-type jet fuel and fuel ethanol both saw modest upticks. In the case of motor gasoline, I can confidently claim that, although these levels are high, they don't signify a motor gasoline glut. You see, between the start of 1971 and the end of last year, 56 months (mostly around this time of year) have seen a glut in this category that is higher than current levels. This implies a rate of occurrence of 10.6%. Although there's no denying that a glut exists in other categories, it's hard to day that motor gasoline is in a state of glut.
Fortunately, some petroleum products did see inventory levels fall for the week. According to the data, distillate fuel stocks saw storage drop by 1.1 million barrels, declining from 165.6 million to 164.5 million, while propane/propylene fell an impressive 2 million barrels from 91.9 million to 89.9 million. The "other" category of petroleum products also managed to fall, dipping by 1 million barrels from 237.2 million to 236.2 million for the week. Despite all of this, however, total crude plus petroleum products grew by 6.6 million barrels, rising from 1.3226 billion barrels to 1.3292 billion, which places it near (but not at) its all-time high.
Production and demand rose
One of the bad things reported for the week relates to production. EIA data implies that output for the week averaged 9.235 million barrels per day, a rise from the 9.227 million barrels per day seen a week earlier. Although this increase, which amounts to just 56 thousand extra barrels per day of crude, is far from being material, it is, as I've noted before, somewhat concerning to see output rise, especially for a few weeks in a row now. Investors should continue to keep a close eye on this since production will probably be the single largest determinant, down the road, of where oil prices are headed near-term.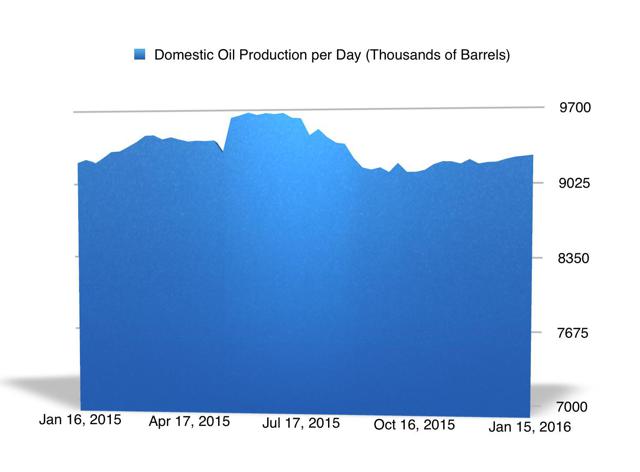 Click to enlarge
A really positive indicator for the week relates to the demand for motor gasoline. Based on the data provided, demand came out to 9.079 million barrels per day for the week, a large uptick compared to the 8.50 million barrels per day seen just one week ago. This is also about 2.6% higher than the 8.851 million barrels per day that was estimated for the same week last year but investors should be cognizant of the fact that consumption data is very volatile on a week-to-week basis. Due to a poor week last week, the four-week average demand estimate (a more reliable indicator of demand) came in at 8.783 million barrels per day, a falloff of 2.8% compared to the 9.037 million barrels seen during the same four-week period last year.
Rig counts fell again
Another positive for long-oriented investors relates to the oil rig count in the U.S. According to Baker Hughes (NYSE:BHI), the number of rigs in operation for the most recent week totaled 510, down by 5 units from a week earlier. This represents a drop 61.3% from the 1,317 oil rigs the U.S. had operating the same period last year and suggests, very strongly, that production for crude must eventually fall meaningfully. In Canada, oil rig counts managed to rise by 24 units to 134. Although this may seem like a major hit to investors, the change is largely seasonal in nature and rig counts are still down 39.9% from the 223 units seen in operation last year.
Takeaway
Using data provided by the EIA, there's no denying that the glut is being stubborn, largely due to stubborn production. Besides this and the buildups we saw, though, there are some bright sides to the energy picture right now. This does not mean that investors should expect to see oil price soar overnight like what they're doing right now, but it does indicate that the situation likely isn't as bearish as many investors seem to think.
Disclosure: I/we have no positions in any stocks mentioned, and no plans to initiate any positions within the next 72 hours.
I wrote this article myself, and it expresses my own opinions. I am not receiving compensation for it (other than from Seeking Alpha). I have no business relationship with any company whose stock is mentioned in this article.