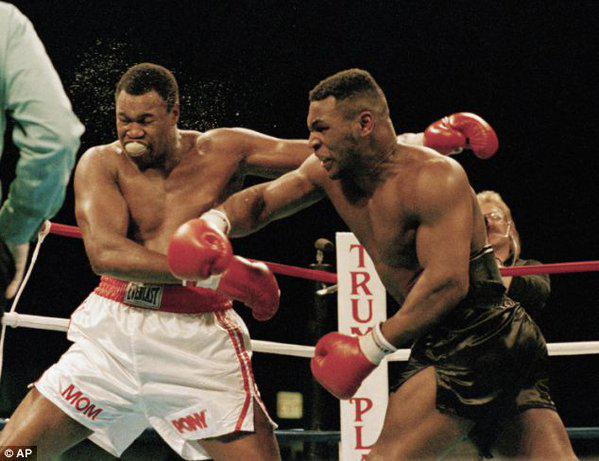 The philosopher Mike Tyson once had something really wise to say regarding stock market corrections. Though he probably wasn't speaking of indices entering "worst-ever" territory, the quote nevertheless still applies:
Everybody has a plan until they get punched in the mouth.
Carnage
It's been rather ballyhooed. Much has been made of the fact that four days in, the DJIA and S&P 500 were already off to their worst start in history. And at the time of writing, the DJIA and S&P 500 are already down 8.25% and 8% for the year, respectively. Not only this, but very few stocks have been immune from the carnage.
In fact, here is a heatmap from Finviz showing the YTD performance of the S&P 500 at the time of writing. It's rather ugly: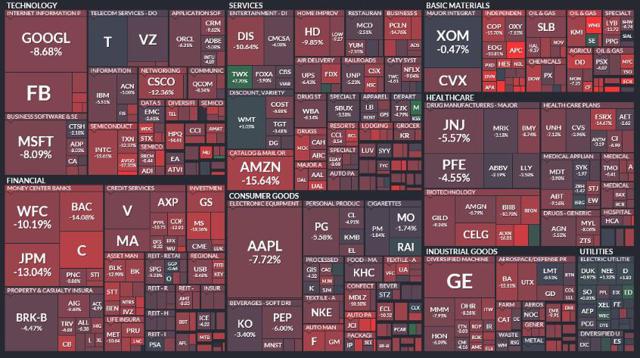 Click to enlarge
In the interest of full disclosure, I have never experienced anything like this as an investor. So, what am I to do? Selling everything and going to cash seems not a little Chicken-Littleish. In fact, the upgrades I have made to my portfolio over the past year would seem to counsel the polar opposite of that. In my opinion, every company I have purchased falls directly into the realm of "if not 10 years, not 10 minutes" rule.
However, my portfolio plan mandates that I "increase my dividend income as quickly as prudently possible" (the word "prudently" is in there so I don't do something stupid). And so as I examine the carnage that these first two weeks have laid on the market, I believe I have found an opportunity to do just that.
Different Actors Mean Different Plays
Recently, this article outlined the rationale of sitting pat with one's portfolio while Mr. Market decides what to do with all the headwinds. No buying, selling, or moving money around. And if I were in the "distribution phase" of my portfolio's life, I would probably be doing the exact same thing.
However, since I am still at least 28 years from "normal" retirement age, I must be opportunistic in all types of markets, including this one. Though my strategy's disposition is to hold on with no intention of selling, I should seek to upgrade the income prospects of my portfolio whenever prudently possible.
Namely, my understanding of dividend growth strategy is that I have two options of how I can get to where I need to go (eventual living off of income). Either I can pick a high starting yield and slight dividend increases (like a utility, for instance), or a lower starting yield with prodigious dividend growth (hypothetically, Medtronic (NYSE:MDT)). If however, I own a company with a low starting yield and low dividend growth, then chances are good that it needs to go.
I Sold Chubb
My ownership of ACE Limited (NYSE:CB) stems from before I was officially a DGI convert. Through a screen, some reading, and some poking around in early 2014, I saw that the company's stock was undervalued and decided to buy it on the thought that it would eventually reach its full value. And even though I enjoyed a decent gain after purchasing, Morningstar still listed it as 7% under its fair value estimate.
When I officially converted to DGI in mid-2015, one of the first things I did was download David Fish's CCC list. To my surprise, ACE Limited was on it, and at that moment my investment thesis changed. I immediately altered my thought process regarding ACE from fair value realization to income growth. Hindsight being 20/20, I probably shouldn't have.
Reason being, when I bought ACE in early 2014, my starting yield was 2.63%. However, due to a 4.7% cumulative dividend growth ($2.56 to $2.68) during my time holding it, and over two years later my yield on cost was 2.75%. Yes, progress is progress. However: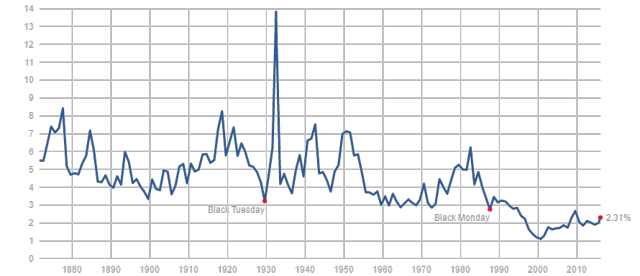 Click to enlarge
My yield on cost was less than a half percentage point over the cumulative yield of the S&P 500. Simply put, there are plenty of opportunities to do better.
It is important to note that by making the decision to sell Chubb, I am making no statement against the company or its future prospects. The partnership between ACE and Chubb is expected to be accretive to earnings immediately, and on a double-digit basis by 2018. The company has posted increasing free cash flow since 2011. Evan Greenberg is in my view exemplary. In short, this is essentially a money grab.
Hypothetically, let us suppose that Chubb chooses to increase its dividend by 8% per year, which is pretty decent by historical standards. As a case in point, it would take until 2020 to payout what for Cummins (NYSE:CMI) ($3.90) is roughly paying now:
| | |
| --- | --- |
| 2015 | $2.68 (2.76%) |
| 2016 | $2.89 (2.98%) |
| 2017 | $3.13 (3.22%) |
| 2018 | $3.38 (3.48%) |
| 2019 | $3.65 (3.76%) |
| 2020 | $3.94 (4.06%) |
Chubb Limited is a great company. However, if the focus of my portfolio is income, then in my opinion prudence dictates I should, albeit reluctantly, let it go.
What to Buy?
I have placed a rule on myself that states that if I am selling an ownership stake of a company in my portfolio, the company that I take ownership of with those funds must immediately increase my income. There are a multitude of companies that would fit this bill. But for one reason or another, I am not pulling the trigger:
I would love to add Pepsi (NYSE:PEP) as a core holding, but I would like to wait until it's under $90. I'm not sure I'm going to get it.
Likewise, 3M (NYSE:MMM) would work well as a core holding, but it's a bit too expensive, and purchasing it would only increase my income by a negligible amount (FTM income would go up by $11).
Cummins' rebound is waiting on a rebound of oil & gas and mining companies' return to capital expenditures, infrastructure spending in China, Brazil and India, and a cycle of truck replacement here in the U.S. Personally I think all of those are a while in coming. I would love to get CMI at a 5% yield ($78). For the reasons I stated though, even if it doesn't ultimately get to my optimum buy price, I think I will have the opportunity to buy it for awhile.
Archer Daniels Midland (NYSE:ADM) would be a good core holding and is historically cheap. However, like with Cummins, I expect to have plenty of time to buy it.
Walmart (NYSE:WMT) is certainly cheaper than it was a while ago. However, it is really difficult for me not to think of it as a slow-motion trainwreck.
As a result, I have chosen to go almost six full rungs up the current yield ladder and take a position in STAG Industrial (NYSE:STAG).
Kinda Like Realty Income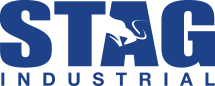 For the uninitiated, STAG functions not dissimilar to Realty Income (NYSE:O), in that they are both triple-net-lease REITS - meaning, STAG serves as the landlord to a property, but the tenant is responsible for the taxes, insurance and practically all of the building's maintenance.
However, whereas Realty Income would be the landlord for say, a Walgreens or Dollar General location, STAG would be a landlord for the industrial sector - think distribution warehouses, manufacturing facilities or office spaces. Basically, they are trying to build their very own industrial park.
I'm not going to delve too deeply in the fundamentals and prospects here. This report and this one more than sufficiently do so making it unnecessary for me to replicate, and their work ultimately provided flesh for my skeleton of an idea.
By taking this position, I am able to immediately increase my FTM (forward twelve months) income by 7.9% and increase my portfolio's yield on cost to over 4.5% (from around ~4.1%). Additionally, STAG pays its dividend monthly, so my money gets put to work five days after my purchase - not bad at all! But most importantly, I was able to do this while still preserving 20% of the proceeds of selling Chubb to have for my next purchase.
Summary
Yes, the market has had a tumultuous start to the year. However, if you are a dividend growth investor, there is absolutely no reason to panic. If you're in the distribution phase, this quick market decline did nothing to hurt your If you're in the accumulation phase, selloffs such as this one give you an opportunity to improve your portfolio's income prospects as I have done. Your plan will keep you standing while other investors go down from that proverbial punch in the mouth.
Disclaimer: I am not a professional investor, and as such, the companies and/or positions mentioned and any associated analysis are related to my personal experience and expertise, and is not intended to be a recommendation to buy or sell. As everyone has their own risk tolerance, goals and needs, it is important that you perform your own due diligence.
Disclosure: I am/we are long STAG.
I wrote this article myself, and it expresses my own opinions. I am not receiving compensation for it (other than from Seeking Alpha). I have no business relationship with any company whose stock is mentioned in this article.