Every month, David Fish updates the CCC list of U.S. companies with at least 5 consecutive years of increasing dividends. The accompanying spreadsheet provides key statistics of all CCC stocks and is a wonderful resource for dividend growth investors.
The CCC list is divided into 3 categories based on the number of consecutive years of increases: Dividend Champions (25 or more years), Dividend Contenders (10-24 years), and Dividend Challengers (5-9 years). The latest list (dated 12/31/15) contains 753 stocks, with 107 Champions, 250 Contenders, and 396 Challengers.
The last time I ranked a selection of the CCC stocks was just before the August 2015 correction. The correction gave me an opportunity to add to existing holdings in my DivGro portfolio rather than to look for new positions.
While on hiatus, I've refined my ranking process. With this reintroduction of my monthly 10 Dividend Growth Stocks series, I'll briefly explain the new selection and ranking processes before revealing January's top 10 ranked stocks.
Trimming the CCC list
Before ranking any stocks, I apply a series of screens to trim the CCC list. I'll choose different screens every month to allow for some variation. This month, I applied the following screens:
Trailing 12-month Return on Equity ≥ 10 (removes 288 stocks)
1.25 ≤ Dividend Yield ≤ 8.25 (removes 85 stocks)
Market Cap ≥ $1 billion (removes 51 stocks)
(2 × Dividend Yield) + (3-year Dividend Growth Rate ÷ 2) ≥ 8 (removes 38 stocks)
No stocks being acquired (removes 3 stocks)
The first 3 screens are applied simply by sorting the CCC spreadsheet on the relevant columns, in turn, and deleting the unwanted rows. To apply screen #4, I create a new column with the stated formula, sort on the new column and delete rows with values less than 8. Screen #5 involves scanning for "Being Acquired" in column Q of the spreadsheet and deleting those rows.
Screen #4 is a variation of the Chowder Rule. The CCC spreadsheet calculates the Chowder Rule value in column CD, but many recent Challengers do not yet have a 5-year CAGR (compound annual growth rate), so I use the 3-year CAGR instead.
The 5 screens remove 465 stocks, leaving 288 candidates to be ranked.
Ranking and Rating
I rank the remaining stocks using a proprietary system based on my stock selection criteria. The ranking system favors established dividend paying stocks with strong fundamentals and stocks potentially trading at or below fair value. Dividend safety is another important factor.
First-order ranking is based entirely on data available in the CCC spreadsheet, otherwise considering 288 stocks would be too time-consuming. Subsequently, I take the best 24 stocks and add additional data from various sources, including Morningstar, S&P Capital IQ, and F.A.S.T. Graphs. This is a manual process and requires visiting each site and considering each stock in turn.
Using all available data, I rank the 24 stocks again and assign a 7-star rating to each stock. Only the best stocks would earn a 7-star rating. I consider stocks with a 5-star rating or better worthy of further analysis.
Here are the top 10 ranked stocks for January 2016, with stocks I own highlighted:
| | | | | | | | | | | |
| --- | --- | --- | --- | --- | --- | --- | --- | --- | --- | --- |
| Rank | 1 | 2 | 3 | 4 | 5 | 6 | 7 | 8 | 9 | 10 |
| Ticker | IBM | PII | LOW | TROW | LAZ | CMI | VLO | EMR | VIAB | HP |
This table presents these stocks by sector along with a star rating for each stock: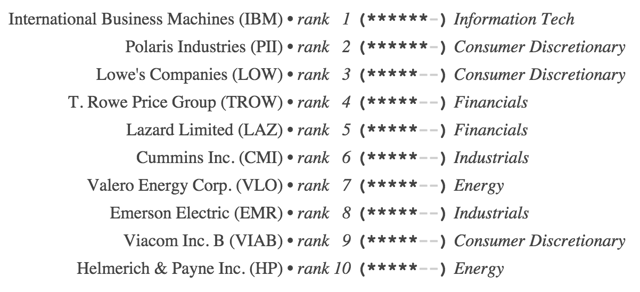 Click to enlarge
In the following descriptions, yield is calculated based on closing prices on 22 January 2016, payout is the EPS (earnings per share) payout ratio, and debt is the debt to equity ratio. Morningstar's moat and Standard and Poor's credit ratings are also provided.
• International Business Machines (NYSE:IBM)
streak 20 yrs | 5-yr growth rate 14.9% | yield 4.24%@ $122.55
payout 36% | debt 298% | moat wide | credit rating AA-
Founded in 1910 and headquartered in Armonk, New York, IBM is an information technology company engaged in the development and manufacturing of advanced computer systems, software, storage systems and microelectronics. The company creates business value for clients and solves business problems through integrated solutions that leverage information technology and knowledge of business processes. IBM trades 35% below my fair value estimate of $165.78.
• Polaris Industries (NYSE:PII)
streak 20 yrs | 5-yr growth rate 21.5% | yield 2.59%@ $81.95
payout 30% | debt 34% | moat wide | credit rating n/a
PII designs, engineers, manufactures and markets off-road vehicles, snowmobiles, motorcycles and small vehicles. These products are sold through dealers and distributors located in the United States, Canada and Europe. The company also produces and supplies replacement parts for its product lines. PII was founded in 1987 and is headquartered in Medina, Minnesota. My fair value estimate for PII is $106.68, so the stock is trading at a discount of 30%.
• Lowe's Companies (NYSE:LOW)
streak 53 yrs | 5-yr growth rate 20.6% | yield 1.59%@ $70.50
payout 35% | debt 150% | moat wide | credit rating A-
Dividend Champion LOW is a home improvement retailer. The company offers a complete line of products for maintenance, repair, remodeling, and home decorating. It also offers installation services through independent contractors in various product categories; extended protection plans; and in-warranty and out-of-warranty repair services. LOW was founded in 1946 and is based in Mooresville, North Carolina. LOW trades at a discount of 6% to my fair value estimate of $74.71.
• T. Rowe Price Group (NASDAQ:TROW)
streak 29 yrs | 5-yr growth rate 14.0% | yield 3.08%@ $67.43
payout 46% | debt 0% | moat wide | credit rating n/a
Founded in 1937 and based in Baltimore, Maryland, Dividend Champion TROW is a financial services holding company that provides global investment management services to individual and institutional investors in the sponsored T. Rowe Price mutual funds and other investment portfolios, as well as through variable annuity life insurance plans. TROW trades 15% below my fair value estimate of $77.87.
• Lazard Limited (NYSE:LAZ)
streak 8 yrs | 5-yr growth rate 22.0% | yield 3.88%@ $36.09
payout 19% | debt 87% | moat narrow | credit rating n/a
LAZ is a Bermuda-based holding company founded in 1848 in New Orleans. The company operates as a preeminent international financial advisory and asset management firm, serving corporations, governments, institutions, partnerships and high net-worth individuals in 41 cities across 26 countries. LAZ trades at a discount of 46% to my fair value estimate of $52.63.
• Cummins Inc. (NYSE:CMI)
streak 10 yrs | 5-yr growth rate 32.0% | yield 4.51%@ $86.42
payout 42% | debt 21% | moat narrow | credit rating A+
Founded in 1919 and headquartered in Columbus, Indiana, CMI is one of the leading designers and manufacturers of diesel engines. The company also produces natural gas engines and engine components and subsystems. CMI sells its products to original equipment manufacturers, distributors, and other customers worldwide. CMI trades 28% below my fair value estimate of $110.96.
• Valero Energy Corp. (NYSE:VLO)
streak 5 yrs | 5-yr growth rate 56.2% | yield 2.95%@ $67.87
payout 21% | debt 35% | moat narrow | credit rating BBB
Founded in 1955 and based in San Antonio, Texas, VLO is an independent petroleum refining and marketing company. VLO's refineries produce conventional and premium gasoline, including gasoline meeting the specifications of the California Air Resources Board. VLO's ethanol segment produces ethanol and distillers grain. VLO is trading at a discount of 8% to my fair value estimate of $73.23.
• Emerson Electric (NYSE:EMR)
streak 59 yrs | 5-yr growth rate 6.9% | yield 4.40%@ $43.17
payout 47% | debt 85% | moat wide | credit rating A
Dividend Champion EMR provides technology and engineering solutions to industrial, commercial, and consumer markets worldwide. The company is engaged in the design, manufacture and sale of a broad range of electrical, electromechanical and electronic products and systems. Formerly known as The Emerson Electric Manufacturing Company, EMR changed its name to Emerson Electric Co. in 2000. EMR was founded in 1890 and is headquartered in St. Louis, Missouri. The stock trades at a discount of 29% to my fair value estimate of $55.69.
• Viacom Inc. B (NASDAQ:VIAB)
streak 6 yrs | 5-yr growth rate 38.5% | yield 3.70%@ $43.21
payout 23% | debt 347% | moat narrow | credit rating BBB-
Headquartered in New York, VIAB operates as an entertainment content company in the United States and in over 160 countries and territories. The company creates television programs, motion pictures, short-form content, applications, games, consumer products, social media and other entertainment content. The Company operates through two segments: Media Networks and Filmed Entertainment. My fair value estimate for VIAB is $63.40, so the stock is trading at a discount of 47%.
• Helmerich & Payne Inc. (NYSE:HP)
streak 43 yrs | 5-yr growth rate 65.7% | yield 5.85%@ $47.03
payout 71% | debt 11% | moat none | credit rating BBB+
Dividend Champion HP is a contract drilling company headquartered in Tulsa, Oklahoma. The company is engaged in the drilling of oil and gas wells for exploration and production companies. It has a fleet of 328 land rigs in the U.S., 32 international land rigs and nine offshore platform rigs. Another 24 rigs is scheduled to be completed, including HP-designed and operated FlexRigs under long-term contracts with customers. HP trades at a discount of 27% to my fair value estimate of $59.50.
Please note that the top 10 ranked stocks are candidates for further analysis, not recommendations.
Thanks for reading! If you liked this article and would like to read similar articles in future, please click the Follow link at the top of this article.
Disclosure: I am/we are long IBM,TROW,CMI,HP.
I wrote this article myself, and it expresses my own opinions. I am not receiving compensation for it (other than from Seeking Alpha). I have no business relationship with any company whose stock is mentioned in this article.