The recent market volatility gave a lot of opportunities for traders and patient investors with free cash. There were so many arbitrage trades in the last week that most of us were busy trading instead of writing. The one trade that convinced me Mr. Market has not taken his pills is the United States Oil Fund LP (NYSEARCA:USO) vs iPath S&P GSCI Crude Oil Total Return (NYSEARCA:OIL):

Click to enlarge
source: Google.com/finance.
When I saw that the most traded oil instruments trade at 6 standard deviations even though their correlation is 100%, I understood that it is time to hunt for inefficiencies. Just imagine what arbitrages would an illogical seller bring to lower volume instruments like preferred stocks.
My best pick for next week.
Colony Capital Inc (NYSE:CLNY) has three outstanding preferred stocks:
Colony Capital, 7.125% Series C Cumulative Redeemable Perpetual Preferred Stock(CLNY.PC)
Colony Capital, 7.5% Series B Cumulative Redeemable Perpetual Preferred Stock(CLNY.PB)
Colony Capital, 8.5% Series A Cumulative Redeemable Perpetual Preferred Stock(CLNY.PA).
These preferred stocks are equal in seniority and all of them are senior to the common stock. They are not eligible for preferential taxation of dividends and are not rated by any rating agency.
There is a nice article on these issues that gives good fundamental information about the company and shows what is back to normal on those preferred stocks.
All of those preferred stocks fell to their lowest ever price in total sympathy with their common stock:

Click to enlarge
source:Google.com/finance
I would usually find this normal for risky issues, but totally do not understand this kind of strong correlation between CLNY and its preferreds. CLNY itself is not a company that has negative earnings or cash flow problems: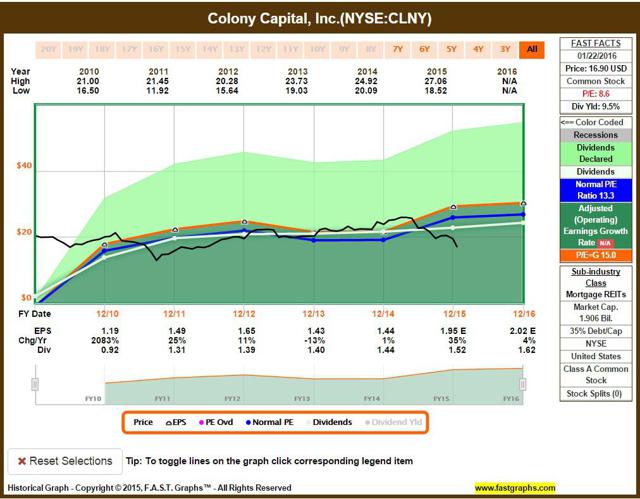 Click to enlarge
On top of that it is a high dividend payer with a current yield of around 9,50%. The preferred dividends are fixed, safer than the common stock dividends and are cumulative as an extra protection to holders. Having all that in mind let's take a look of how Mr. Market values those preferreds:

Click to enlarge
source: personal calculations
I personally never take in consideration the current yield, because this is what I call "the yield for people with no financial thinking", but in the current situation this is the yield to worst for those preferred stocks. It is obvious that the seller of the preferred stocks was arbitrating them with the current yield of the common stock. The only thing I can say to the seller is "Thank you". The yearly dividend on all preferred stocks is around $34.5 million while the amount payable to common stock is $179.5 million. Keep in mind that the preferred dividend is fixed and senior to the common stock dividend. While the common stock pays 5 times the amount of the preferred dividends, they seem quite secure. So we have a 9.40% yield to worst on the preferred stocks and a high possibility of capital appreciation based on irrational selling plus a possible hedge as an extra protection. This sounds to good to be true, but USO and OIL were also too good to be true.
How I trade it?
I would usually trade this as a pair trade taking the preferreds long and the common stock short with an amount that makes my entire position delta neutral, but the common stock definitely does not look as a good short to me and the preferred stock dividend is pretty safe. I am currently long the preferred stocks and have a small short position in the common stock just to be partially hedged in case of a common stock dividend cut. I am adding this position to my weekly managed arbitrage trading portfolio as well as some other positions based on closing prices on Friday, January 22,2016.
Conclusion: Market is giving away a lot of presents in the beginning of the year for knowledgeable traders and investors. I hope this will continue through the year, but I know Mr. Market will soon cut the generosity, so now is the time to act. Almost every trader I talk to shares my view that we haven't seen so many arbitrages for a long time. What does it mean?
Disclosure: I am/we are long CLNY.PA, CLNY.PB, CLNY.PC.
I wrote this article myself, and it expresses my own opinions. I am not receiving compensation for it (other than from Seeking Alpha). I have no business relationship with any company whose stock is mentioned in this article.
Additional disclosure: I am short CLNY