Restaurant chain Ruby Tuesday (NYSE:RT) is one that I've been very bearish on for nearly three years now. The company's very longwinded turnaround has continued to fail and the argument that many bulls have put forward about RT monetizing its real estate assets has never materialized. Back in October we also had an important technical breakdown of the stock below its former channel that had formed over almost two years, signaling further downside. Since that time the stock has bounced around but is more or less flat and with FQ2 earnings injecting some optimism into the situation for the bulls, RT has become a bit of a battleground stock again.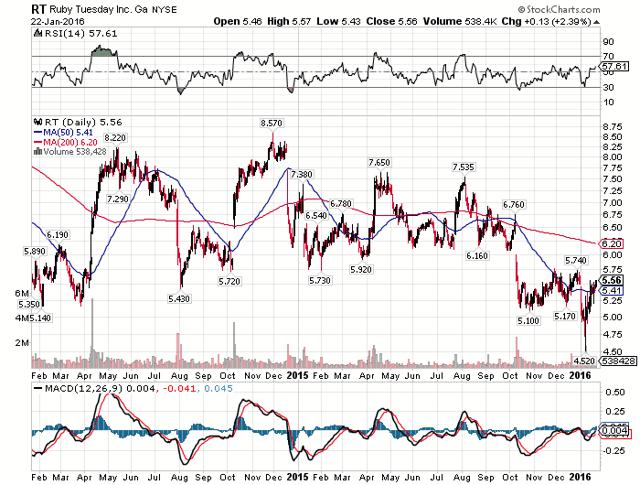 Click to enlarge
My bearishness on RT has been due to one simple thing; the company has long been valued on its real estate assets despite the fact that it has no plan to monetize them. Yes, it owns some very valuable buildings but what good is that if RT can't or won't monetize them? Valuing the business this way is dangerous because underneath all of that real estate is a terrible business that has struggled for years under inept management.
However, despite my bearishness, RT actually posted a decent second quarter. The company's sales were nearly flat and it was also near breaking even. These are two things that were unheard of for RT a short while ago so the fact that it is cutting enough stores and expenses to get to the point where it has a shot at breaking even is certainly a positive for the bulls. The stock has come down a lot since it broke last year but if RT can get to breakeven and perhaps even make a small profit, that will provide the bulls with some much needed ammunition.
In addition, comp sales rose for the second straight quarter as that number came in at 80bps. That certainly isn't world-beating for a company that has struggled as much as RT, anything above zero is a huge win. RT has struggled in the past with disparate marketing plans that have often made little sense and that sort of a lack of vision was a contributing factor to why I was so bearish on the stock. It wasn't just that RT was struggling; it also has had no credible turnaround plan. However, rising comp sales for two quarters is a positive sign that perhaps the worst is over for RT. That doesn't necessarily make me bullish but it does make me pause on my bearishness.
In addition to higher comp sales the company's margins at the unit level rose an impressive 175bps to 15.6% as higher comp sales saw payroll and food costs leveraged. This is exactly what RT needed as it has posted years of deteriorating sales and margins; an uptick could be a harbinger of happier days ahead. I'm not ready to celebrate just yet because bottoming and moving sustainably higher are two very different things. But to be fair, RT's FQ2 was another step in the right direction.
When RT reported FQ2 results the consensus for this year's earnings was 9 cents and given the guidance range of 12 to 17 cents, analysts have come up a bit. However, at just 11 cents, analysts haven't moved their estimates up to support the guidance range. That speaks to the bearishness of the analysts that follow RT because analysts are typically some of the most bullish in the investing community and they aren't even within the range given by the company with the year halfway over. I think that's very interesting as the analysts that follow the stock don't even believe guidance from management.
At any rate, RT is still trading for 31 times next year's earnings, something that is fascinating to me. That kind of multiple implies that investors feel that there is upside to RT's operating earnings, something that takes a lot of faith at this point. Yes, RT's metrics around comps and margins are improving but they are also still around the flat line. Just because they've stopped declining doesn't mean the company's profits are set to soar. RT is still closing stores and still trying to create a turnaround effort and while it is taking some steps in the right direction, it certainly isn't there yet and a multiple of 31 times forward earnings suggests there is more here than I see.
Given RT's significant indebtedness - albeit debt that is backed by real estate - and the fact that its restaurants are still marginally profitable at best, I still think the bias for RT is down. The company's operating earnings are a long way away from supporting a nearly $6 stock price (it's probably more like $3 or so now) and the significant technical damage that was done to the stock when it fell out of its previous channel hasn't yet been undone. Overall, I'm still bearish on RT because investors are still buying turnaround hope and while RT is improving, it doesn't have a sustainable strategy to boost sales over the long term. Green shoots are not a reason to buy a very expensive stock so I still think we'll see RT go lower before it goes higher.
Disclosure: I am/we are short RT.
I wrote this article myself, and it expresses my own opinions. I am not receiving compensation for it (other than from Seeking Alpha). I have no business relationship with any company whose stock is mentioned in this article.