As of the time of this writing, shares of IBM (NYSE:IBM) are trading at $122.50 apiece, a level that is near their 52-week low. Despite a sizable stake from Warren Buffett's Berkshire Hathaway (NYSE:BRK.A)(NYSE:BRK.B), with a purchase price that is far higher than what shares are going for today (Buffett owns roughly 81 million shares currently valued at $9.92 billion), Mr. Market seems to have lost faith in the company, which has been seeing its revenue fall as management takes the business through a period of transformation, geared toward preparing it for the future. In what follows, I will discuss that, while falling sales are a net negative, investors should be placing greater emphasis on the company's cash flow instead.
A look at IBM's sales and profits
At issue, in the eyes of the market, is the fact that sales at IBM keep falling. According to management, revenue at the company during 2015 totaled $81.74 billion, a decline of 11.9% compared to the $92.79 billion the company reported for its 2014 fiscal year. Although I wish I could say that sales fell in only one or two business segments, the company reported declines in every single operating segment. Generally speaking, this is very negative and is a sign that investors may want to look elsewhere for value. This is especially true because sales at Big Blue have been falling for years. To put things in perspective, revenue at the company stood at $102.87 billion during 2012.
As a result of this decline, profits have also taken a hit, with earnings during 2015 coming in at $13.36 billion, a drop compared to the $15.75 billion management reported a year earlier (both excluding losses from discontinued operations). Even though management succeeded in buying back $4.80 billion in treasury shares during the year and reduced shares outstanding, earnings per share still managed to fall from $15.59 to $13.60 apiece.
The future of IBM
However, one key area that investors should give more focus to is not the overall business but where management is trying to place an emphasis for growth-oriented purposes. In the image below, you can see some places in IBM that have fared very well. Its overall Strategic Imperatives revenue rose by 21% year-over-year, soaring to an all-time high of $29 billion. This consists of a number of categories, such as analytics, which grew by 16% to $18 billion, its cloud operations, which jumped by 57% to $10 billion, and its mobile operations, which skyrocketed by 250% to $3 billion. This strong growth rate, to me, shows that the company's transformation is slowly working on the sales end but it also appears to be working on the cash flow end as well.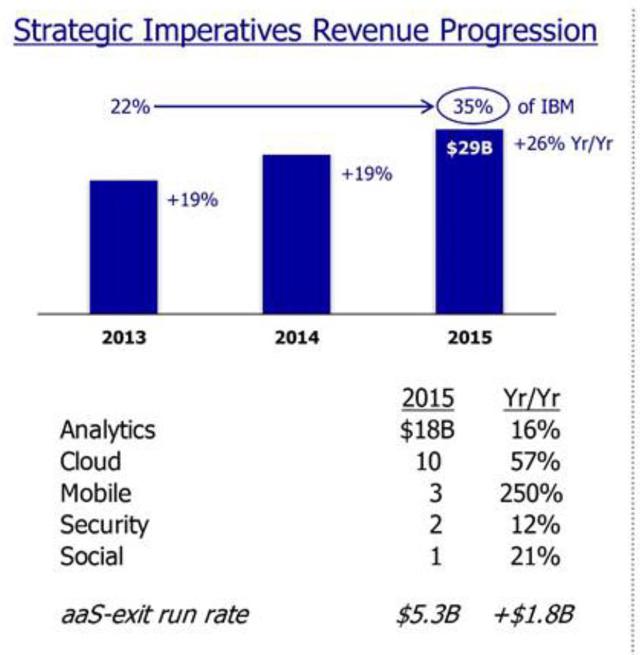 While management does not provide cash flow information specifically to these categories, it does let investors see, pursuant to GAAP rules, overall cash flow. According to management's most recent press release, IBM's operating cash flow grew from $16.2 billion in 2014 to $16.9 billion last year, while its free cash flow popped up from $12.4 billion to $13.1 billion. In the table below, you can see the historical trend of both types of cash flow, which appears to be showing a turnaround after a few disappointing years.
| | | | | | | |
| --- | --- | --- | --- | --- | --- | --- |
| $ in Billions | 2015 | 2014 | 2013 | 2012 | 2011 | 2010 |
| Op. Cash Flow | $16.9 | $16.2 | $18.8 | $22.5 | $20.7 | $20.3 |
| Free Cash Flow | $13.1 | $12.4 | $15.0 | $18.2 | $16.6 | $16.3 |
What's more is that the sustained fall in IBM's share price has granted investors a nice opportunity to get in on a high-quality company that is having some success in its transformation on the cheap. Using IBM's current market cap of $118.84 billion, it seems shares of the business are trading for just 7.03 times operating cash flow and 9.07 times free cash flow. No matter how you look at this, multiples this low for a company as large (and profitable) as IBM just don't make a lot of sense.
Takeaway
Right now, Mr. Market is extremely bearish on IBM and I understand why, but I do think investors have been overreacting to the news. Historically speaking, shareholders in tech companies have preferred to focus on sales over profits but IBM isn't your typical tech company anymore. Rather, it's a service business at its core, something Warren Buffett realizes. Ultimately, this means that a high multiple for attractive and growing cash flows will be what matters in the end. If management can continue on this trend, growing operating and free cash flow over time, I have a hard time seeing how investors can stay bearish on IBM in perpetuity.
Disclosure: I/we have no positions in any stocks mentioned, but may initiate a long position in IBM over the next 72 hours.
I wrote this article myself, and it expresses my own opinions. I am not receiving compensation for it (other than from Seeking Alpha). I have no business relationship with any company whose stock is mentioned in this article.