On January 21st of 2016, Union Pacific (NYSE:UNP) reported fourth quarter and full year earnings. For 2015 the company earned $5.49 per share, as compared to $5.75 in the previous year or a 5% decline. As compared to the company's excellent growth in the past decade this recent decrease appears to be fairly awful news. And indeed the share price has reflected this notion, now down over 40% since the beginning of 2015. Yet I would like to point out two things.
First, the "bounce back" of this railroad's earnings has historically been quite strong. The company's earnings went from around $1 per share in 2003 to about $0.70 in 2004, only to recover to $1.50 by 2006. And this wasn't an isolated incident. From 2008 to 2009 Union Pacific's earnings went from $2.30 per share down to $1.80, before jumping back in the very next year close to $2.80. I used round numbers, but I think you get the point: historically "down" earnings years have lead the way to greater growth rather quickly. Naturally history does not have to repeat itself, but at the very least there are grounds to consider it a possibility.
The second thing to note is that the much lower share price also lowers the "investment bar." With a share price around $70 instead of $120, the company doesn't need to perform all that spectacularly to provide reasonable investment results. I'll give you an example to demonstrate what I mean.
Despite the "down" earnings this year, analysts still expect the company to grow at a rather fast rate over the intermediate-term. Let's be a bit more cautious and see what a "no growth" situation could look like. This sort of activity can be instructive as a baseline or even "downside" case.
Last year Union Pacific had net income of just less than $4.8 billion (as compared to just under $5.2 billion in the prior period). Many expect this number to grow over the next year or at least five or 10 years. Yet we'll keep that $4.8 billion mark for the next decade. During the last 10 years the company paid out roughly two-thirds of its earnings in the form of dividends and share repurchases. Although more sporadic, more funds have been devoted to retiring shares than paying dividends. However, with reduced profitability we'll assume that the per share dividend payment remains the same. Here's what that could look like in millions: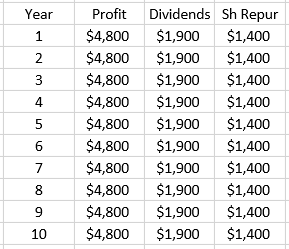 Despite the lack of growth on a company-wide basis, that still leaves $1.5 billion to use as the company sees fit. Just as a point of reference the company routinely spends more than $1.4 billion annually on share repurchases, with some years in the $2 or $3 billion range. So the stage is set. We've assumed zero profitability growth to go along with the same amount of funds allocated for dividends and share repurchases.
Next you have to come up with an assumption for the future share price. Your guess is as good as mine, but let's use the trailing multiple as a baseline. Here's what the per share metrics could look like under this circumstance: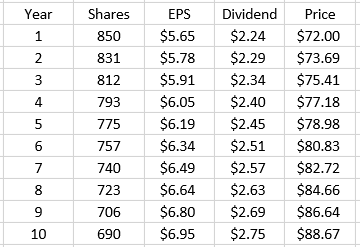 This is an interesting scenario. Above we assumed zero profitability growth (and in turn zero market cap growth with a constant multiple) and yet the per share metrics would still grow year-after-year. Both earnings and dividends per share would be expected to grow by about 2% annually. This doesn't sound like much, and really it's not, but it illustrates the concept of per share growth nicely. Even if a company stagnants, shareholders can still see growth.
Over the period you'd anticipate collecting $25 or so in dividend payments to go along with a future price near $88. That doesn't seem like a huge assumption to me: zero company-wide growth, 2% annual payout and EPS growth, with a future P/E ratio under 13. Yet even this basic and perhaps overly pessimistic set of assumptions lead to a future value of about $113 after a decade. That equates to a total return of about 5% per annum, prior to considering reinvested dividends.
Personally I find this sort of information useful. Here you had zero company-wide growth yet investors still could see 5% annualized gains. In order for the long-term shareholder to not get richer, you would need to see Union Pacific start making less money for years to come. Which, incidentally, is certainly within the realm of possibility, but nonetheless instructive.
After the baseline, solid returns could be had rather quickly. For instance, if shares traded at 15 times earnings instead - as has been closer to the company's historical average - you'd be looking at 6% annual returns. Or if earnings were able to grow by 3% annually, investors would anticipate 7.5% yearly gains. Or if both occurred, 8.5% annual returns could be had. The idea is that, at today's pricing, Union Pacific doesn't need spectacular growth to turn out as to be a solid investment.
In short, Union Pacific has had a strong history with a bit of a hiccup in the last year. The share price has more than reflected this, decreasing materially in the last year. This sort of thing may cause stress for short-term speculators, but ought to be more interesting for potential long-term owners. As illustrated above, the company doesn't need to do anything exceptional to provide reasonable or better results. Even a "no growth" scenario or something close could prove to be an acceptable return.
Disclosure: I/we have no positions in any stocks mentioned, and no plans to initiate any positions within the next 72 hours.
I wrote this article myself, and it expresses my own opinions. I am not receiving compensation for it (other than from Seeking Alpha). I have no business relationship with any company whose stock is mentioned in this article.