A few weeks ago, I wrote an article on Extra Space (NYSE:EXR), pronouncing the self-storage REIT as my overall best pick in 2015. I summed up EXR's reliable model of predictability as follows:
What I find most intriguing about my "best REIT pick in 2015" is the manner in which the company has taken its sharpest forms of differentiation, in essence forming a wider moat, to create a highly sustainable and most predictable operation that offers the best competitive advantage.
EXR is not the only self-storage REIT that has exploded over the last few years, all of them have benefited from the wave in consolidation. Four of the largest self-storage REITs have price-to-funds-from-operations (or P/FFO) multiples in excess of 20x.
I'm not recommending buying any self-storage REIT at current pricing levels. Although I will continue to hold shares in EXR, I consider the sector expensive compared with other REIT sectors (and the dividend yields are modest).
However, I am considering an entry position in another storage REIT.
This one is aimed to address the needs of a diverse customer base, primarily corporate customers who require not only storage but also services such as transportation of documents, data management, and shredding.
Similar to my core self-storage holding EXR, this REIT is also considered a trusted brand with a long history of protecting vital records and related information assets.

Click to enlarge
Let's Start From the Beginning
Iron Mountain (NYSE:IRM) provides records management, data backup and recovery, document management, and secure shredding services for its mostly corporate clients. The company was founded in 1951 by Herman Knaust, whose investment in mushroom farming led to the purchase of an underground storage facility to store his product. Later when mushrooming wasn't profitable, Knaust decided to use the landmark asset to store personal records.
As a result, Knaust changed the name of the business to Iron Mountain Atomic Storage, Inc. Knaust opened the first "vaults" inside Iron Mountain and put a sales office in the Empire State Building. Having a knack for publicity, he persuaded luminaries such as General Douglas MacArthur to visit the Iron Mountain site. As companies saw the growing demand for storage, Knaust's business model evolved.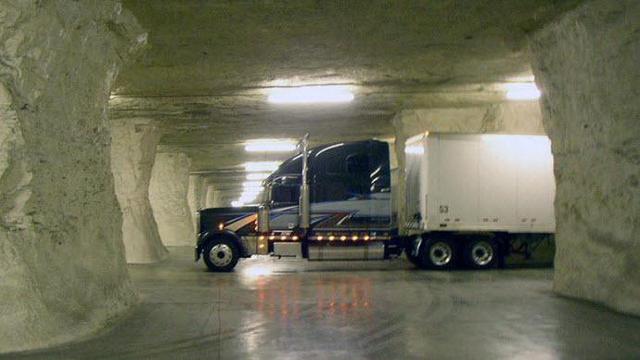 Click to enlarge
Iron Mountain continued to grow in the New York City market, expanding beyond the original facility into a depleted limestone mine closer to the city. The company became the premier vital records protection company, including storage for high-volume paper records.
In 1978, Iron Mountain opened its first above-ground records storage facility in New York and later expanded beyond the New York City market in 1980, when it opened a site in New England to service the emerging need to protect computer backup data. In 1983, Iron Mountain expanded further in New England with the purchase of New England Storage Warehouse in Boston. This was Iron Mountain's first acquisition, and it gave the company a strong entry into the medical and legal records management markets.
By the mid-1980s, Iron Mountain had accumulated all the product lines that comprise the foundation of the current company. It offered paper records storage and management services (including major operations in the medical and legal vertical markets), offsite data protection services and vital records protection services in the New York and New England markets.
Expansion continued to increase and by 1995, the company had grown to exceed $100 million in annual revenue. Senior management felt the time was right for the records management industry to consolidate, so in February 1996, Iron Mountain became a public company, raising capital, in part, to initiate this consolidation.
Last December, IRM said that the registration statement of Iron Mountain REIT Inc. was declared effective. As a result, a special meeting of the company's stockholders was held Jan. 20, 2015, at which time stockholders voted on a proposal to adopt the plan of merger between the company and Iron Mountain REIT, among other proposals, according to a Form 8-K.
That was just a "rubber stamp" though since Iron Mountain was already a REIT in many ways. The biggest hurdle for the Boston-based company was receiving a Private Letter Ruling (or PLR) from the IRS and specifically a ruling regarding the characterization of the company's steel-racking structures as real estate. Earlier in 2014, Iron Mountain achieved IRS approval for REIT status retroactively as of January 1st, completing the process that began in 2012.
By converting to a REIT, Iron Mountain must now pay out at least 90% of taxable income to investors, resulting in a substantially higher dividend than the company previously paid. Also, in addition to the clarity with regards to the definition of steel racking as real estate, Iron Mountain is now deemed somewhat of a hybrid as it relates to its peer classification.
As a result, I utilize self-storage REITs, industrial REITs, and data center REITs as closest peers:

Click to enlarge
The Business Model
Today, Iron Mountain is an industry leader in storage and information management services, serving 155,000 customers in 36 countries on five continents. According to the company's website, it serves organizations in every major industry and of all sizes - including more than 92% of the Fortune 1000 - which rely on Iron Mountain as their information management partner.
The company's business model is to provide integrated solutions to unify the management of both physical and electronic documents. The company stores and manages the following information assets: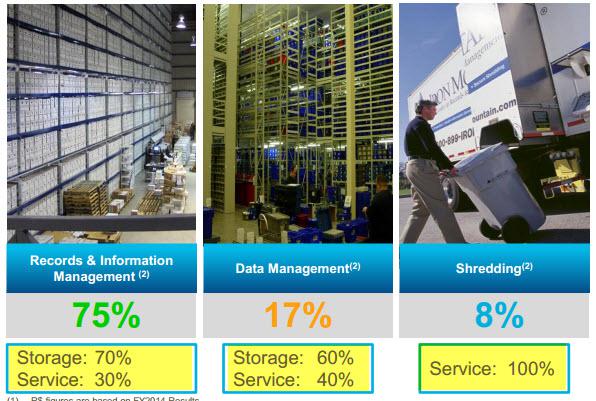 Iron Mountain has a well-balanced platform that consists of over 68 million square feet of real estate and over 1,100 facilities. The company has over 155,000 customers located in 36 countries and 5 continents.
As previously reported, Iron Mountain has announced plans to acquire 100% of the issued share capital of Recall in exchange for cash and newly issued shares of Iron Mountain common stock.
Upon completion of the deal, shares of Iron Mountain common stock representing approximately 19% to 21% of the outstanding common stock of the company will be issued to former Recall shareholders. The shares of common stock held by existing Iron Mountain stockholders will represent approximately 79% to 81% of the company's outstanding common stock.
Last week, IRM said that the special meeting of Recall Holdings shareholders to approve its acquisition has been pushed back to March 17, 2016, from Dec. 3.
The delay comes as the companies await approvals in Australia, the U.S., U.K. and Canada for the proposed transaction. As provided in the scheme, implementation deed reached between the companies, Iron Mountain agreed to acquire 100% of the issued share capital of Recall in exchange for cash and newly issued shares of Iron Mountain common stock.
The deferred meeting date has been approved by the Federal Court of Australia, which requires the receipt of regulatory clearances before the transaction can be voted upon by Recall shareholders and for Recall to subsequently obtain the court's approval.
The scheme implementation deed also provides that the closing date of the acquisition should occur in the first 30 days of a calendar quarter to facilitate REIT compliance measures. To meet such an objective, the companies deemed it necessary to adjust the court hearing date. As such, the earliest date for Recall to hold its shareholder meeting and schedule the subsequent court approval is March 2016, with the implementation anticipated to be April 1, 2016, Iron Mountain said.
The closing is still expected to occur in Q2 2016 and the Recall acquisition should significantly enhance IRM's financial performance with total expected synergies of $155 million.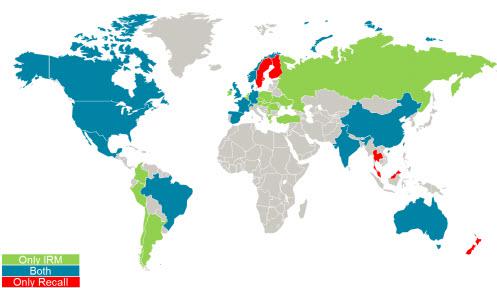 As illustrated below, the Recall acquisition should significantly enhance IRM's worldwide revenue: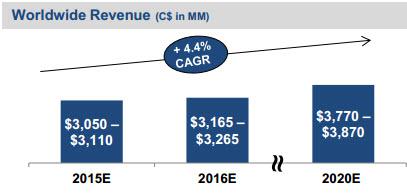 In addition, the Recall deal should enhance IRM's adjusted OIBDA: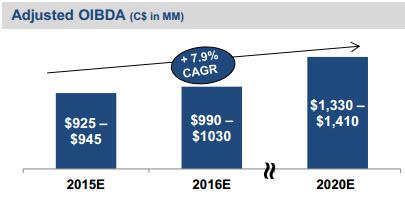 IRM currently pays a quarterly dividend of $.475 per share, and the Recall deal should enhance the growth of the dividend: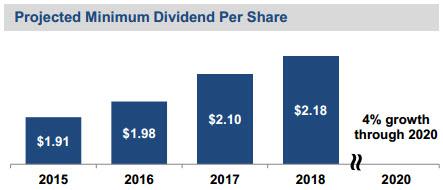 The Recall deal should also lower the IRM's payout ratio, from 82% to 67%.
The Primary Drivers
As noted above, IRM's primary growth vehicle is its storage rental business and as illustrated below, the company has maintained a predictable 26-year track record: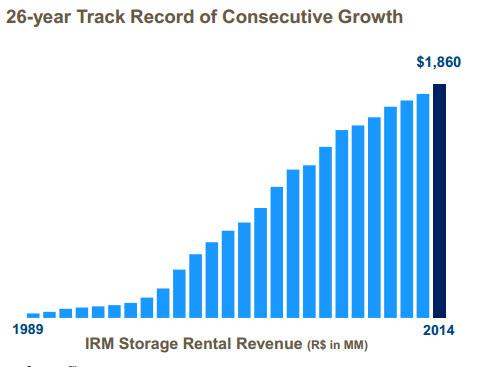 Compared with self-storage and industrial, IRM's storage rental business has maintained a better growth platform: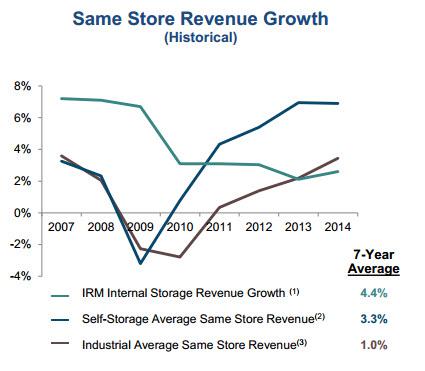 Around 61% of IRM's total revenue is generated from storage:

Click to enlarge
Around 82% of IRM's total gross profits is generated from storage:

Click to enlarge
Around 39% of IRM's total revenue is generated from the service business:

Click to enlarge
Around 18% of IRM's total gross profits is generated from the service business:

Click to enlarge
Here's a snapshot of IRM's total service revenue: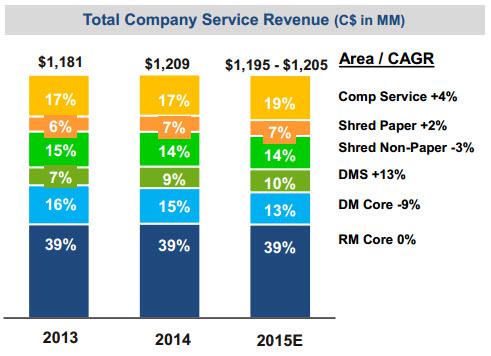 The Balance Sheet
IRM has a tad more debt on the balance sheet than most of the relevant peers, IRM's total debt to total capitalization is around 44%. Earlier this summer, S&P affirmed IRM's B+ corporate credit rating and said the positive outlook is based on its view that IRM's planned acquisition of Recall could lead to an improvement in the rating agency's assessment of the company's business risk profile due to the increased size, scale and geographic diversification of the combined company as well as the potential for the acquisition to reduce leverage to the low-5x area.
In September, Moody's affirmed IRM's corporate family rating at Ba3, probability of default rating at Ba3-PD, senior subordinated debt rating at B2 and speculative grade liquidity rating at SGL-3.
At the same time, the rating agency assigned the company's new $800 million of senior unsecured notes a Ba3 rating and downgraded its senior secured credit facilities and senior unsecured debt ratings to Ba3 from Ba2.
Moody's said that the ratings affirmation takes into account its view that IRM's management remains committed to decreasing leverage to its target range of 4x to 5x in the intermediate term, with or without its pending purchase of Recall Holdings. The company's equity issuances and EBITDA growth are also expected to lower its leverage to below 5x by 2018, the rating agency added.
Iron Mountain's market edge in the North American storage and information management industry, as well as its recurring storage-rental revenues, also underpinned the ratings, Moody's said.
The company's outlook is stable, reflecting Moody's expectations for Iron Mountain to see stable EBITDA margins, reduced leverage starting in the next 12 months and low single-digit organic revenue growth.
I'm Focusing On Dividend Growth
The durability of IRM's business model is demonstrated by solid growth in bookings across major verticals.
Specifically, the Recall transaction is extremely compelling in terms of strategic fit and is supported by meaningful synergies that drive significant accretion. With the benefit, IRM is estimating total net synergies of $155 million, with $110 million of that to be achieved in 2017.
In Q3 2015, IRM's normalized funds from operations (or FFO) per share was $0.55 and $1.53 year-to-date, while adjusted funds from operations (or AFFO) was $137 million and $395 million year-to-date. Here's a snapshot of IRM's year-to-date FFO per share:

Click to enlarge
As referenced previously, IRM has maintained a dividend payout of $.475 per share (since converting to a REIT last year):

Click to enlarge
The corresponding payout ratio is 86%.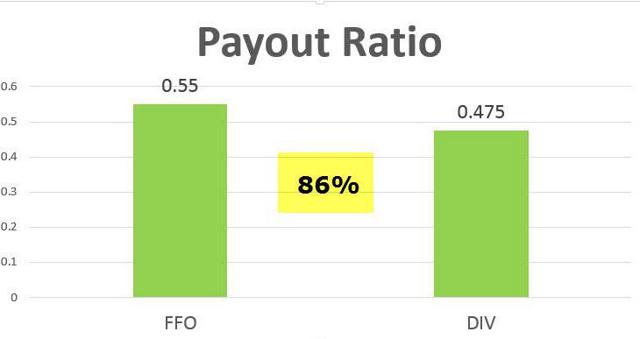 Click to enlarge
Here's a snapshot illustrating IRM's cash available for dividends and discretionary growth investments: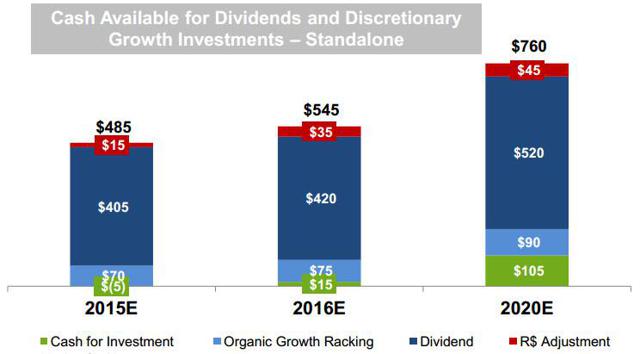 Click to enlarge
Here's a projection (from IRM) for the dividend growth supported by an enhanced Recall transaction: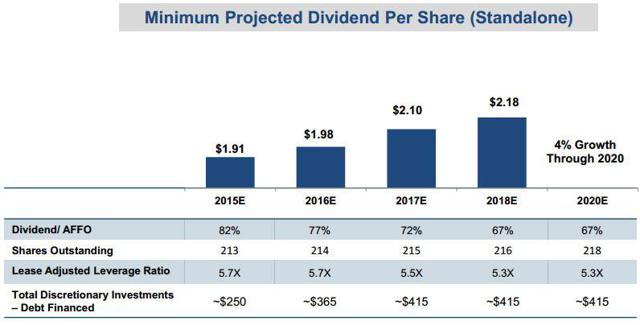 Click to enlarge
A Cheap Storage REIT
Clearly, IRM is not your typical storage REIT; however, I find this specialized storage landlord to be attractive based on its global footprint and predictable cash flows. Clearly, the market is not providing the company with much (if any) brand equity based on the multiple chart below - here's how IRM's P/FFO multiple compares with the peer group:

Click to enlarge
I find the dividend yield especially attractive now:

Click to enlarge
In late November, I initiated a BUY recommendation on Iron Mountain and it was my hope that the Recall closing would provide a catalyst to move shares. Regulatory scrutiny has enhanced risks for IRM as the company said on January 14th that the UK's Competition and Markets Authority (or CMA) recommended an in-depth "phase 2" review of the proposed takeover (of Recall).
The CMA made the referral for further review after it remained unconvinced of the resolution of all potential concerns that surfaced in its initial investigation, according to a government website. A group of independent committee members, supported by a case team of CMA staff, will determine the fate of the planned merger.
IRM said it will cooperate with CMA and other British regulatory authorities to demonstrate that the planned acquisition presents no appreciable competition concerns in the U.K.
It appears to me that much of the risks for rebuffing the Recall deal are priced into the shares. The market is giving IRM a lower multiple, in my view a worst case valuation, and I believe that IRM has considerable value that is not being reflected in its reliable earnings and dividend history. I would not go "all in" with Iron Mountain but a nibble may be warranted.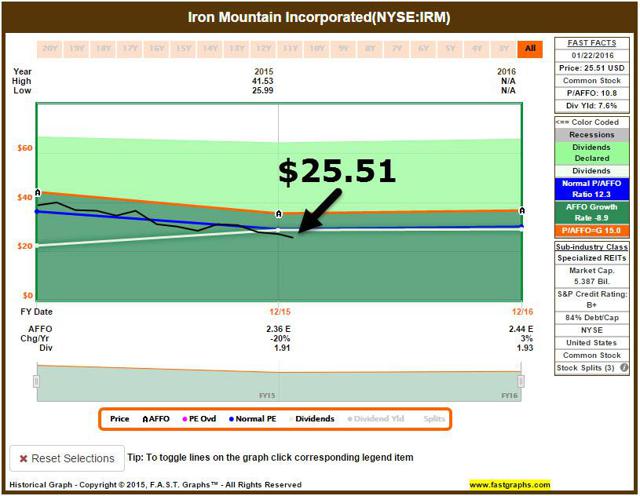 Click to enlarge
Author's Note: I'm a Wall Street writer, and that means that I am not always right with my predictions or recommendations. That also applies to my grammar. Please excuse any typos, and I assure you that I will do my best to correct any errors if they are overlooked.
Finally, this article is free, and my sole purpose for writing it is to assist with my research (I am the editor of a newsletter, Forbes Real Estate Investor), while also providing a forum for second-level thinking. If you have not followed me, please take 5 seconds and click my name above (top of the page).
The only guarantee that I will give you is that I will uncover each and every rock I can in an effort to find satisfactory investments that "upon thorough analysis promises safety of principal and satisfactory return. Operations not meeting these requirements are speculative." (Ben Graham)
Sources: SNL Financial, FAST Graphs, and IRM Investor Presentation.
Disclaimer: This article is intended to provide information to interested parties. As I have no knowledge of individual investor circumstances, goals, and/or portfolio concentration or diversification, readers are expected to complete their own due diligence before purchasing any stocks mentioned or recommended.
Disclosure: I am/we are long O, DLR, VTR, HTA , STAG, GPT, ROIC, HCN, OHI, LXP, KIM, WPC, DOC, EXR, MYCC, BX, TCO, SKT, UBA, STWD, CONE, BRX, CLDT, HST, APTS, FPI, CORR, NHI, CCP, WSR, CTRE, WPG, KRG, SNR, LADR, HCN.
I wrote this article myself, and it expresses my own opinions. I am not receiving compensation for it (other than from Seeking Alpha). I have no business relationship with any company whose stock is mentioned in this article.