"Where there is enough smoke, there usually is a fire," is something my dad used to tell me when I was a kid. As a child I never really got the whole meaning of it, but as you become more experienced in the game of life, it can take on many meanings.
In the investment world, many of us dream of finding enough smoke regarding a stock or investment before anyone else does regarding something that could give us that one bit of information (legally of course) that no one else sees, or can give us an edge. In fact, as Gordon Gecko would say; "the most valuable commodity I know of is information." I am a firm believer that this is 100% true in not only the markets, but in life as well.
How does this apply to this article and Mr Warren Buffett, the legendary investor that dwells in the Midwest? First I would like you to see some of the most recent transactions from Berkshire (NYSE:BRK.A):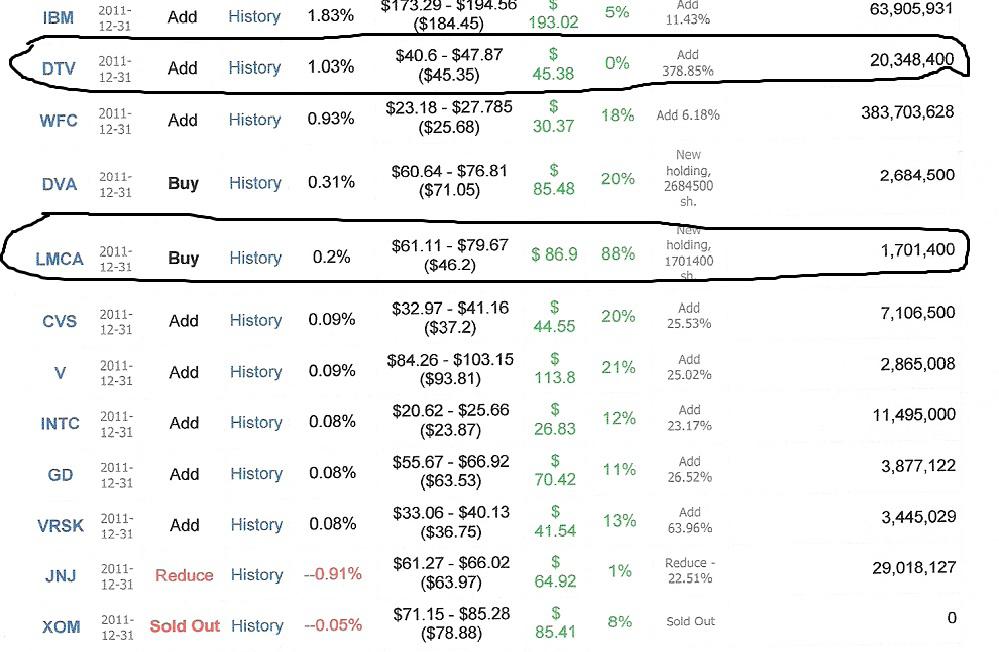 Most of you I am sure are aware of Berkshire beginning a stake in Liberty Media (LMCA). What also caught my eye was the huge increase in his DirecTV (DTV) share base and also with the timing of the Liberty transaction with March approaching regarding Sirius (NASDAQ:SIRI).
* Purchased almost a 1.5% stake in Liberty (1.7 million shares)
* Increased stake in DirecTV to 5 times the previous stake (now owns almost 3% of the company)
Other writers, including Ryan Fuhrmann, have written recent articles regarding Warren's recent transactions. He mentions some of the reasons he believes are behind the plays, and I have a few reasons of my own as well.
Value related to price: Remember both of these purchases occurred in QTR4 2011, and both had low prices at the time (DirecTV in the $41 range, Liberty in the $78 range). If you notice today, both of these stocks are trading higher, which proves that "striking while the iron is hot" is one of the most important aspects of being successful. Keep in mind even with the increase in share price, Liberty is still only about a 6 when comparing price/cash flow and DirecTV is about 15% off it's share price high for last year.
Stand on your feet.. Alone: DirecTV has brought something to us consumers that many of us want to have: another option itself. Living in the NYC/NJ area, every place I have lived has only one cable provider. In my area it was either Comcast (NASDAQ:CMCSA) or Cablevision (NYSE:CVC). We never had a choice, one or the other was your cable provider. Period.
I am not sure how it is in the rest of the country, but I do not like being told I must buy this and have no one to compare it to. Fios is now being filtered in as an alternative as well, but frankly I believe competition is for the greater good and you can never have enough of it. DirecTV brings a fresher option to the table. It is the type of company Warren loves, something with an option that other players do not bring to the table, similar to Sirius XM which I will discuss in a moment. Reasonable costs, high quality (take a look at your last cable bill or the one after you have gotten through the initial one-year period and tell me if it's cheap). The fact that they have grown sales every year and they are pushing for more via heavy marketing (see the commercials popping up) tells me Warren is thinking like I am (or vice versa). This stock has more room to grow and my guess is the share price will grow as well. When someone like Buffet increases his stake to 5 times what it was, you should take notice.
March in like a lion: March will be a very telling month for both Liberty and Sirius. As many of you know already, when Liberty rescued Sirius from bankruptcy a few years back (ironic how DirecTV was waiting in the wings if Liberty fell through) one of the stipulations on the rescue was that there was a "poison pill" so to speak in the agreement. Over the course of three years, there was little or nothing Liberty could do to increase its stake in Sirius without jumping through hoops. Over the course of time, those restrictions became less and less. Liberty could have increased its stake, bought Sirius out whole, or did something in between the two. But, come this March, they can do anything regarding a buyout, whether they complete or just the 50.1% they need to gain control as they will have had waited three years which allows a change of ownership to reset the tax losses. This is a huge factor as we know John Malone is a tax guru and never met a tax break he didn't like.
Summing up, does this mean Mr Omaha knows something we don't? Of course he does. That is why his investments have averaged a 20% ROI per year since inception. But does he know anything about a Sirius buyout? Possibly. I have personally seen enough smoke here to make me have to take a closer look at both Liberty and DirecTV as options for my portfolio. I did mention in another article ("I'm a Sirius long, now what?") that buying Liberty shares (since they own 40% of Sirius and may initiate a buyout) could be an indirect way to go if you are bullish on Sirius. But now with Mr Buffett coming into the game, I may have to look at going even deeper into this stock than I was looking to initially.
Disclosure: I am long SIRI.
Additional disclosure: I may initiate a position in Liberty or DirecTV within 72 hours