China and its centrally-managed economy have pulled hundreds of millions of people out of poverty. A nation that only a few decades ago stood isolated and impoverished is now the second largest economy in the world. This is no small economic miracle, and the leadership of the People's Republic of China is largely responsible.
The central government has made a promise to the Chinese people that steady growth will continue and that China will rise in status on the world stage, resuming its role as the center of the world.
Unfortunately, for this narrative of manifest destiny, China's meteoric rise has hit a tipping point. GDP growth has recently slowed to the lowest pace in 30 years, while debt for the nation as a whole is ballooning. The central government has been able to control the direction of the economy and allocate resources effectively in the past, but recent blunders float the idea that the government might no longer be in control. A revolutionary notion in the world's largest communist society.
Confidence that the government will continue to steer China towards global economic dominance is now in danger from concerns over inept leadership. A removal of confidence in Party leadership could be deadly for the Chinese economy. After all, all modern day economies are in one way or another built on confidence. We have no reason to believe that the Chinese economic miracle is any different.
The modern day Chinese government operates as a tightly-controlled machine where decisions are made from the top and work their way down through an opaque and complicated semi-market system. This opaqueness has only increased as the economy has become more complicated over time. The government has historically had the option of pulling multiple levers of adjustment to fix economic issues. However, many of those levers are no longer an option due to recent mistakes by Party leadership and structural macroeconomic shifts.
The first lever has always been regulating what consumers and businesses can or cannot do. Or, alternatively, instituting sudden regulations to fix a complicated problem. This can be seen most recently in the Chinese equity market where circuit breakers instituted by the government one day were removed only four days later. The circuit breakers led to more market volatility as traders saw them as a sign that the markets were not as sound as previously perceived. It wasn't the first blunder the government has made in response to equity market volatility.
In the summer of 2015, the government committed over 1.2 trillion yuan to stock purchases to prop up the faltering stock market, but the purchases were completely ineffective in propping up prices. Moving forward, more miscalculations by the government will only lead to a reduction in confidence about the government's ability to control the economy, while the government will become wary to act for fear of making even graver mistakes.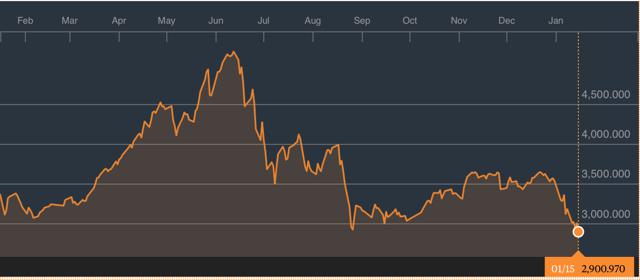 Source: Bloomberg
The second lever was funneling debt into the economy. While the debt-fueled financial crisis in the United States was unfolding, the Chinese were setting the stage for their own future crisis. In 2008, the Chinese government began to inject trillions of yuan into the economy in the form of debt to shore up growth and maintain confidence in the economy when global growth was stagnating. From 2007-2010, China was able to maintain an annual growth rate of over 9%.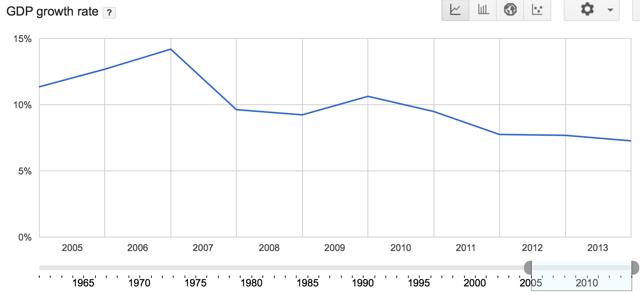 Source: World Bank
This growth rate was maintained partially by growing the country's debt from $7 trillion in 2007 to $28 trillion in mid-2014. This debt load is 282% of GDP and is larger than the debt load of both the United States and Germany. A high percentage of this debt is accumulated in off balance sheet local government financing vehicles.
In light of these recent crises the Chinese government must ensure that leverage does not continue to climb, otherwise the debt burden will become unsustainable. The current debt burden removes the easy fix that the government was able to employ prior to the financial crisis to deal with any economic imbalances and to shore up confidence whenever necessary. This lever is now off the table. An aging demographic profile and a transition to a service economy have led to the country's lowest growth rate in 25 years, making it more difficult for China to deleverage through growth.
The final lever is currency devaluation. Unfortunately, currency devaluation is in direct contradiction to one of the government's biggest goals, turning the Yuan into a reserve currency. The government can choose to move towards a reserve currency or to exercise currency control, but it cannot do both. So far, the government has chosen control, devaluing the Yuan by 10%, while at the same time defending the Yuan from more volatile devaluation.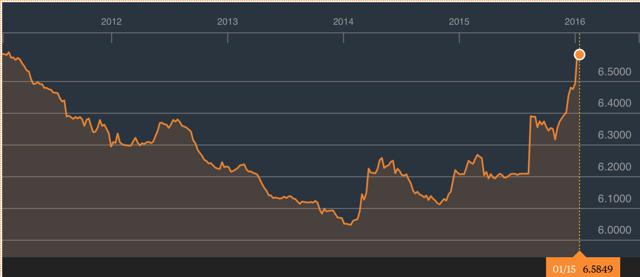 Source: Bloomberg CNY/USD cross
Control is evident if you look at the direction of foreign exchange reserves, which have dropped by 15% since 2014. The government has been selling dollars and Treasuries in exchange for Yuan.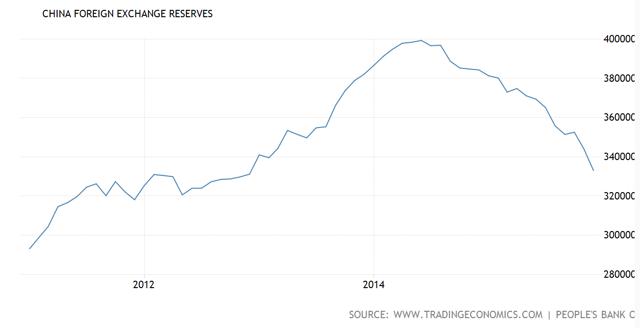 This monetary intervention only makes sense in the context of confidence and control. Volatile currency devaluations provide a stark contrast to the promise of stable growth. Devaluations imply weakness and volatility implies a lack of control. When given the choice, the government will devalue the currency for growth, but in an economy with ever increasing wages, this can only help for so long. Furthermore, devaluation has the unintended effect of reducing confidence in the central government's plan for the country.
Recent mistakes from the Chinese government have so far had nominal effects on national confidence measures. The consumer confidence index in China is based on a survey of 700 individuals over the age of 15 from 20 cities. The confidence scale is from 0 to 200 with 100 indicating neutral confidence. The latest measure came in at 104.1 and the lowest measure ever recorded is 97.0 and occurred in the last couple of years.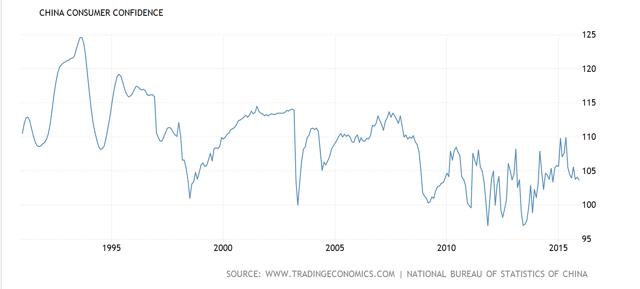 While consumer confidence remains steady today, recent mistakes may very well place downward pressure on confidence. One area where the government has maintained policies that distort supply and demand, but where the government has yet to show its true mistakes, is the real estate market.
The Chinese real estate market is an oddity in many ways. The market is a relatively recent phenomenon as the government only clearly defined property rights for real estate purchases in the mid-90s. Since then, real estate investment exploded from 5% of GDP in 1997 to 15% of GDP in 2014. Debt in the Chinese economy has also exploded and debt tied to real estate is estimated to be 50% of the $28 trillion in debt owned in China.
There are many reasons why the real estate market has done so well, but none of them are as telling as governmental restrictions on where consumers can invest their savings. Until recently, bank deposit interest rates were capped. Citizens are not allowed to invest their savings abroad and there has historically been a lack of alternative financial instruments for investment.
Real estate has historically provided strong capital returns and has continued to be the preferred choice of investment for the middle and upper class. The average property owning urban household has over 75% of their assets in real estate.
Consumers have not rushed into loans to purchase real estate either. Most homes are owned outright and banks require high equity contributions for loans on additional properties. Chinese consumers have among the highest savings rates in the world with the average household saving over 30% of their disposable income in a given year.
Residential construction investment reached a peak of 10.4% of GDP in China in 2013. This compares to 6.5% for the US prior to the financial crisis. By most measures, real estate prices in China are very high compared to average incomes. There is often a misperception that real estate prices are high in only a handful of major cities, but this is far from the truth.
Real estate prices have increased at very high rates in Tier I, II, III, and IV cities alike. Tier I cities only account for 10% of floor space sold, tier II cities account for 50% of floor space sold, and tier III and IV cities account for the remaining 40%. High real estate prices are a reality in dozens of cities across China no matter what tier they belong in.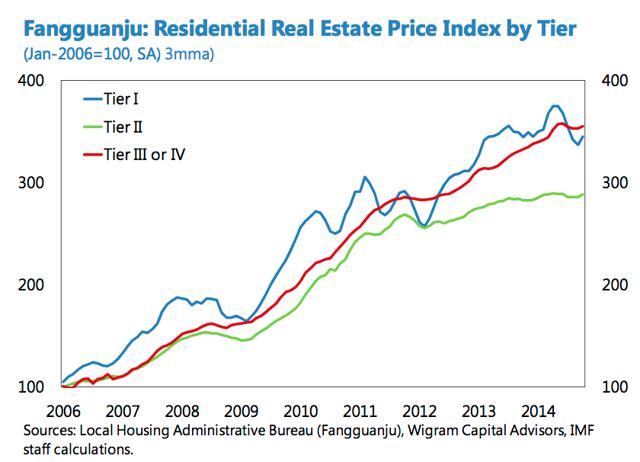 While consumers have used real estate as one of their primary savings mechanisms, the supply side also contains notable distortions. The majority of the debt burden tied to real estate is held by corporations and property developers, while in 2014, the Chinese government found that 40% of local governments rely on land sales to make loan payments. Most recently, property developers have begun to miss debt payments.
Every time the real estate market has made a turn for the worse, the government has moved in to prop it up. When the United States financial crisis hit in 2008, the Chinese government pumped cheap money into their economy, which resulted in a high growth rate of real estate prices. More recently, the government reduced restrictions on foreigner purchases of Chinese real estate to stimulate demand. In September, the government reduced the deposit required for those owning a second property.
These new initiatives have kept the real estate market performing reasonably well, with prices rising 1.6% year over year nationally in December, but at some point, consumers will have to make a choice about whether they trust the government's ability to keep real estate prices climbing higher. If consumers decide that they no longer trust the government, or if real estate prices begin to move materially lower, then consumers may begin to sell their real estate holdings, preferring to hold cash over assets in a market they no longer believe the government can control. For a population that used to hoard cash for fear of hard times ahead, this is not implausible.
The average real estate owning household in China is not a professional investor, and even if it were, all people are subject to irrational decision making. The average household investor cannot be expected to act rationally if the fear mechanism takes over and a lifetime of savings looks like it may disappear in short order. This sentiment change may prove dangerous for the Chinese economy as everyone rushes to sell their non-primary residence real estate investments at the same time.
There are currently no restrictions on selling real estate in China and it's hard to fathom that the government will set restrictions, for fear of a reinforcing panic selling like we saw when the circuit breakers on the stock market were implemented. Let's hope that when confidence in the real estate market decreases, the government will be at the ready to create new policies that create a soft landing without more major mistakes.
Disclosure: I/we have no positions in any stocks mentioned, and no plans to initiate any positions within the next 72 hours.
I wrote this article myself, and it expresses my own opinions. I am not receiving compensation for it (other than from Seeking Alpha). I have no business relationship with any company whose stock is mentioned in this article.