Hi Everyone,
Sorry for the third Peabody Energy (NYSE:BTU) write up in less than one week. I have been trying my best to write less frequently about Peabody, but given the significant recent events I am required to share my thoughts on Peabody's January 22, 2016 8-K and potential 2018 debt exchange. Before we delve into this complicated transaction, I would like to discuss my take on Showtime's newly launched show Billions.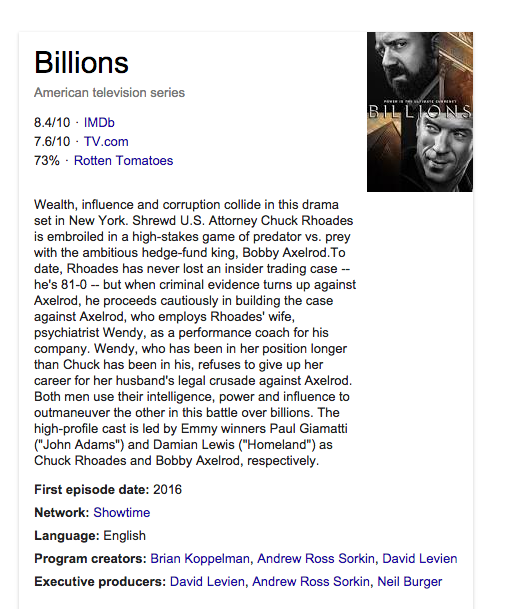 Source: Google
You might ask why is a highly sexualized and over the top fictional show about a hedge fund mogul and overzealous U.S. Attorney relevant to a mundane debt exchange for a "CCC" rated coal company. Although it isn't formally expressed, it is easy enough for anyone in the financial industry to work out that the show is loosely about Steven Cohen. Mr. Cohen has an approximate net worth of $11 billion, has been under investigation by the SEC and the U.S. attorney's office and his trading track record is amazing (he also owns an estate in the Hamptons). I will stop here to avoid getting sued by Mr. Cohen for bad press as I have no opinion on Mr. Cohen's innocence or guilt; I simply had to mention him to make the connection for any newer readers that don't closely follow financial markets.
The reason I bring all of this up is that after watching the first episode, I realized that the hedge fund elites from the Harvard's, Wharton's, and Stanford's of the world driving Ferrari's have been playing me for a fool in my over the tips of my skis Peabody Energy unsecured bond bet. Everyone who has read any of my work on Peabody Energy knows that I wrote my first piece pitching these bonds in a detailed article on July 12, 2015. At that time, I only owned the 2020s and recommended them to the faithful at $0.29 on the dollar. Over the subsequent months, I invested at least a few hundred hours reading, researching, and chronicling my findings to Seeking Alpha faithful through a series detailed and passionately argued pieces.
Let me be clear, thus far, I have been wrong, wronger, and wrongest (to quote the clever Chris DeMuth Jr.) on this bet. Enclosed below is a snapshot of my rollover IRA and Roth IRA. Excluding earned and paid interest, I am down about 57K on my Peabody bet. As everyone can work out, I own 117 of the 2018s at $0.276 on the dollar and 138 of the 2020s at roughly $0.35 on the dollar.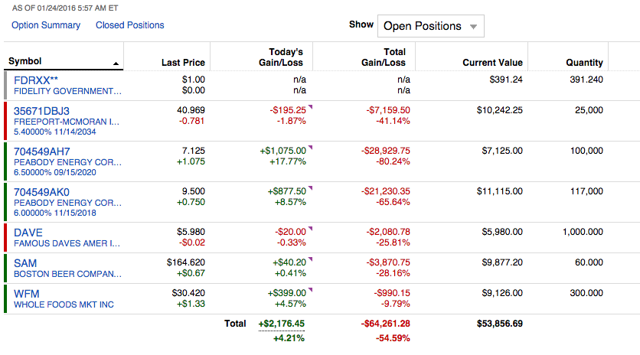 Click to enlarge

Click to enlarge
Now I am not writing this to simply celebrate my failure (as it has been spectacular so far); I am writing this to say that the Bobby Axelrod's and their ilk have been playing me, Peabody's management, and other Peabody Energy equity and bond bulls for fools. Despite seeing the financial crisis coming in 2008 and completely side stepping it by moving my entire account and my parents' account to cash in spring of 2008, I stepped on this landmine. Moreover, I worked out through the help of one my mentors (now an equity PM on the buyside) that Bear Stearns, Lehman, Washington Mutual and many other banks were zombies that were insolvent. I am extremely passionate about investing and I pride myself on being able to discern why the market often prices a security at what appears to be a discount, only to be a mirage. In other words, notwithstanding my ego, I have avoided many "value traps" over my short career. Lo and behold, I have taken a yard sale spill of a fall (anyone who skis will know the term) on these Peabody Energy bonds as I was reckless in my sizing and gravity punk slapped me as I was WAY over the tips of my skis on this bet. Ego is a very powerful force that can make people to do great analytical work, but it is a double edge sword when out of proportion.
Anyway, my long winded and hopefully light-hearted ramblings are an acknowledgement that I have been wrong and it proves that despite being discerning, passionate, and committed to spending hundreds of hours building my bullish conviction, I can be wrong, wronger, and wrongest (thanks again Chris DeMuth Jr.).
That said, there is light at the end of the tunnel and despite many articles that I wrote in August, September, and October asking and then pleading with management to take action and seize its destiny by getting control of its balance sheet, management has finally responded. Better late than never. Now, of course, I highly doubt that Mr. Kellow has read any of my pieces as he has his hands full running 26 mines across the globe, taking out as many costs and safely driving as many efficiencies as possible. Either way, management finally got the memo from bond holders (probably from someone at Capital Group) that the fulcrum security is and always was the 6% 11/15/2018s. Despite getting this call so wrong, at least I worked out that the 2018s were the place to be.
So going back to the show Billions, and thinking about the non-fiction world with the back drop of President Obama's obsessive pandering to the environmental groups (I will cover this in another article at some point - as China burn 6X as much coal as the U.S. and has built so much coal fired GW capacity that isn't even funny) with his Clean Power Plan, and his outspoken posturing at the Paris Summit, hedge funds simply looked at this formidable regulatory back drop and kept shorting (Peabody bonds and equity). So given Peabody's weak and until now unaddressed balance sheet, and with the luck of a slowing China economy with an emphasis on job preservation (i.e. sourcing met coal domestically despite its inherently lesser quality and much higher input costs), the analysts at the Axe Capital's of the world must have been laughing at me all the way to the Ferrari dealership every time I published a new article.
Although the headwinds are still stiff and odds appear long, Mr. Kellow and team have finally come off the proverbial ropes and threw a much needed upper cut at mythical hedge fund shorts (called Bobby Axelrod) on Friday with this debt exchange offer. I learned during the 2008/2009 time frame that hedge funds are great white sharks with an enhanced sense of smell and sinister thirst for blood (profits). This is no holds barred environment.
The Good News.
However, as I said above, Mr. Kellow has proven that he can endure many, many rounds of body blows in the proverbial ring and when the opportune time presented itself, he will throw that uppercut. And from my perspective, it will land on Monday. The scoring judges will score the uppercut based on 2018s bond trading. Hopefully, it will find some much needed buoyancy as this could be the antidote to Bobby Axelrod's kryptonite.
Although, I simply disagree with SA contributors Munger Fan's review of the 2018 debt exchange, he very nicely did capture the technical points of the debt exchange within his article. In the interest of not reinventing the wheel, I am going to share a snapshot of his handy spreadsheet work.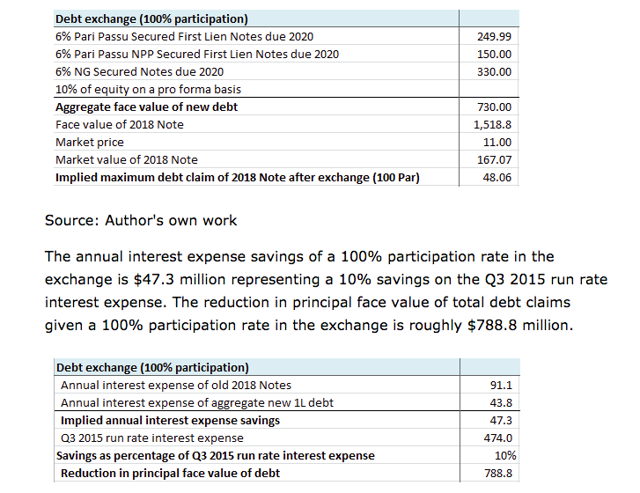 Click to enlarge
Source: SA contributor - Munger Fan
For everyone else taking notes at home, here is the underlying details of Peabody exhibit 99.1 from its 8-K.

Click to enlarge
For perspective, besides Peabody's intentions to legally utilize the $400MM in available secured first lien capacity, in exhibit 99.3, Peabody revealed the unencumbered four mines that it would pledge as collateral in a bankruptcy remote vehicles in order to secure the additional $330MM of debt. Its exhibit found as part of exhibit 99.3 are listed below so investors can assess the value of the collateral.
Here are the EBITDA snapshots from Peabody's exhibits.
Kayenta Mine (Kayenta, Arizona)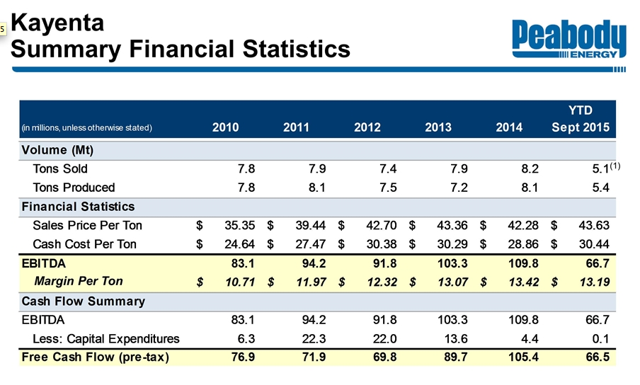 Click to enlargeWild Boar (Lynneville, IN)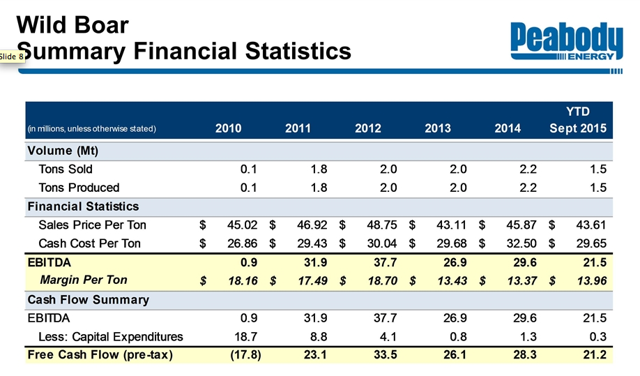 Click to enlarge
Francisco UG (Gibson County, IN)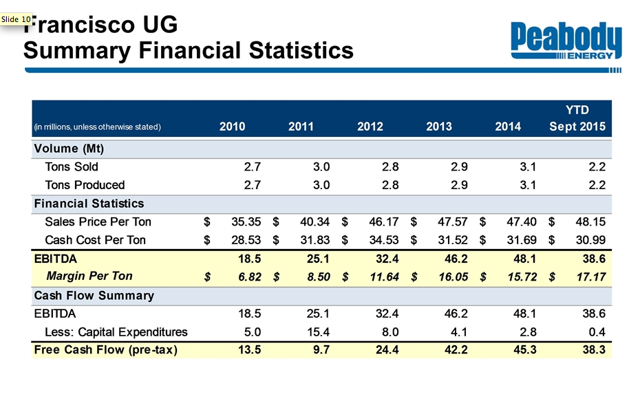 Click to enlarge
Gateway (Randolph County, IL)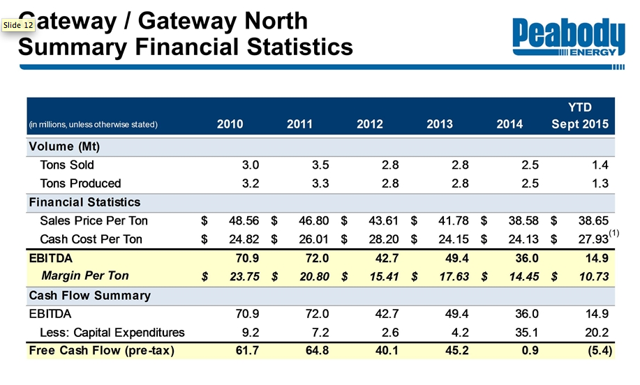 Click to enlarge
Also, here is the list of Peabody's U.S. mines from its FY14 10-K.

Click to enlarge
Source: Peabody's FY14 10-K -pg. 5
Concluding thoughts and my take on the exchange offer.
1) Depending on your perspective, this is a stroke of genius by management. Although at face value, the 2nd Lien 2022s, and the other unsecured bond issues may not like the deal, it had to be done. This is the fifth year of the worst coal market since the great depression, so management correctly worked out that the $1.5 billion maturity wall had to be reduced and pushed out.
2) The terms of the deal are very generous to holders of the 2018s and I fully expect 100% participation. The 2018s closed another session on extremely light volume and ended at $0.11 on the dollar. I would argue that the low coupon of 4.25% of the $1.2 billion 2020 term loan and the fact that Peabody legally carved out this $400 million in 1L capacity was why bond holders have knocked down the price of the $1.2 billion term loan to $0.46-$0.48 on the dollar.
Also, since management want 100% participation, even if retail investors can't directly participate, it could prove very lucrative for hedge funds to switch sides and buy up as many 2018s bonds as they can on the open market in order to use their institutional status to convert/exchange these pieces of paper for shiny new and secured pieces of paper. I wouldn't be surprised if on Monday the 2018s were trading at $0.20 on the dollar if not more. Given the prospect of massive short covering and the chance for hedge funds to make money as even at $1.6 billion, the 1st lien debt is virtually 100% money good in my mind.
3) The 2020s, 2021s, and 2026s are already trading so poorly at $0.07 on the dollar that this can only be welcome news as, if executed, it extend the runway and provide ample time for a new U.S. President to be elected, and the met coal cycle to turn (as state owned Chinese enterprises can't indefinitely sustain the heavy losses). Plus India is ramping up its steel capacity and is in need of high quality seaborne met coal to produce quality steel (as domestic Indian met coal is low quality).
4) In terms of the equity, the equity is trading at $0232 (on a pre-split basis). At this point, they have absolutely nothing to lose as the equity is down 99.7% from its all-time highs. The prospect of balance sheet deleveraging and extending the runway could (emphasis on could) create a big short squeeze.
And remember, Peabody's equity optionality has huge operating leverage to coal recovery. Here is a chart from my original July 12, 2015 piece. Hard Coking coal isn't going back to $330 mt anytime soon, but a rebound to say $100 mt given the amount of cost taken out of Peabody's mines will generate significant positive operating leverage.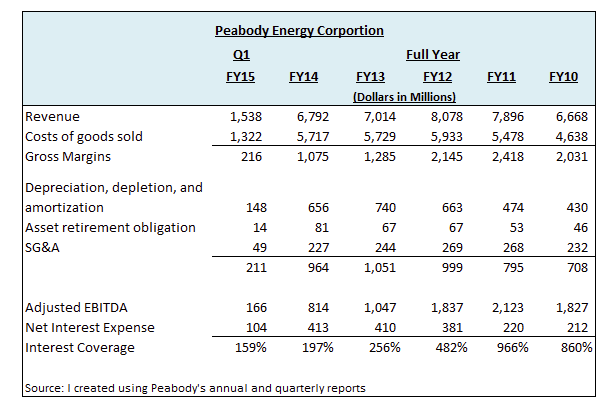 In terms of the Master of the Universe, 160 IQs driving Ferraris, let's see if this UMass Amherst graduate has the last laugh.
On yeah, one other light-hearted point, one of my favorite WSJ editorial pieces was written just after (in retrospect) the financial crisis crested. On April 9, 2009, Elizabeth Wurtzel penned this thoughtful and clever piece titled "Twelve Years Down The Drain." Maybe I would have been better of spending my $15K pre tax 401k contributes on lavish vacation instead of being disciplined and maxing out my 401K, which funded my rollover IRA account to make this outsized bond bet. Thanks for reading and you can decide.
Cheers,
Courage.
Disclosure: I am/we are long PEABODY BONDS.
I wrote this article myself, and it expresses my own opinions. I am not receiving compensation for it (other than from Seeking Alpha). I have no business relationship with any company whose stock is mentioned in this article.
Editor's Note: This article covers one or more stocks trading at less than $1 per share and/or with less than a $100 million market cap. Please be aware of the risks associated with these stocks.